A lovely blogger, Charlotte from Charlotte's Web, recently shared about a website/project entitled, The Burning House. The website contains photos of what people would save if their house was on fire. As I read Charlotte's posting, I began to contemplate what I would save if my house were on fire.
Obviously, children and pets are first… but outside of that, is there anything I would want to save? I collected some items and snapped the photo.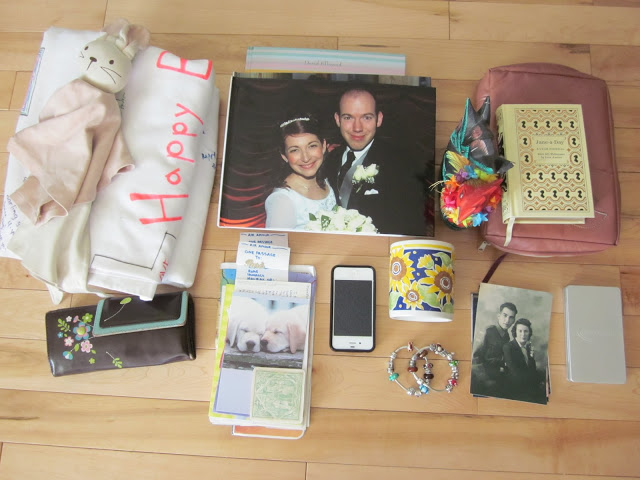 Here's the explanation:
My Bible (it's sentimental and I have personal writings in it)
My five-year journal
The external hard drive (which has all of our wedding and baby photos as well as various important projects)
Photos which we do not have in digital format (i.e. my grandparents' and parents' wedding photos)
My Pandora bracelets (every charm has a story behind it and each bracelet is loaded with memories)
The sunflower mug which reminds me of my deceased friend, Lynette
One of the wood roosters from our honeymoon in Kauai
Our wedding photo books
Baby books for each of my girls
My iPhone
A stack of cards and love notes from the hubby
My wallet (can't get far without that)
Both of my daughters' birthday keepsake tablecloths (there are so many beautiful memories with those)
My oldest daughter's beloved bunny (she probably would have him in her arms but still, wouldn't want to forget him)
When I asked my husband what he would take, here's what he chose: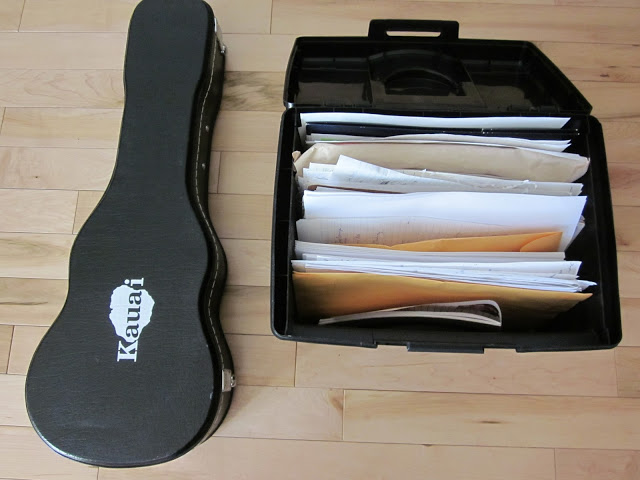 He would only take:
His ukulele (which he purchased while we were on our honeymoon in Kauai)
A box of his original comics and writings which he has worked on over the years
Huh. That's it?!
I guess this shows just how sentimental I am. This project made me very reflective. After gathering the items, taking the photos, and making my submission to The Burning House Project, I realized that I probably wouldn't run back into a burning house for anything. As long as my loved ones are safe, I wouldn't want to risk my safety (or anyone else's) to gather keepsakes.
What would you save if your house was on fire? If you haven't already done so, check out The Burning House website. It's fascinating!
P.S. Epic fail! Neither of us brought keys to the car.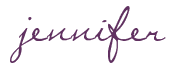 SHARE WITH OTHERS