When I was contacted to review a Hope Paige allergy bracelet I immediately agreed. My daughter has an anaphylaxis milk allergy, thus spreading the word about a potentially life-saving product seemed only natural.
Hope Paige created an infographic illustrating the amount of children suffering from allergies who will be attending summer camp this year. It highlights that there are over 76.7 million children in the US and more than 3 million children of those children have some type of allergy. Moreover, according to the Food Allergy Research & Education (FARE), 1 in 13 children have a food allergy and a food allergy reaction occurs every 3 minutes (US statistics). Given this information, it is critical that parents of children with food allergies plan for their children's health and well-being.
A key element to keeping a child with food allergies safe is education.
Hope Paige
has created fun, fashionable, and affordable medical bracelets for children to wear while outside the home. These bracelets are durable and stylish but would also stand out to medical professionals.
As I browsed through the Hope Paige online catalogue I was impressed by the large selection of medical ID jewelry which they have available. Moreover, the Braided Elastic "Peaches 'n Creme" Medical ID bracelet I received from Hope Paige was of exceptional quality. The elasticized material makes the bracelet comfortable and it is something that my daughter actually wants to wear.
If your child has allergies I encourage you to check out the variety of bracelets available through the
Hope Paige Medical ID Marketplace
and find one that works for your child.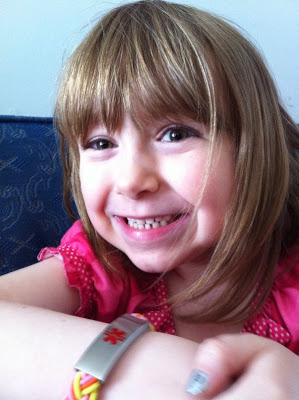 May is Food Allergy Awareness month. This is an important time to increase awareness of food allergies both in our communities and across the country.
Disclaimer
For the purpose of this review, I received a complimentary Braided Elastic "Peaches 'n Creme" Medical ID bracelet. I did not receive any other compensation. All opinions are my own.