Amazing Time Saving Tools for the Busy Mom
We are a participant in the Amazon Services LLC Associates Program, an affiliate advertising program designed to provide a means for us to earn fees by linking to Amazon.com and affiliated sites. In addition, text and image links to merchants in this post may be affiliate / referral links, which means we may be compensated if you make a purchase after clicking through those particular links. See our full disclosure policy here.
I don't know about you but this busy mom is always on the lookout for time saving tools and resources. Today I want to share some of my absolute FAVOURITE time saving tools which I use in my home and mom life!
Managing Time
Every mom needs tools to help manage her time effectively. These tools affordable and are well designed to make scheduling a breeze!
Whether you use the calendar on your phone, or an app, every mom needs a calendar in a central location of their home.
My absolute FAVOURITE calendar is the More Time Moms calendar. While they have one that they make exclusively for moms, I actually prefer the appearance of the Student Organizer Calendar.
What I love most about this calendar is there's no wasted space. There are huge boxes to write in and there's a convenient pocket at the back of the calendar (to place those important papers you don't want to lose).
I love my printable planning sheets. I print off a whole bunch and keep them in a binder. I have a weekly one and a detailed daily one! They are awesome! These planning sheets are FREE for The Deliberate Mom's newsletter subscribers.
Daily planning keeps me focused and on task.
Cleaning
How do you keep a clean house when you're so busy?! These tools are THE best in helping me stay on top of the mounds of housework.
Keeping a clean and tidy home is time-saving. I have tried all sorts of tips and tricks to keep a clean and orderly house but the only thing that worked was having a good and effective cleaning schedule.
Why waste time messing around with all sorts of cleaning products? Find an all-purpose cleaner that you love and store one bottle of it on each level of your home. Having one cleaning product takes the guesswork out of shopping too. When you have a tried and true cleaner that you love, buy it every time you go shopping.
I like my cleaning products to be as natural as possible. That's why I love Mrs. Meyer's Clean Day All-Purpose Cleaner. It has a beautiful fragrance, cleans well, but uses 98% naturally derived ingredients.
Meals
There's no way around it. Busy moms need to make meals. Here are some affordable ways to save time and money when providing meals to your family.
I don't know what I would do without my crockpot. I make crockpot meals for when we have afternoon events and I know I won't be home in time to cook a full meal. I also love the crockpot because as a homeschooling mama, I don't have a lot of time to be making meals. I'm often up to my eyeballs in books, papers, and paints!
I add all the fixings to the crockpot first thing in the morning and let it simmer all day long! My crockpot is a very basic 6 quart one but I love it and it serves our family well.
I made a menu board a few years ago and I use it to keep my meal plans organized and clear for all family members. I can't tell you what a HUGE time saver this is! I don't waste time wondering what to make for dinner – it's written right there on the board.
If you don't want to make a menu planner, then perhaps you could purchase one? I thought this menu board was adorable!
Shopping
Shopping can be a huge time-sucker. As much as possible, I shop online. What I like about online shopping is that I decide exactly what I want ahead of time and order it. There's no commuting or struggling to find parking. I also find that shopping online saves me money! When I shop online with a "list" I have far fewer impulse buys.
Free two-day shipping?! Yes please! I love Amazon Prime. I buy quite a few of my gifts from Amazon – it's handy because I can ship the gifts to other addresses! Plus, with two-day shipping, if I run out of a product, I can order it and have it at my door within a couple of days!
This is just one of the many benefits! Amazon Prime offers a 30 day trial. Check it out! I'm sure you'll immediately see how this service can save you time!
Inspiration
Sometimes we need the inspiration to make a change and to start managing our time more effectively. Here are some tools to inspire you to manage your time better starting today!
This course revolutionized the way I manage my time. I learned how to plan my days and how to take care of myself and my family without feeling drained. Yes, I still have challenging days but they are scattered and few.
If you want to get serious about managing your time, I also highly recommend the make over your evenings course. This 14 day program is very affordable and will have a tremendous impact on your days!
If you sign up for my newsletter, you will get over 50 time-saving tips delivered to you in the form of a handy, beautiful booklet.
Other Tools
There are so many time-saving tools out there but these didn't really have a category that they fit nicely into but they are great time-savers all the same.
AUDIBLE – First 2 books free, then $14.95/mth
I don't know about you, but I realized I was busy when I stopped reading books. I used to read at least 1-2 books a month and now I'm lucky if I read 2 books every six months! Audio books made it possible for me to enjoy literature once again. I can listen to a book while exercising, cooking, and while driving my kids to and from activities.
You get 2 free books when you sign up for Audible. Afterwards, it's $14.95/month.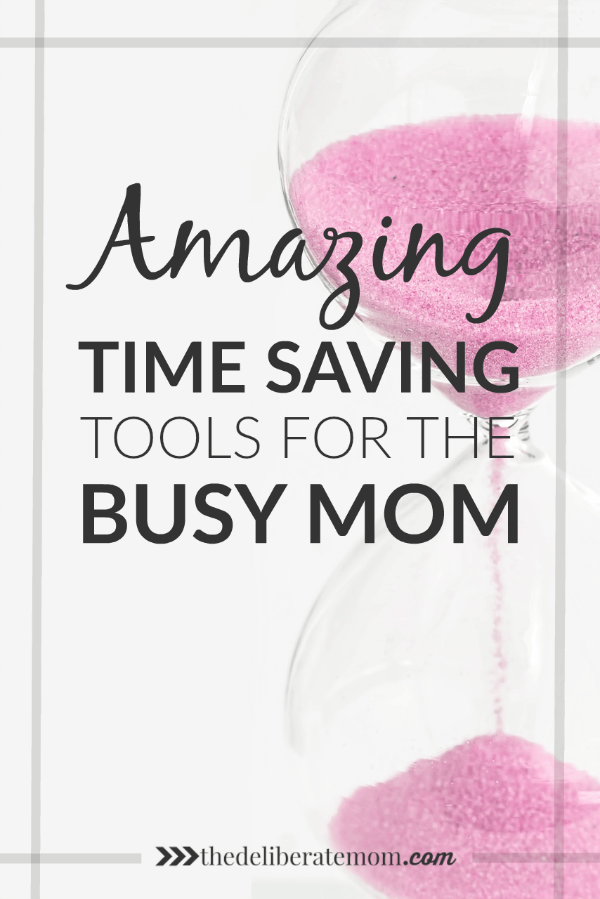 DID YOU LIKE THIS?
I INVITE YOU TO PIN IT.