The Best Tools to Grow Your Blog, Quickly!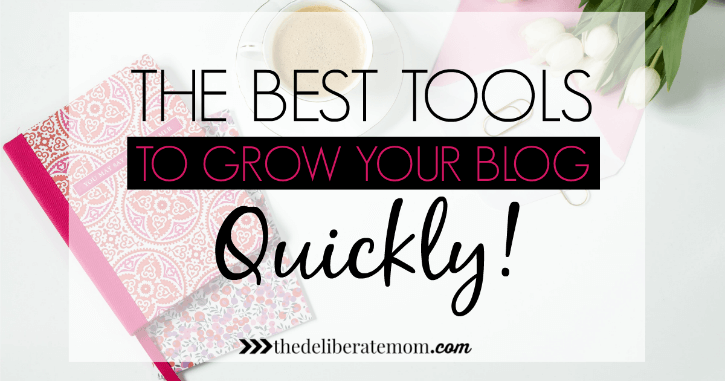 *We are a participant in the Amazon Services LLC Associates Program, an affiliate advertising program designed to provide a means for us to earn fees by linking to Amazon.com and affiliated sites. In addition, text and image links to merchants in this post may be affiliate / referral links, which means we may be compensated if you make a purchase after clicking through those particular links. See our full disclosure policy here.*
I love blogging. What started as a hobby in 2010, has grown into a income earning opportunity. I learned that blogging takes money, time, and commitment. I'm always on the lookout for tools and resources to make my blog life easier and more successful. These are some of my top blogging tools that EVERY blogger should have. These resources will help you manage and grow your blog.
Appearance
A beautiful blog is the cornerstone of a successful blog. People want to enter your online "home" and be able to find and use everything you have available. They also feel more comfortable if your home is clean and simple.
ELEGANT THEMES

– $89 /year or $249 /one time fee
A beautiful theme is essential to every great blog. There are MANY great themes available to select from, but I am MOST in love with DIVI from Elegant Themes. DIVI has great flexibility and you can make your website look the way YOU want it to look! There's no limit to what you can create. Plus, with the purchase of an elegant themes package, you get access to DIVI Builder. I use the DIVI Builder to create beautiful landing pages for my products and resource pages (like this one). It gives a unique, professional look to your site!
The Studiopress themes are clean, professional, and elegant. With hundreds of themes to choose from, you're sure to find a design you love! You can't go wrong with one of these designs!
Time Management
There's no doubt about it, blogging takes time. There are many great tools to help you manage your blogging time. These are my favourites.
I'm a fanatic when it comes to time management. I've compiled all of my time-saving blogging tips in this 10 module eCourse!
Before I signed up for CoSchedule, I spent hours sharing content live to social media. However, CoSchedule cut my time on social media by at least 75%!
I use Tailwind for all my pin scheduling. I love the ability to schedule pins from my pages and other bloggers' pages. It's quick, efficient, and has awesome built-in analytics.
Goal Crushers
You've got to have goals and where there's goals, you need goal crushers!
If there is one thing that has helped me CRUSH my goals, it's the Passion Planner. After buying my first Passion Planner in 2015, I wrote an eBook, a parenting workbook, designed a dexule homeschool planner, and launched an eCourse. The Passion Planner helps you map out and work towards realizing your dreams! It's one of the best investments I've ever made.
In order to grow your blog, you need a vision. This strategic planning template helps you map out the steps you need to take to have a successful blog. Sign up for my newsletter to get your strategic planning kit.
Learning
In order to succeed, you need to learn from the experts! I've taken a number of courses and read various books which have contributed to my blogging success. I highly recommend any of these resources.
Prior to taking this course I had about 1600 followers and got about 42 repins per day. I now gain about 250 new followers every month and average about 400 repins per day.
I was hesitant to take this ecourse because I had been using Tailwind for over a year, but I learned so much! My pinning time decreased greatly (from 2-3 hours per week to 15-20 minutes per week). Plus my repins have been steadily going up! If you have Tailwind, this course is a MUST-HAVE!
This is one of my favourite blogging books. Ruth Soukup is the brain behind the successful blog, Living Well & Spending Less. I love her insights and this book walks you through the process of building a successful blog.
Images
Every blog needs great images. However, what if you're not a good photographer? Here are some of my favourite places to get images for my blog.
DEPOSITPHOTOS

– Photos are as low as $1 each
If you can't find free creative common photos, depositphotos is a great place to turn to for your image needs. Get high quality photos for as low as $1 each!
STENCIL

– $9/month (PRO version)
Long ago (when I first started blogging) I used Microsoft Paint to make my blog graphics (what can I say, I was naive). Then I started using PicMonkey which improved my graphics tremendously! However, Stencil has revolutionized how I create social media images. Between its inhouse library of 860,000 creative commons images, its social media templates, and drag & drop editor, I can make images for all of my social media sites in less than 20 minutes! This online photo editing program is POWERFUL. I've tried many other online editors but Stencil, by far, is my favourite!
DID YOU LIKE THIS?
I INVITE YOU TO PIN IT.