Don't get too excited… we don't have a policy that insists you have to eat cookies while using our website. Although, if that's what you want to do, go for it!
Unfortunately our cookie policy is boring compared to cookie eating permissions! However, it's necessary that you know how browser cookies are used on our site AND what you can do to disable them.
Jump to section:
Are you ready?! Let's get down to all things cookie-related…
WHAT ARE COOKIES?
THE DELIBERATE MOM uses cookies – small text files that are placed on your machine to help the site provide a better user experience. In general, cookies are used to retain user preferences and provide anonymised tracking data to third party applications like Google Analytics.
There are several types of cookies. Here are the cookie definitions defined (source: ico.org.uk)
SESSION AND PERSISTENT COOKIES
Cookies can expire at the end of a browser session (from when a user opens the browser window to when they exit the browser) or they can be stored for longer.
SESSION COOKIES – allow websites to link the actions of a user during a browser session. They may be used for a variety of purposes such as remembering what a user has put in their shopping basket as they browse around a site. They could also be used for security when a user is accessing internet banking or to facilitate use of webmail. These session cookies expire after a browser session so would not be stored longer term. For this reason session cookies may sometimes be considered less privacy
intrusive than persistent cookies.
PERSISTENT COOKIES – are stored on a users' device in between browser sessions which allows the preferences or actions of the user across a site (or in some cases across different websites) to be remembered. Persistent cookies may be used for a variety of purposes including remembering users' preferences and choices when using a site or to target advertising.
FIRST AND THIRD PARTY COOKIES – Whether a cookie is 'first' or 'third' party refers to the website or domain placing the cookie. First party cookies in basic terms are cookies set by a website visited by the user – the website displayed in the URL window. Third party cookies are cookies that are set by a domain other than the one being visited by the user. If a user visits a website and a separate company sets a cookie through that website this would be a third party cookie.
Third-party ad servers or ad networks use technology to the advertisements and links that appear on THE DELIBERATE MOM send directly to your browsers. They may automatically receive your IP address when this occurs. Other technologies (such as cookies, JavaScript, or Web Beacons) may also be used by the third-party ad networks to measure the effectiveness of their advertisements and / or to personalize the advertising content that you see.
THE DELIBERATE MOM uses Mediavine to manage all third-party advertising on the Website. Mediavine serves content and advertisements when you visit THE DELIBERATE MOM, which may use cookies. Mediavine may collect IP addresses and location to serve personalized ads. If you would like more information about this practice and to know your choices to opt-in or opt-out of this data collection, please visit:
http://www.networkadvertising.org/managing/opt_out.asp.
THE DELIBERATE MOM has no access to or control over these cookies that are used by third-party advertisers (including, for example, advertising networks and providers of external services like web traffic analysis services) may also use cookies, over which we have no control. These cookies are likely to be analytical/performance cookies or targeting cookies.
THE DELIBERATE MOM privacy policy does not apply to, and we cannot control the activities of, such other advertisers or web sites.
WHY DO WE USE COOKIES?
We use cookies to personalize content and ads, to provide social media features, and to analyze our traffic. We also share information about your use of our site with our social media, advertising, and analytics partners.
In addition, this site uses cookies from Google to deliver its services and to analyze traffic. Information about your use of this site is shared with Google. If you would like more information about how Google uses cookies, please click HERE.
When you consent to use of cookies on our website, it is a 30-day consent. However, you may opt out of this consent whenever you choose. PLEASE NOTE if you have chosen the option for your browser not to accept such cookies, you will not benefit from the feature of cookies, and your user experience may be affected.
THE COOKIES WE USE
Here are the types of cookies used on this site:
NECESSARY COOKIES
Necessary cookies enable core functionality. The website cannot function properly without these cookies, and can only be disabled by changing your browser preferences.
The necessary cookies we use are:
Cloudflare (extra layer of security) served through Mailerlite, our email service
ANALYTICAL COOKIES
Analytical cookies help us to improve our website by collecting and reporting information on its usage.
The analytical cookies we use are:
SOCIAL SHARING COOKIES
We use some social sharing plugins, to allow you to share certain pages of our website on social media. These plugins place cookies so that you can correctly view how many times a page has been shared. There are also cookies which allow users to easily follow THE DELIBERATE MOM on social media sites.
The social sharing cookies we use are:
Facebook pixel (to display Facebook posts within articles and to adequately track Facebook sharing numbers)
Lightwidget (to display Instagram feed)
Milotree (a social follow widget)
Shareholic (to display social follow and share buttons)
Social Pug (to display social follow and share buttons)
ADVERTISING COOKIES
Some of our partners may use cookies and web beacons on our site.
Our advertising partners include:
Amazon
Commission Junction
Mediavine
Ratukan
HOW TO DISABLE COOKIES
Cookies will make your browsing experience better. Users may give or refuse consent to cookies upon first visit to our website. The decision expires after 30 days, at which time you will be asked to give consent at your next visit.
Below you will see a box that indicates whether you have cookies enabled or disabled on our website.
Cookies are disabled
Accept Cookies by clicking "ACCEPT COOKIES" button.
You always have the flexibility to toggle between cookies being on or off by coming to this cookie policy page OR by visiting the footer of our website to opt in or out of cookies.
Another way to disable cookies on all websites is to disable cookies in your browser. If you wish to disable cookies, you may do so through your individual browser options. More detailed information about cookie management with specific web browsers can be found at the browsers' respective websites.
We suggest consulting the Help section of your browser or taking a look at the About Cookies website which offers guidance for disabling cookies in all modern browsers.
ADDITIONAL POLICIES
If you can't get enough of this legal stuff or you simply just enjoy reading policies, you can also visit our Privacy Policy, Terms and Conditions and Disclosure Policy.
NOW THAT YOU GOT THROUGH THAT… YOU DESERVE A COOKIE!
Here's my all-time favourite HEALTHY cookie recipe. Trust me, they're delicious too.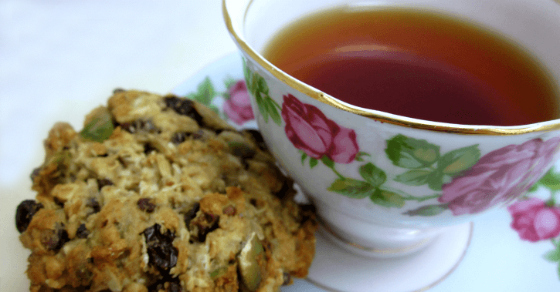 HEALTHY BREAKFAST COOKIES
Ingredients
2 1/4 cups quick oats
2 cups spelt flour
1 cup sunflower seeds
3/4 cup + 2 Tbsp pumpkin seeds
1/2 cup shredded unsweetened coconut
1/4 cup flax seeds
1 Tbsp cinnamon
2 tsp sea salt
3/4 cup raw cacao chips
1 1/2 cup raisins (or 3/4 cup raisins & 3/4 cup dried cranberries)
1/4 cup honey
2/3 cup maple syrup or agave
3/4 cup coconut oil
1 cup unsweetened soy or rice milk
Instructions
Preheat oven to 350°F.
Line two baking trays with parchment paper.
Combine dry ingredients: from oats to dried cranberries.
Combine wet ingredients: from honey to soy/rice milk.
Stir dry and wet ingredients together until just combined.
Portion cookie dough using 1/3 cup measure and place on baking tray.
Gently flatten cookies.
Bake for 22 minutes or until lightly browned.
Enjoy!
Aren't you glad you chose to read up about cookies?! So now you can make an informed decision before clicking that "ACCEPT COOKIES" button.
This policy was created: November 2016
Last updated: April 7, 2018