I want to be engaged with my children but I don't know where to start.
This is a common sentiment I hear from parents. As I wrote in my post 30 Delightful Ways to Connect With Your Child, I often find myself doing lots for my children but little with my children. When I fall into these parenting ruts it's often because my plans get derailed, other things seem more important, and I'm busy.
Also, to be completely honest, I avoid engaging because I'm nervous to do so.
Yes, I said it.
Sometimes I'm scared to engage with my children. I worry that I will be overbearing in their play; I fear that I won't be as "fun" as their dad; and I fret that I won't be able to give them my complete attention. It's ridiculous, I know. When it comes down to it, all they need is time with me and activities that will enrich their development.
If you're struggling with how to plan your children's days here are some tips on how to be intentional with planning activities for your children.
Check out these tips on how to be intentional with planning activities for your kids. Click To Tweet
Evaluate your schedule
Take a look at your schedule and seriously evaluate it.
* When do your days begin?
* When do your days end?
* What times/activities are the same almost every day?
* What classes/outings appear regularly on the calendar?
What would you like to achieve?
What do you want to achieve with your children? What are your motives? What's your parenting vision?
* What activities would you like to do throughout the day and week? Consider all aspects of your child's being. Consider what they will need socially, physically, intellectually, creatively, emotionally, and spiritually (S.P.I.C.E.S.).
* Record all of your ideas and inspiration.
Start planning
Take a piece of paper and jot down all the things you would like to do with your children.
* There are natural things that occur every day… for instance, we read the Bible every night before bed.
* Consider alternating quiet activities with more active activities.
* Make sure to take into account the times for meals and snacks.
* Consider having something quiet/focused for your kids to do while prepping snacks and meals (colouring, reading, or an activity tray is ideal for those times).
Schedules
A non-school day for us may look as follows:
Breakfast (7:30 am)
Read our Bible together (Spiritual)
Go for a nature walk and collect items (Physical)
Explore nature items at home with magnifying glasses (Intellectual)
Snack (10:00 am)
Free play
Make a 3D sculpture with nature items using clay as the base (Creative)
Lunch (12:00 pm)
Rest time
Snack (3:00 pm)
Listen to a book together while snuggling on the couch (Intellectual/Emotional)
Free play time
Colouring (creative)
Dinner (5:30 pm)
Play a board game (social/intellectual)
Free play time
Snack (7:30 pm)
Bedtime routine
Read the Bible (spiritual)
I find that when I'm in a "rut" I need to write things down to keep me accountable. After having a few weeks of success I might be more spontaneous. However, even when planning in this kind of detail, I refer to it as a rough guide (not as a set "to do" list). The one thing parenting continually teaches me is that I must be flexible.
Here's a sample of what I might plan for the week: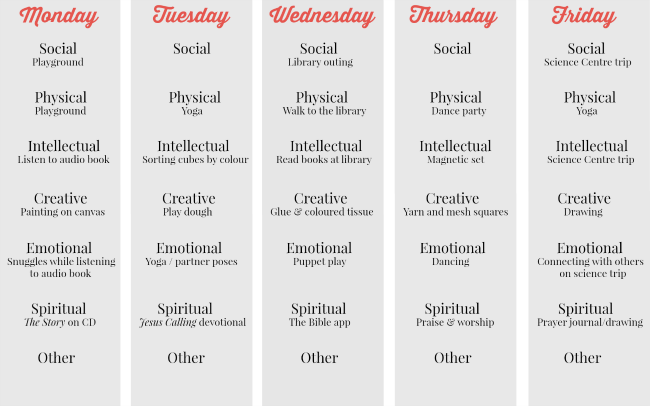 Alternatives to detailed planning
If putting your activity ideas into a schedule or calendar isn't your thing, then maybe you'll like this idea.
I have my core activity ideas on index cards. They're laminated and on binder rings. I have a set for physical activities, a set for creative activities, and a set for intellectual activities. If I get stumped for ideas, I'll look through the cards with my kids and select an activity to do.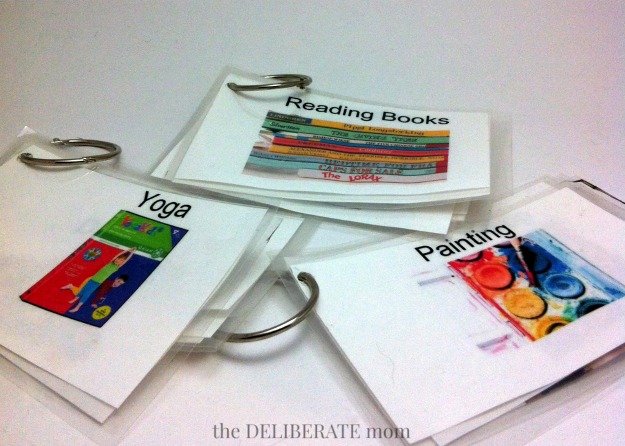 Do you need some ideas?
Are you still in need of some ideas? I put together a list of 54 kid's activities on a FREE downloadable resource that I made especially for you! Simply click the download button for your copy!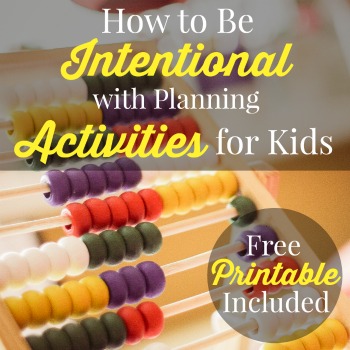 54 Activity Ideas for Kids
Intentional planning for our children can be tough. Do you need some quick ideas to implement with your children? Or maybe you need some inspiration? Here is a list of 54 easy-to-implement activity ideas for kids.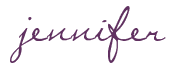 Please note, I'm a former early childhood professional and many of my ideas are gleaned from my experience and training. However, I need to emphasize, I'm by no means an expert on play. I struggle with spending intentional play time with my children and so I share these ideas not just for your benefit but for my benefit as well. As I've shared before, I'm not THE Deliberate Mom, but rather I'm striving to become the deliberate mom I long to be.
SHARE WITH OTHERS