Today I have a special treat for you. Aimee is a lovely blogging friend. The posts on her blog, A Work of Grace, often empower and motivate me to dive deeper into my relationship with God. I'm excited that she's here today to share how she incorporates her spiritual journey into building faith with her children. I was so inspired by this post and I can't wait for you to read it too. So, without further ado, here's Aimee…
---
I'm not a morning person – just ask my husband. He often jokes about not speaking to me until I've had my first sip of coffee. If I'm honest, there are days where there is just a smidge of truth to his teasing (ok, maybe more than a smidge, since I'm being honest).
I don't get up at 5 am to do anything, let alone study my Bible and pray. My day is full of teaching the kids, answering emails for work, prepping for my writer's workshop or weekly co-op, marking student portfolios, working on report cards…the tasks seem endless.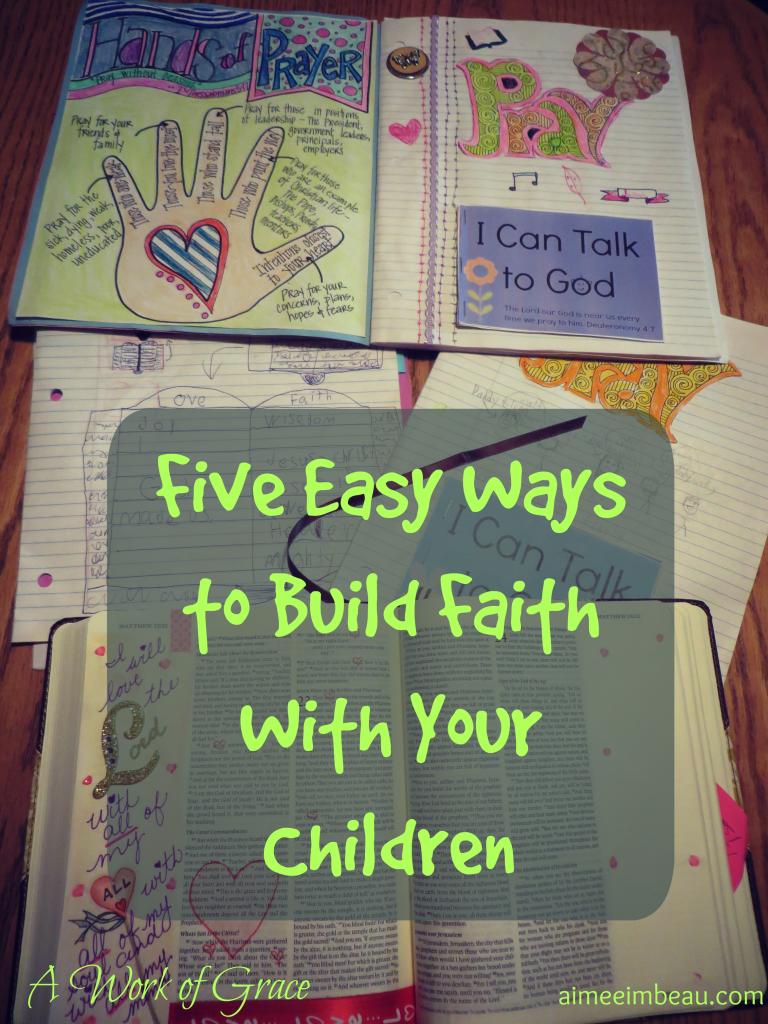 How on earth do I manage to get my own time in God's word every day? How can I survive my busy day without speaking to God and listening for His voice?
I am sure you are just as busy as I am and you have struggled with the same questions. I've realized that much of my time with God does not have to be separate from my kids…in fact, I'm wondering if it shouldn't be. My kids love when we learn about God together. If it works for you to get that time in alone, that's great. But if you can't, then don't get caught in that guilt trap – that's not from God! I am going to share 5 of my favourite ways to incorporate this time with God with activities with the kids.
1. Begin each morning with a couple of worship songs. I love to sing worship to my Saviour. So many times, those worship songs turn into prayers for me. Interestingly enough, I see this happening with my youngest. She says she feels so close to God when she sings these songs to Him. She recognizes that these songs have turned into prayers for her as well. You see, she has had long term medical problems that have caused shame, embarrassment and humiliation. Worshipping as a family has helped her to work through this difficult condition. Our worship time as a family draws us closer together and draws each of us closer to God. We use lyric videos on YouTube for our worship time.
2. My children enjoy spending time with God in prayer. Prayer is an especially essential practice in our family. We each have a prayer journal for our time with God. All three of my kids, including my son who resists colouring and writing, delight in adding to their journals. They write words declaring God's sovereignty in one section – they use various colours and fancy writing. In another section, they write down the sins they are struggling with and ask God to help them live in victory over sin. In a third section, they jot down their requests. Finally, they spend time thanking God for all they have and for prayers that have been answered. They are free to add other special notes, pictures, drawings and doodles into their journals as they see fit. We do this activity every morning and we spend time in prayer using our journals.
3. I love marking up my Bible. I encourage my kids to do the same with theirs. We highlight verses and passages that speak to our hearts. We use little hearts where we read the word 'love' or it's synonyms. We may draw x's through sins or instructions of things not to do. A tiny cross works well for the name of Jesus. We circle specific words and colour important phrases. We spend time discussing what we've learned from our studies.
4. We use scripture to encourage one another. My kids need to feel the love of God from His promises just as much as I do. I reassure them of His truths. I point them to specific scriptures and then I find they are the verses I need to hear myself in that moment. When you are filled with His love and you are confident in His adoration of you, aren't you much more eager to live a disciplined life? I sure am. Because I have been purposeful in this practice with my children, they are returning this blessing to me. For example, the last week has been very difficult for me, filled with a lot of pain and hurt. My daughter has reminded me that I need to hand my pain over to Jesus. He is able to carry it. I also added a special quote from my daughter at the bottom of this post.
5. After our morning worship and before family study, we each spend about 10-15 minutes doing our own personal study. This gives me the time I need in God's word and the children observe their mom actively studying scripture. Younger children may spend this time drawing a picture of a favourite Bible story, or you can have family study time before personal studies and the little ones can draw something they have learned that morning. Another idea is for you to copy a line from one of the worship songs sung that morning and the child can draw and colour the page. With younger children, this personal study time may be only for 5 minutes, and that's ok.
I used to feel guilty for not getting out of bed at 5 am to study my Bible and pray for an hour and a half. I used to feel like a failure as a godly mother because my children didn't wake up each morning to the sight of me reading my Bible. And then I realized it isn't when or how long I spend in His word, but the fact that His word penetrates my heart.
I find this method of incorporating my time in with my children much more effective than if I were to get up before the sun rose. And besides, I enjoy my morning cuddles with my husband and with my youngest.
---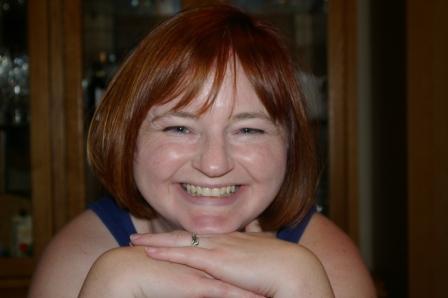 Aimee is a home educating support teacher who lives in the sunny Okanagan, BC. Aimee has been blissfully married for 17 years and still swoons at the sight of her tall, dark and handsome husband, Marcus. When she isn't home educating her 3 kids, she enjoys sewing, quilting, scrapbooking and having heart to heart talks with girlfriends. She blogs over at A Work of Grace.
SHARE WITH OTHERS