How often do you wish you could be a more positive parent? Do you catch yourself saying no often? Positive child guidance can be challenging, especially if you find yourself in a rut of saying no. Come read about why saying no often can be harmful and get some tips for how to say more yes and less no. Don't forget, at the end of this article, we have a free positive parenting resource sheet to help you out!
Stop. Don't do that. No.
As the day progressed I realized that I had unintentionally stomped on my children's behaviour so many times that my responses had become almost automatic.
One of the first early learning and child care courses I attended required all the students to track how many times they say no in a day. At the end of the exercise, students were often baffled by how often they said no to the children in their care.
Children will need to hear a "no" on occasion. Not everything in life is a "yes". However, too many nos can have negative effect on our children and how they respond to us as authoritative figures.
For instance, my youngest daughter recently asked me if we could go to the park.
I said no.
She immediately dropped to the floor and started kicking, hitting, and screaming.
I stood there, completely overwhelmed by the temper tantrum that followed. She's four!
Then I questioned myself… What did I do? Why was she freaking out like this?
I then realized that my "no" was obviously something she didn't want to hear and she reacted by going into battle mode.
As I reflected on this situation, I realized I had slipped into the habit of frequently saying no to my children. I contemplated what I had learned in my early childhood education and decided that I had to let my children hear "yes" more often.
How to say more yes and less no! Come claim your FREE downloadable resource sheet too! #parentingresolution
Click To Tweet
What's wrong with saying no to your kids?
Saying no limits conversation.
It may become ineffective if overused.
Saying no often leads to a power struggle.
If you say no too often, your children may stop asking.
But what if I have to say no to my kids?
There are often alternatives to no. It just may take more time and effort to think of them and to speak them to our children. Here are a few ways to transform the "no message" into a positive message.
Make it a yes – just not a yes right now.
For instance, when my daughter asked if we could go to the park, I could have said:
"I know you love the park, we'll make sure to go there on a warmer day."
By responding this way, I am:
Acknowledging her love for the park.
Letting her know we will go there (while indicating why today might not be the best day for it).
Sending her a positive message instead of a negative one.
Another example:
"Mom can I have some chips?"
"Sure! We'll have some chips after dinner."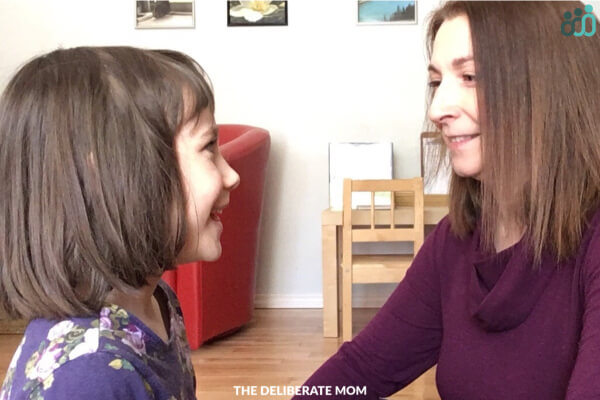 Use positive instead of negative direction.
Instead of saying, "Stop yelling," – you can say, "Use soft voices inside."
Rather than saying, "Don't jump on the couch," try saying, "You can jump on the floor."
Explain your requests.
Instead of saying, "Stop playing with your food!" you can say, "I'm worried you're going to be hungry if you don't eat your food."
Narrate what you see and explain natural consequences of actions.
Rather than saying, "Stop taking off your boots!" you could try, "I see you took your boots off again. It looks like you don't want to go outside to play."
This month's positive parenting challenge:
This month, I would like to challenge you to say yes more often. It might help to start this challenge by documenting how many times you say no in the day.
Keep track in a notebook, how many times you say no. Tally the results and reflect on them at the end of the day.
A day or two later, seek out ways to turn those nos into yeses. If your response has to be a no, try to phrase it so it's positive.
Get your free download.
I've included a free downloadable reference sheet of examples for positive messages and alternatives to "no". All you have to do is click the download button below and this reference sheet is yours!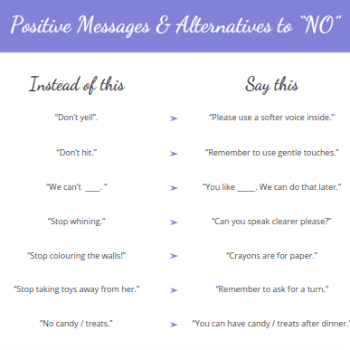 Positive Messages & Alternatives to No
Check out this wonderful reference sheet of examples for positive messages and alternatives to "no". Download your copy today.
Will you do me a favour? Share in the comments, do you struggle with saying "no" too much and what are you going to do to try to fix it? Then share this article with your parenting tribe.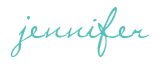 This post is part of The Parenting Resolution series. The entire series is here:
Introduction: The Parenting Resolution: Make This Year the Best Year!
Challenge #1: The Parenting Resolution: Creating a Learning Plan
Challenge #2: How to Stop Yelling at Your Kids
Challenge #3: How to Say More Yes and Less No
Challenge #4: How to Let Your Children Know They Can Depend On You
Challenge #5: Banishing Mom Guilt Once and For All
SHARE WITH OTHERS