Today is my wedding anniversary! I can't believe I've been married to my wonderful, sweet, amazing husband for eight years. I thought to commemorate the occasion, I would share some photos from our wedding.
However, before I get into that, if you haven't met Evan, then please do so by visiting his guest post HERE. If you want to know how Evan proposed to me… you can go HERE.
Come read about the movie-themed wedding of @DeliberateMom and @TheReelEvanBly #wedding #weddingpictures
Click To Tweet
Okay… now on to the wedding day!
We had a winter wedding (obviously) and we were concerned about the potential for a blizzard that day. So the wedding and reception were held in one location… a beautiful hall we had found. We hired a wonderful justice of the peace and scripted the ceremony to our liking, including writing our own vows.
For those of you who like "the bottom line", we had 98 guests at our wedding and the entire wedding came to a little less than $4000. Plus, when I say the entire wedding, I mean all of it… the dress, tux rental, cape rental, hall rental, JP fees, photographer, decorations, flowers, DJ, live pre-wedding music, gift bags for out-of-town guests, and toiletries for the bathroom).
Also, for the purpose of confidentiality, I am only including pictures of Evan, myself and our justice of the peace. I hope you don't mind.
To set the tone, I've embedded the video of the song I walked down the aisle to…
Eva Cassidy's version of Songbird.
Feel free to press play on the video and then scroll through the pictures. It was hard to choose just a few from over 350 choices but here you go! On to the festivities!
The venue
We had a movie-themed wedding. I enlisted the help of my brother-in-law to make a movie poster for our wedding. Little postcard versions of this were sent out as our save-the-date cards.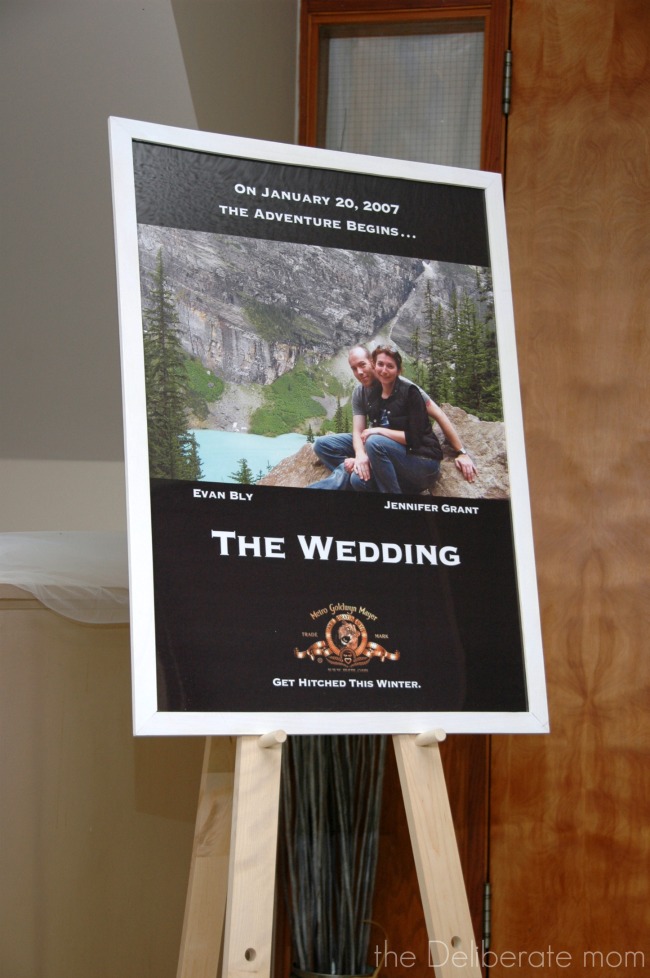 The main table leading into the hall held all the "essentials" flowers, guest book, comic-book programs made by Evan, and the wedding photos of our parents.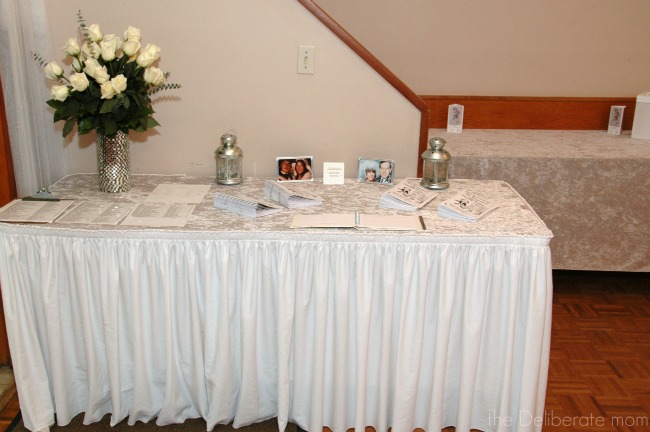 Each table was named after a romantic movie. My brother-in-law made gorgeous little movie poster cards for each table. The cards also indicated the itinerary of events for the day. Some of the tables which I can recall were: Say Anything, Pretty in Pink, Shrek, Romancing the Stone, Gone With the Wind, Love Actually, and The Princess Bride. The head table was named after our favourite movie, It's a Wonderful Life.
Every guest got a "soundtrack" to our wedding and a heart-shaped photo frame. We decorated the tables with fake evergreen garland, tin lanterns, and Hershey Kisses. We even had little bride and groom trivia cards on the tables to occupy the guests!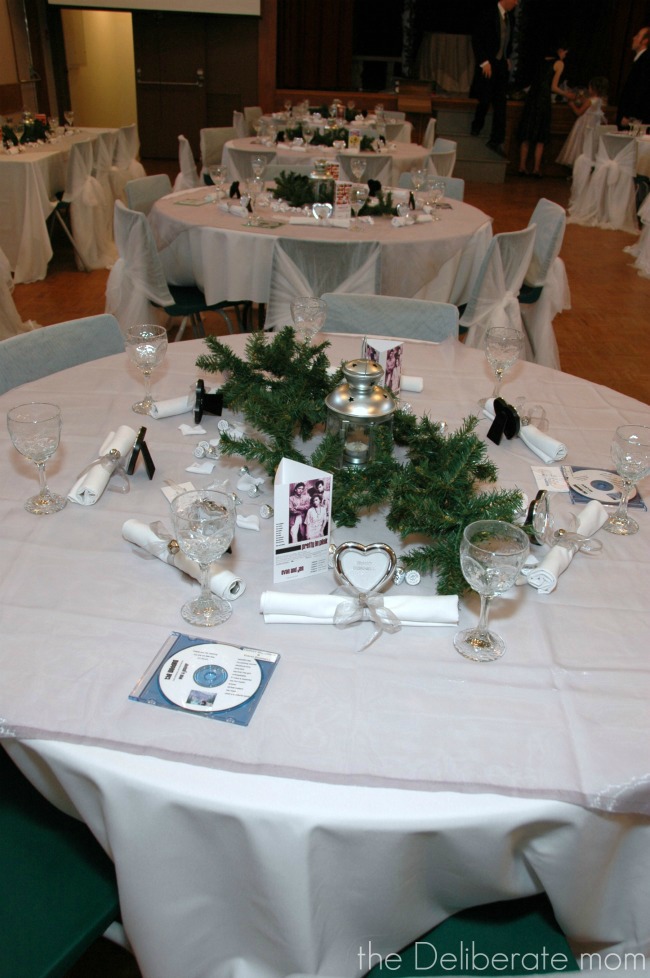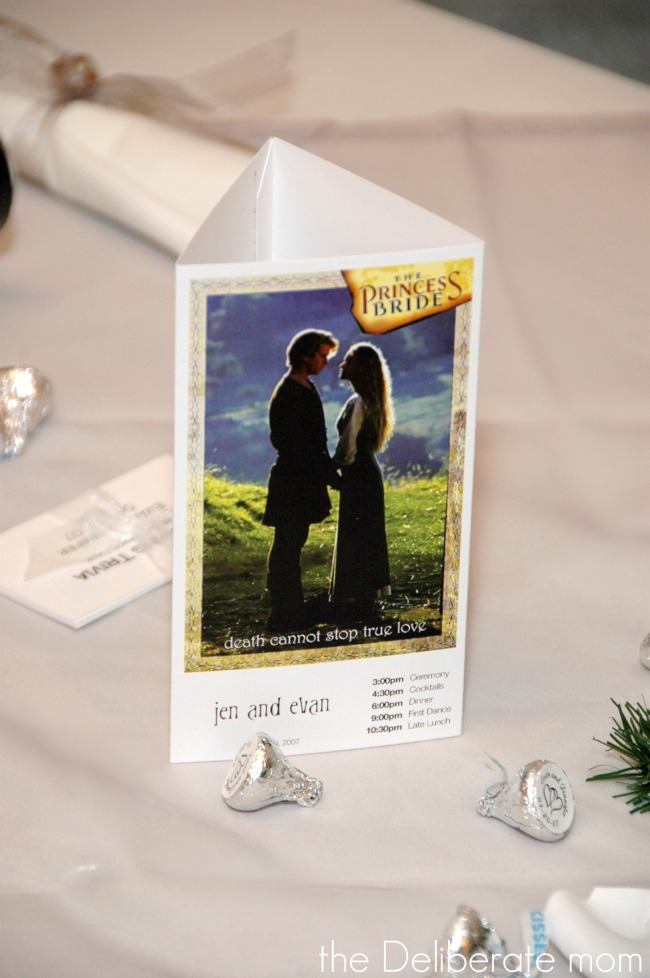 Our wedding cake was homemade and was a gift for us. I had found a picture in a magazine and it came out looking almost exactly like the picture!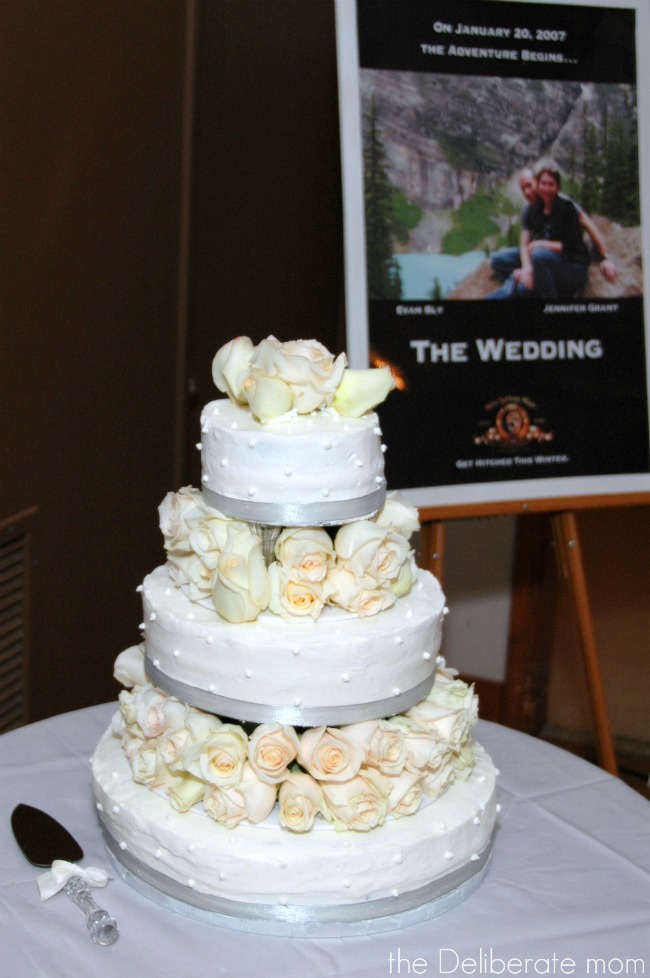 Wedding hair
I just had to share this photo because I absolutely loved my wedding day hair. I didn't want a veil… I wore a dainty tiara instead. However, I wanted my hair to be just as beautiful as a veil. My stylist did a fabulous job.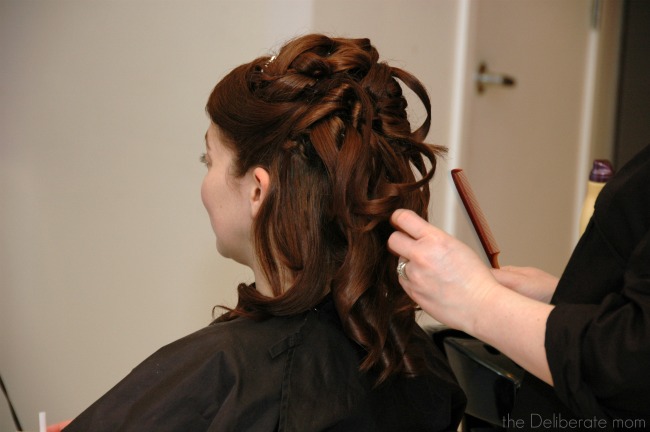 The wedding
Since we got married in a hall, we decorated the stage with a lighted arch and fake evergreen boughs. We also had a small bench for our flower girls to sit on. I love the dramatic effect of the stage in our movie themed wedding.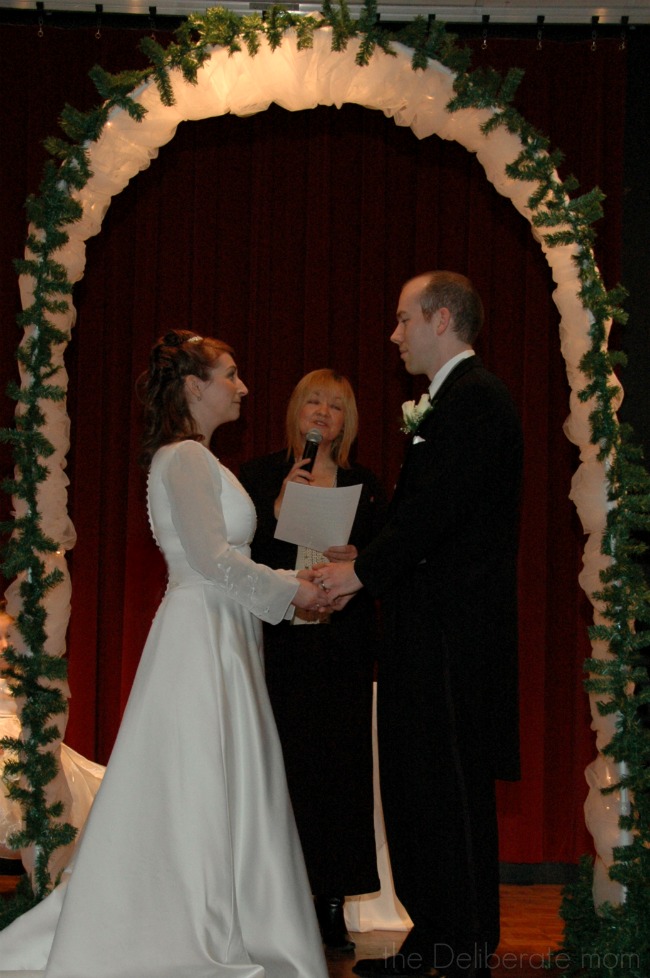 Evan and I wrote our own vows. Evan decided to surprise me with a song he wrote and performed as his vows. The lyrics to that song are posted HERE.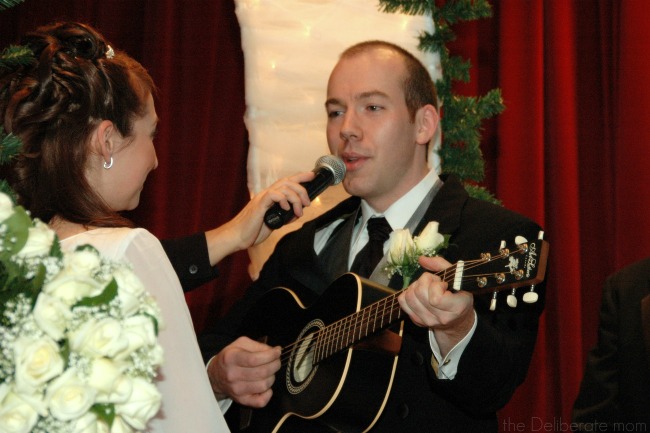 I did my best to not bawl my eyes out.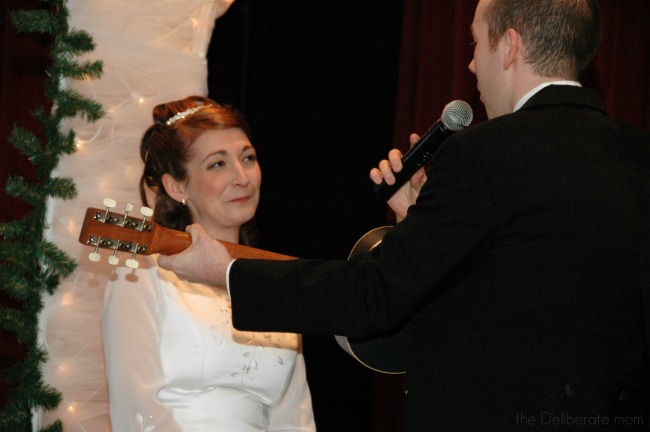 After the wedding
We took this picture outside the hall in a gazebo. I wanted to include it so you could see a bit of my wedding cape. I unfortunately didn't have very many pictures of me with the cape.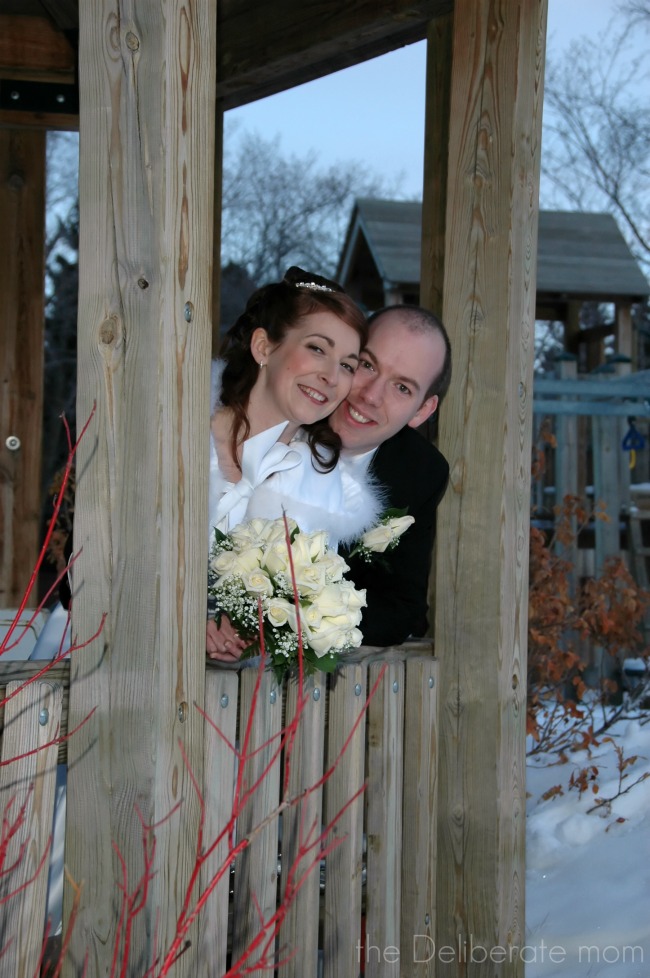 We had our formals taken in a historical movie theatre. It was the perfect setting for our wedding pictures.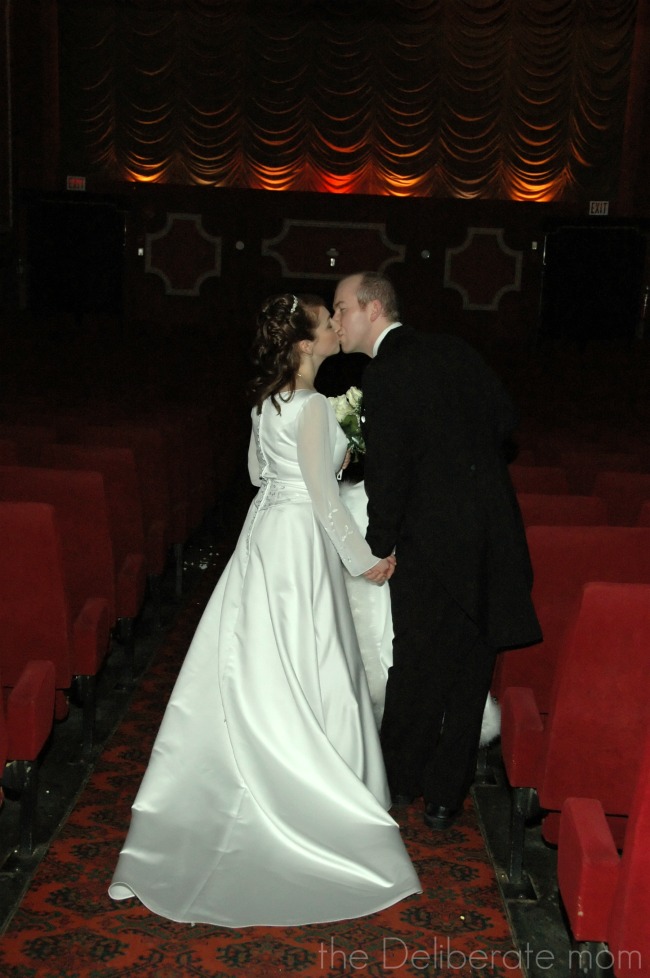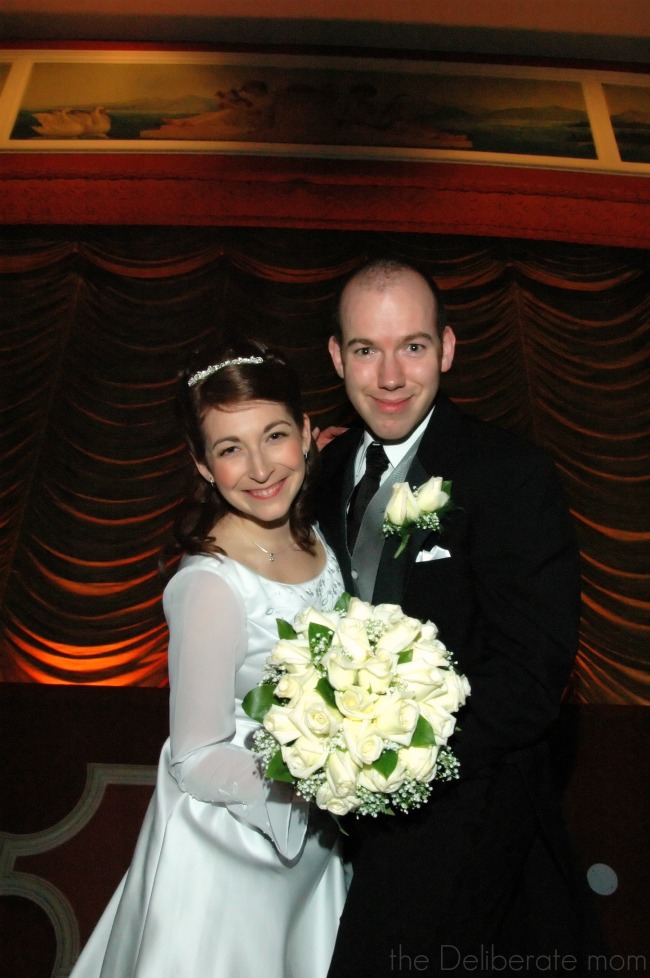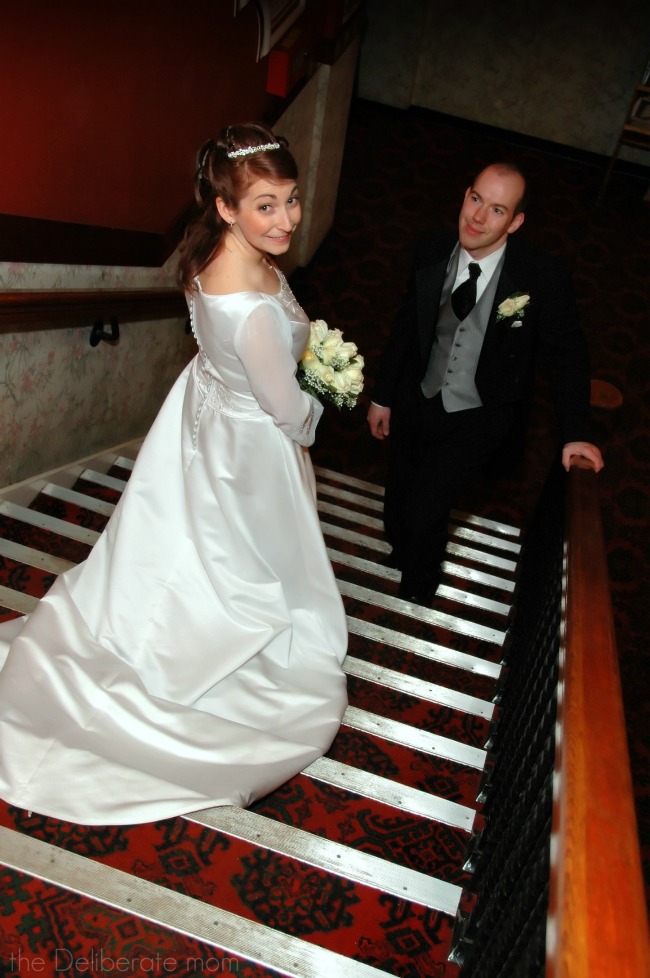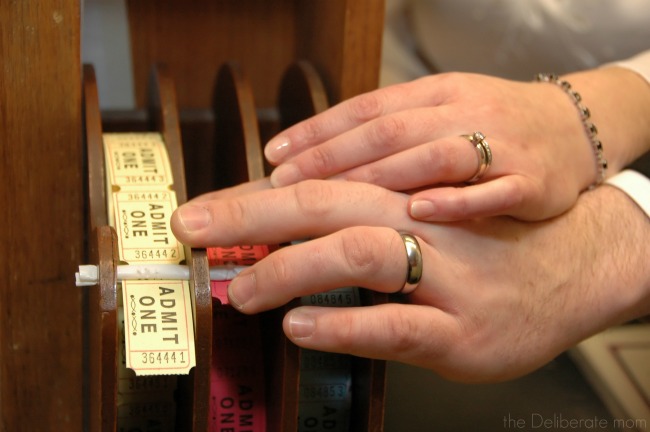 It was such an awesome day and a beautiful wedding. Evan and I spent months working together on all the details. Yes… I said together. He was completely involved in all aspects of the wedding. It was the perfect start to a fun and loving, life-long relationship!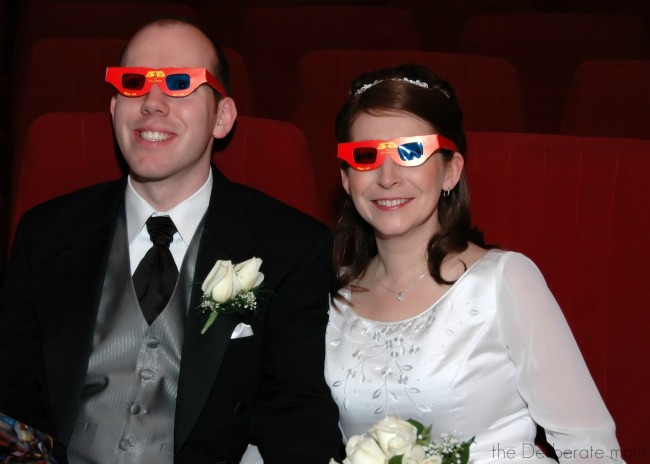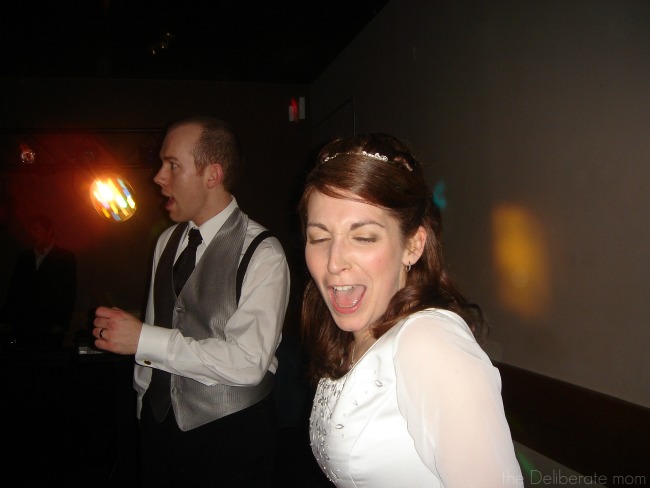 I hope you enjoyed this glimpse of our wedding day. I'm looking forward to celebrating eight years of marriage tonight with the love of my life!
He's not perfect. You aren't either, and the two of you will never be perfect. But if he can make you laugh at least once, causes you to think twice, and if he admits to being human and making mistakes, hold onto him and give him the most you can. He isn't going to quote poetry, he's not thinking about you every moment, but he will give you a part of him that he knows you could break. Don't hurt him, don't change him, and don't expect for more than he can give. Don't analyze. Smile when he makes you happy, yell when he makes you mad, and miss him when he's not there. Love hard when there is love to be had. Because perfect guys don't exist, but there's always one guy that is perfect for you.~ Bob Marley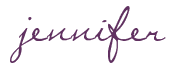 SHARE WITH OTHERS