Do you remember loading your child in a car seat for the very first time? I recall being so nervous that I almost resigned to the fact that I would never drive again.
My husband and I were at the hospital when we loaded my newborn daughter into her seat for the first time. We were delighted when the nurse gave us the two thumbs up and said we did a great job buckling our infant into her seat.
This one car seat safety tip that I'm sharing with you today is one you would use with children of all ages who use a car seat which has its own restraints.
This car seat tip could save a child's life. #safety #kids #wintersafety
Click To Tweet
It's winter and it's cold. You and your children are bundled in your puffy down parkas. You pile into the car (which is also cold), blast the heat, buckle everyone up in their respective seats, and go. In this seemingly normal routine, one potentially fatal mistake could be made. I will illustrate this in pictures.
This Car Seat Tip Could Save a Child's Life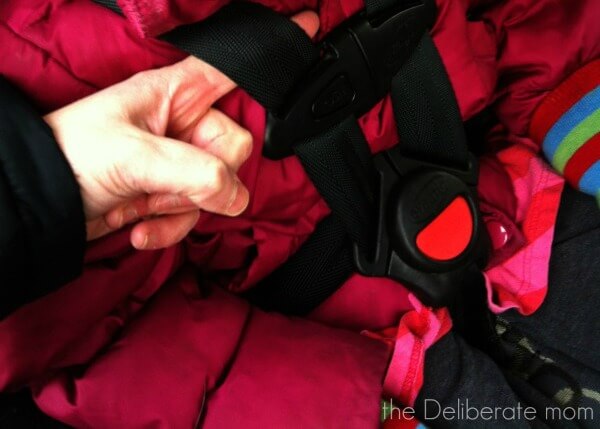 As you can see in this picture, I've buckled my daughter into her seat. The chest strap is at armpit level. I have tightened the straps to the point that they won't tighten any further. I followed the "rule" of not being able to pinch the fabric of the harness and I can barely squeeze one finger between the strap and her body.
Now for the next picture, I unzipped her coat without adjusting the tightness of the car restraints.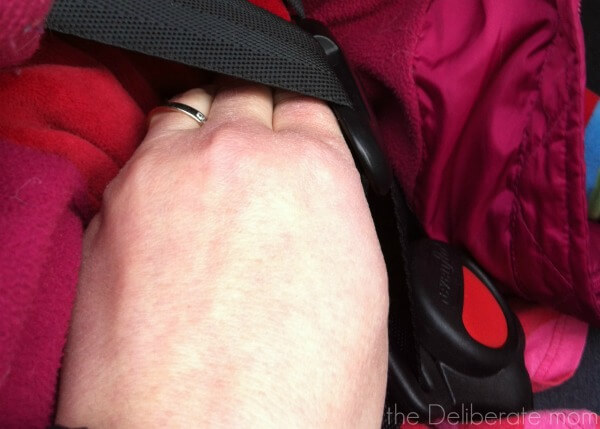 Are you shocked? Note, I did not adjust the belt! There is about 4 inches of slack between my daughter's body and the seat harness. Even more shocking, this seat is a "crank-style" restraint system. I turned the knob 3 times to get it snug once again!
Why is this a concern?
In a collision, child restraints do not adjust like regular seat belts. Regular restraints tighten in an impact but the belts in a child seat are as tight as you initially buckled them.
In a car accident, the fiber inside the coat compresses and suddenly there's several inches of space for your child's body to move around. In an accident, those inches could mean serious injury or even death.
Therefore, the belts should be as tight as comfortably possible in order to be effective. When a child is buckled into a car seat while wearing their winter coat, the restraint will never be tight enough.
How do I keep my child safe and warm?
Now that you know this information, you're probably wondering what you can do to ensure your child's safety.
Option 1
Have your child wear a polar fleece under their winter coat. When you get to the car take off the coat and buckle them into their seat with just the fleece on.
Option 2
When you get to the car, take off the coat. Buckle your child into their seat. Place their coat over them but backwards.
Option 3
Warm up the car prior to getting in. Place child in their regular clothes in their seat.
Option 4
Take your child's coat off and buckle them into their car seat. Place a warm blanket over them.
Even if you live in a warm climate or your children aren't using car seats anymore, please consider sharing this post… it could save a life.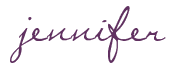 SHARE WITH OTHERS