You love books. Your kids love books. Wouldn't it be awesome if we could teach our kids all sorts of curriculum through the books we read to them?! We can… and I'm going to show you how.
One of my favourite homeschool curriculums is Five in a Row. The premise of Five in a Row is to read a book daily for five straight days, and then every day have a variety of activities that enhance the book.
In my homeschooling e-book, I share how I draw ideas from various curriculum sources, but my favourite is literacy-based planning, such as Five in a Row. What I love about this approach, is that every day builds on the previous day. For instance, if my girls and I discuss a specific literary device, such as onomatopoeia, the next day they get excited about the onomatopoeia as we encounter it in the story. The learning is reinforced daily – so it makes the learning especially engaging and fun.
We've been doing Five in a Row for over a year now, and I thought I would share some of our experiences with you. While I often follow the suggested activities in the Five in a Row book, I sometimes veer off and gather other activities as well.
Here are some great ideas for rowing the book, The Salamander Room! #homeschool
Click To Tweet
This month's featured book is:
A little boy finds a salamander and decides he will keep it in his bedroom. With his mom's prompting, he reflects on what the salamander will eat, where he will sleep, and he imagines the ultimate room and space for his new little friend.
This is a wildly imaginative book with beautiful illustrations!
Language Arts
Reading
We discussed reading for knowledge. We found books that taught about salamanders and borrowed them from the library (just as it appears Brian did in the story).
Outside of reading this book daily, we read some other relevant books as well. These included:
Frogs, Toads, and Salamanders by Chris McNab
Encyclopedia Brown and the Case of the Slippery Salamander by Donald J. Sobel
Salamander Dream by Hope Larson
Big Night for Salamanders by  Sarah Marwil Lamstein
Slimy Salamanders by Meish Goldish
Literary Devices
We discussed the parallel construction that appears in the story (through the mother and son's verbal exchange). Then we did a visual representation of the parallel construction in the story.
As I read the book, my youngest daughter would put one pebble on her side of the scale for every time the mother asked a question. My oldest daughter would put a pebble on her side of the scale for every time the son responded to the mother.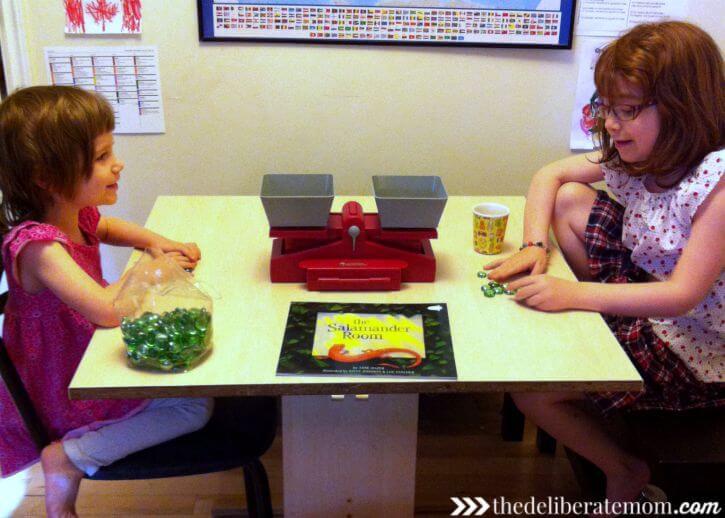 We discussed setting, specifically, the setting in this book.
Writing
I also had the girls do written copy work. The free printable for the copy work is at Homeschool Share.
Social Studies
Relationships
The FIAR curriculum suggested discussing the relationship between the son and the mother. We talked about how the mother gently encouraged the boy to think about things. She never told him his ideas were ridiculous, in fact, her questions encouraged deeper thought.
Geography
We discussed where salamanders lived and focused specifically on the Tiger Salamander's habitat in Alberta.
We discussed rainforests since salamanders also live there. We looked on a map and discussed where the rainforest areas are.
Science
Since we were just wrapping up our third-grade science unit on life cycles, this was the perfect opportunity to explore and discuss the life cycle of a salamander.
The girls worked on a salamander life cycle flap book which we obtained from Homeschool Share.
We went on a nature scavenger hunt.
Math
My oldest daughter worked on the math story problems on the printables provided by Homeschool Share.
My youngest daughter counted the various insects that appeared in the book.
Art
We drew salamanders in our art journals.
We made salamanders from salt dough. The project took two days because the first day we made the dough, sculpted it, and baked our salamanders. The next day we painted them.
We also designed salamander rooms using shoe boxes, fake moss, rocks, twigs, and other assorted items. The final result was gorgeous!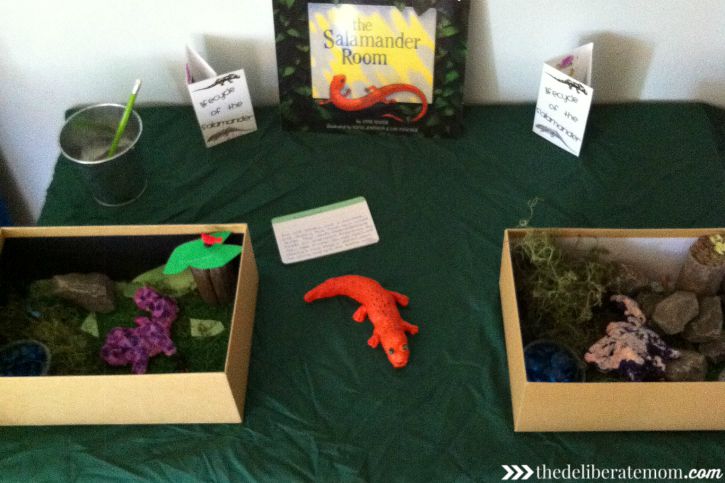 We proudly displayed our creations on our play table, took some pictures, and within a few hours all of our salamanders went missing! No, they didn't get a life of their own… our dog ate all of them!
Lesson learned. Never make anything out of salt dough and leave it within the dog's reach.
Cooking
We made tropical trail mix. The girls selected a variety of dried fruits, pretzels, crackers, etc. and made tropical trail mix to eat.
Field Trip
We went to the zoo to see if they had any salamanders there. They didn't! We did see some other amphibians, though… like poisonous dart frogs!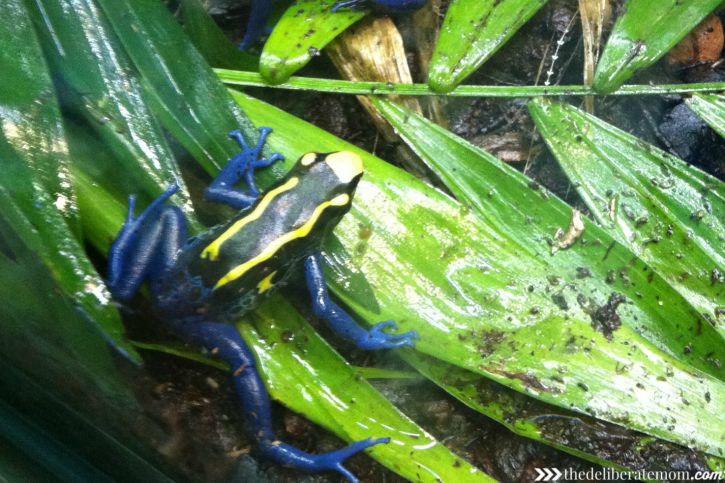 Additional Resources:
10 Interesting Salamander Facts
Five in a Row: Fold and Learn Book (scroll down to fiar-fnl-v3-salamander-room PDF and click for the FREE download)
The Salamander Room (read and shown on YouTube)
Bill Nye the Science Guy: Amphibians DVD
The Salamander Room – Problem/Solution FREE Printable Resource
Spotted Salamander Colouring Page – FREE Download
The Salamander Room was a delightful book to row! There was ample content to explore, and the book was beautiful to read. I hope you'll check in next month to see how we rowed another book!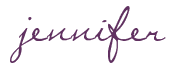 SHARE WITH OTHERS