At the beginning of January, I highlighted 12 projects I wanted to complete in 2012. I'm excited to report that I can scratch another task off of my To Do list.
I finally made the bookshelves for my girls' rooms! These great little shelves (which are actually spice racks) were only $4.99/shelf at Ikea. I painted them white, assembled them and then mounted them in the girls' rooms. I ended up mounting them behind the bedroom door, as no matter what furniture rearrangement occurs, no furnishings will ever be able to fit behind the door, thus the bookshelves have a permanent home.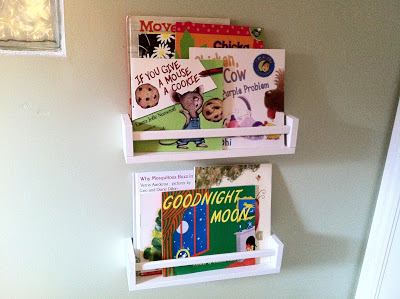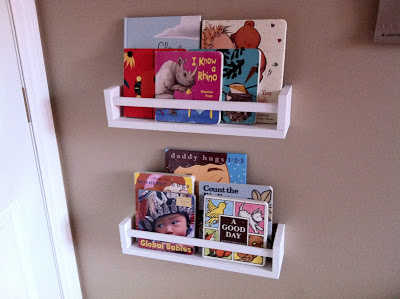 I love them! In fact, I want these in my bedroom… and maybe even in the bathrooms too!
The second part of this project was daunting… compiling a database of all our kids books. Just when I thought, "Someone should create a library database app…" – someone did! I found this great app for my iPhone; Home Library. It was $0.99 and it's BRILLIANT! There's a scanner built into the app, so all you do is scan the UPC code from the book and in seconds there's the book, with all it's magnificent details! It even assesses the retail price of each item!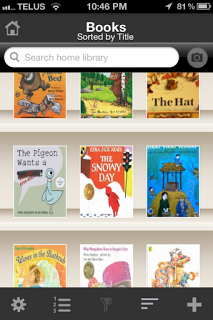 You can even scan your DVDs, CDs and games. Plus, there's an area of the app to keep track of what you've loaned out and what you've borrowed. See, what did I tell you? BRILLIANT! I also love that if you're wanting to buy a book, you can instantly check to see if you own it. As a child care professional, I encounter lots of books through my work. I can't tell you how many times I've stood in the bookstore wondering if I own a particular children's book. This little app solves this dilemma. All you have to do is scan the UPC code or search for the title and the app will tell you if you already own the item. It truly is amazing!
So another project is done! Even more important… I had a blast completing it! Yay!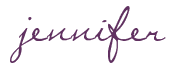 Disclaimer
My thoughts and opinions on the Home Library app are my own and I was not compensated for my opinions. I just love a good find and I love sharing almost more than the "find" itself!
SHARE WITH OTHERS