Do you have regular family meetings? As a busy parent, you might not have even considered including meetings in your family's routine.
On Instagram, for the past few weeks, I've been sharing stories entitled, Take a Peek Tuesday. On these days, I post a series of pictures capturing the day's activities.
A number of times, I received messages asking me about our weekly family meetings.
In this article you will find:
What's the purpose of the family meeting?
The frequency of our family meetings.
The length of the meetings.
What's on the family meeting agenda?
Additional information about weekly family meetings.
Do you host family meetings? Here's one family's approach to this weekly activity, from the agenda to the ground rules... read all the details here. #familymeetings #parenting #parenttips
Click To Tweet
What is the purpose of a family meeting?
We use the family meeting as a time to regularly connect and communicate with one another. It's an opportunity to discuss issues that may have come up during the week and to brainstorm solutions to problems.
The meeting also gives us a chance to share our victories and celebrate our achievements.
How often do we have family meetings?
We just started doing family meetings at the beginning of January. We host the meetings weekly. A week is just enough time to identify victories and tackle challenges before they get too big.
How long are the meetings?
We try to keep the family meetings short and sweet. They last approximately 15 to 20 minutes.
What's on the family meeting agenda?
We have regular topics on our family meeting agenda. You can get a sample of our agenda by joining our subscriber library at the end of this post.
A typical agenda is as follows:
Welcome
The welcome is simply an announcement of the commencement of the meeting.
Loving words
We take turns sharing something we love about the person sitting to the right or the left of us. What we share need to be complimentary to that person only. For example, "I love how every morning you get up and give a big hug and kiss to everyone."
Next week's schedule
For this part of the meeting we take out the calendar and discuss any events and activities coming up in the next week.
The schedule part of the meeting helps us align our calendars and keeps us organized so that appointments don't get missed and the children know what to expect.
What went well this past week?
This is when we share some of our happy memories and achievements from the past week. It's a lovely time to be thankful for the good things we experienced.
What were the challenges from the past week (brainstorm how to handle/overcome them)?
We use this part of the meeting to discuss any of the frustrations or challenging situations we've encountered over the past week. Then we brainstorm solutions to help one another avoid these challenges in the future.
For example, we may share things like how there has been too much noise first thing in the morning which is making it hard for some of us to sleep in. We would then brainstorm some quiet activities that can be done first thing in the morning.
Chore selection
Every week the girls choose chores from our deck of chore cards. These chores are their responsibility over the next week. They choose one daily chore (i.e. emptying the bathroom garbage cans or refilling the toilet rolls) and two chores that they do twice during the week (i.e. refilling the napkin dispenser, wiping down the doorknobs, etc.).
Other information about our weekly meetings.
We have some basic ground rules.
We have some basic ground rules for our family meetings. These include things such as:
Do not interrupt one another.
Brainstorm and share in a positive way.
No tattling or picking on one another.
The agenda is posted ahead of time
We post our weekly meeting agenda a few days before the meeting is scheduled to occur. There are spaces at the bottom of the agenda so that the children can add their own agenda items as well. For instance, one week my oldest daughter added that she wanted to discuss the plans for her birthday.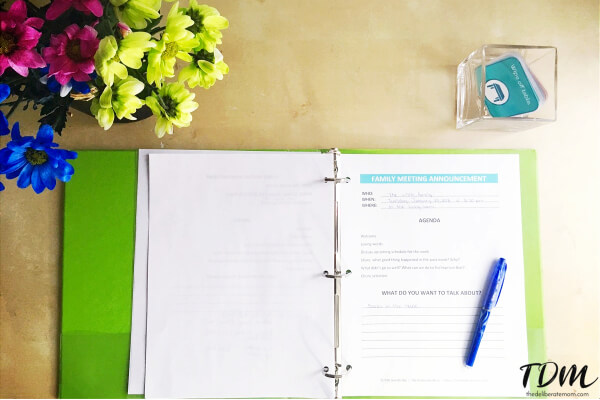 We keep meeting minutes.
Every week, my husband and I take turns keeping the meeting minutes or chairing the meeting. All of the meeting minutes are kept in a binder for future reference.
We do something fun.
My husband and I want family meetings to be a positive experience for everyone. We want the children to look forward to the meetings, as opposed to dreading them.
That's why we decided that we would end every family meeting with a fun family activity. For instance, we've watched a family movie after our meeting. Another time we had a family board game. One week we built a Lego structure together. We've also wrapped up meetings with a hot chocolate bar!
We spend at least an hour after the meeting connecting and spending time together as a family. There's a whole list of ideas for how to connect with one another after the family meeting.
I hope this gives you an idea of what our family meetings look like. So far, we've found that this weekly routine has increased the communication and overall happiness of everyone in our home.
So what about you? Do you have weekly family meetings? Please tell us about it in the comments below.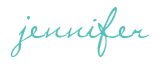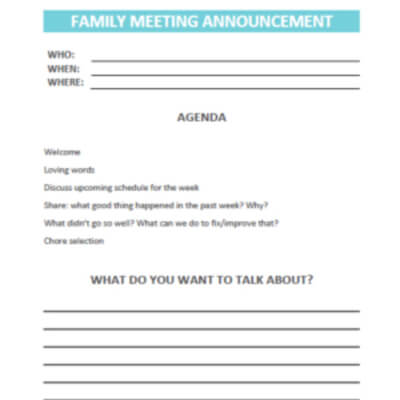 Family Meeting Agenda
Want to host meetings with your family? Download this handy family meeting agenda for your convenience.
SHARE WITH OTHERS