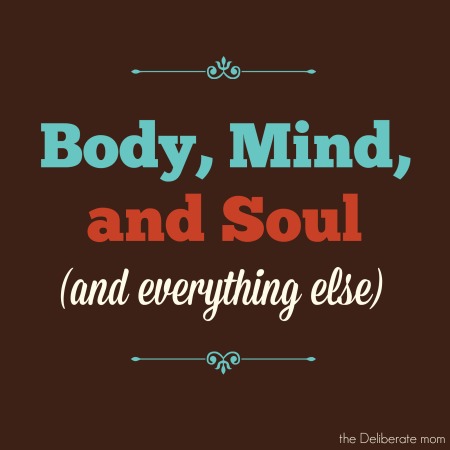 "I'm so glad we live in a world where there are Octobers."
L.M. Montgomery (Anne of Green Gables)
We're almost midway through October and I'm ready to share a bit of what's going on in my world… the little (mundane) details, the passing thoughts, and the revelations. Here's a bit about my body, mind, and soul (and everything else).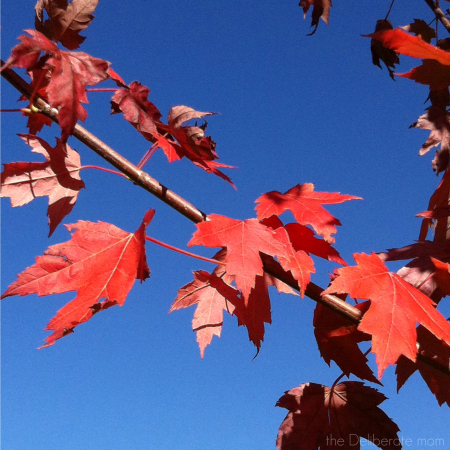 Body
Body Image
I'm going to get the tough one out of the way first… I didn't struggle with body image until I encountered my post-baby-carrying body. I can't stand to see my body in front of a full length mirror, clothes shopping is challenging, and no matter what I do it seems like my body is stuck in a rut.
I don't want a popsicle stick body. I would just like to lose the muffin tops and be able to look at myself without sighing. There are things I also need to come to terms with… like the rolls of loose skin on my belly. Short of plastic surgery, there's nothing I can do about it. There's no way I'm going under the knife so I'm praying I can accept my belly as it is.
Eating
For the past few weeks I have been more mindful of what I do to take care of my body. My beautiful friend, Laura, over at Essaie has been doing the Whole30 challenge. While I applaud her ambition, I don't want to go a whole month without a glass of wine, or sweeteners like honey, or a piece of salted dark chocolate.
However, in reading her posts and investigating the Whole30 suggested foods, I realized that there's some things I can do differently. I have really limited alcohol (1-2 glasses of wine per week as opposed to one every night), I have cut back on the added sugars in my diet and I'm making healthier food choices… all the time.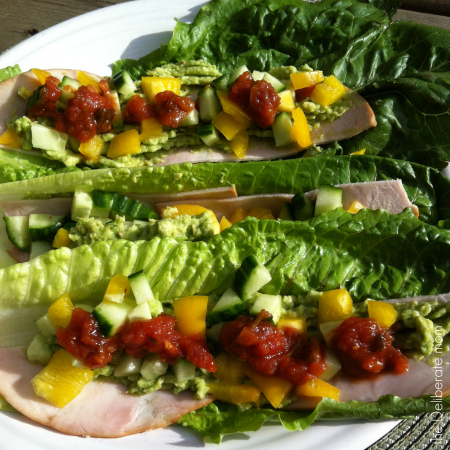 Exercise
While eating well is important, I acknowledge that exercise is equally important. I'm still riding my exercise bike for about 20-30 minutes a day… however, I know I'll need to increase that amount if I want serious change to occur.
I've been meaning to incorporate weight training into my routine but I just can't seem to fit everything into my days. Tiffany over at A Touch of Grace has shared some fabulous workout and weight training routines. I've just got to suck it up and push (lift) my way through them.
Yoga
Remember how last month I told you I was missing Yoga? Well, I recently discovered Stay-At-Home-Yoga!
This virtual yoga studio is amazing! It has a great variety of classes to choose from. There are 2 minute yoga breaks, 3 pose yoga shorts, and even 3-5 class series! I've recently been enjoying the "Work Hard and Rest Deeply series", but she also provides:
Yoga For Desk Jockeys Series
The Lower Body Series
The Middle Body Series
The Upper Body Series
Yoga for Kids
What I love about the instruction is that I don't have to crane my neck to look at the screen. Jennifer, the instructor, gives very detailed instructions. Plus her savasanas at the end of the practice are absolutely divine!
It's definitely a winner when it comes to price! Did I mention the savasanas? Yes, that alone keeps me coming back for more. Jennifer offers a 30 day free trial, if you like yoga, you really should check it out!
Mind
Homeschooling
Our homeschooling year has been absolutely fabulous so far. As I shared in my post: 7 Keys To Homeschooling Success, I feel several things have specifically helped to make it a good year. In addition to these keys, I work really hard to build on topics that can be explored in a variety of subjects. The overlap reinforces my daughter's learning and really excites her. I'll share more about this process in the months to come.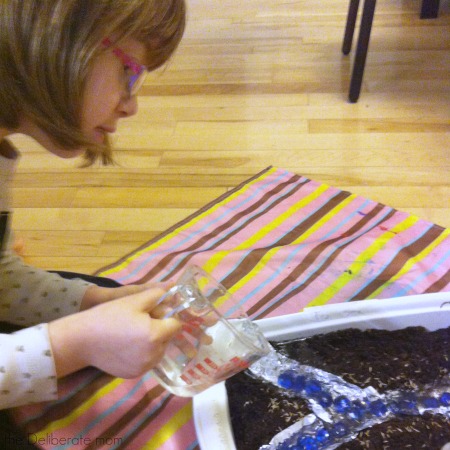 Thankful
Today is Thanksgiving. I've been thinking a lot about everything I'm thankful for. While my list would require its own post, I do have to say that Thanksgiving reminds me of how I want to live my life… fully and completely thankful for everything and everyone. It's a good life.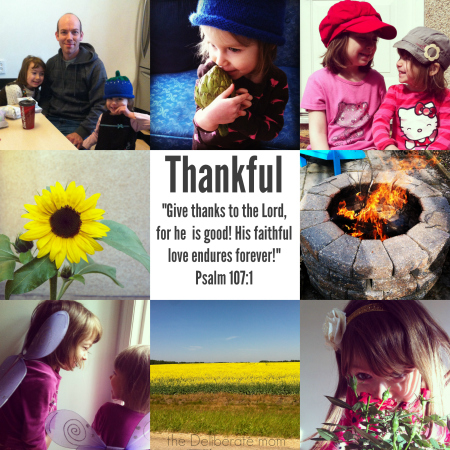 Writing
At the end of September I received this book in the mail….
NO I'M NOT PREGNANT!
However, this book has birthed something in me. You see, one of my blog posts was published in this book! While this was completely thrilling, I now have a deeper desire to get published. Seeing my name in print, smelling this book, and holding this book in my hands rekindled my desire to write a book.
It may seem obvious, but I recently realized that writing a book isn't something that's going to happen to me… it's something that I need to do. It's something that I need to take action on. So now I'm on a journey to find something to write about. It's frightening and exciting all at the same time. It may never happen but I won't know until I give it a good, honest effort.
By the way, I highly recommend this book. I'm about halfway through it and it's such a great read. I've caught myself nodding along in agreement, giggling, and wiping away tears. There are lots of short articles in it and it has a wonderful flow. The Christian perspective is both encouraging and refreshing.
I can sincerely express that Expectant Parents is a fabulous book and every expecting/new family should have a copy in their library.
Soul
A Night of Worship
My church recently hosted an evening of worship. The experience was amazing. We sang beautiful praise and worship songs, lifted our hands, danced, and prayed.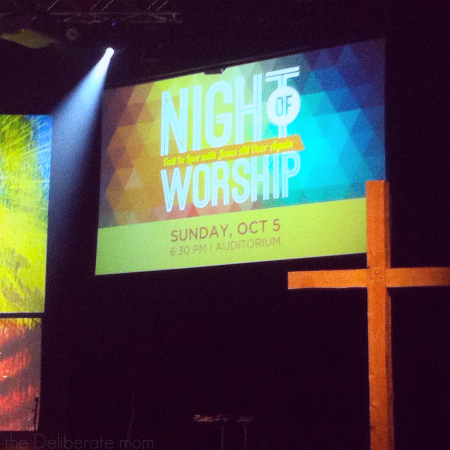 There were moments at this worship service when tears streamed down my face. The sheer joy of singing, praying, and spending this precious time with my Lord and Savior was incredible. The experience, for me, was a glimpse of heaven.
Women's Conference
I'm so excited to be attending a Women's Conference at my church this month. I was ecstatic when my event bracelet came in the mail. Kelly Minter is the keynote speaker for the conference and I'm certain the events of the weekend will bless many women.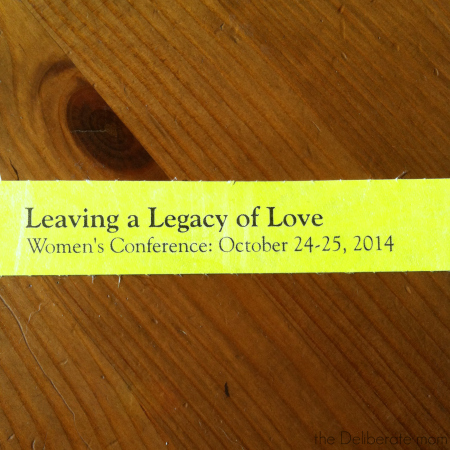 A Solitary Journey
As some of you already know, I have been praying that I will find a Christian friend… someone to talk to about my faith journey, someone to attend events with, and someone to pray with. My spiritual journey has been a very solitary one. I don't know why but I know there is a purpose for this. Perhaps God is sharpening me and building me up for deeper fellowship. I don't know… but I will continue to pray that I will find a spiritual "sister" to share my faith with.
Everything Else
Play Date
Remember how a while ago I told you about my anxiety surrounding the new experience of going for play dates? Well, we had our play date and it went well! The mom and I made a nice connection and the girls played fabulously. I would say our first experience was a success and I think subsequent experiences will probably have less anxiety leading up to them.
Halloween Costumes
I have always said, I will never, ever be the mom who sews Halloween costumes for her kids. I don't have the time nor talent to construct fabulous costumes… yet here I am, less than three weeks away from Halloween, sewing not one but TWO Halloween costumes for my girls. They both want to be Elsa for Halloween. For some reason I couldn't justify the $70 to buy each of them their own dress, yet here I am, $70 in the hole and sewing these Elsa costumes. What was I thinking?!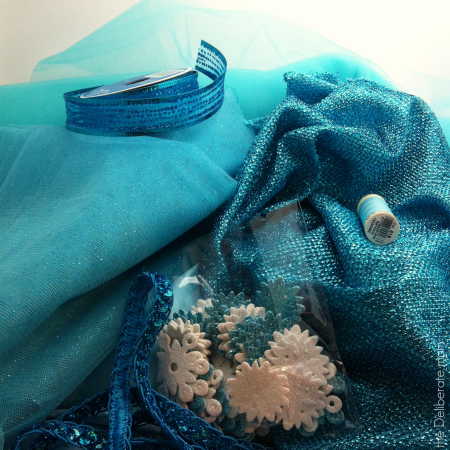 On the plus side, these aren't just costumes… they're costume aprons. This means my kids won't grow out of them overnight! Yay! Plus, these dress up aprons are super cute and the tutorial is fabulous and was created by my dear friend Sarah, over at Ruffles and Rainboots. Even if you don't plan on ever making these, you should check out the dress up aprons on Sarah's site. They are beautiful!
* * * * *
How's your body, mind, and soul (and everything else)? If you ever want to join me in this blogging series, please do (just make sure to let me know, so I can read your musings as well)! While you're at it, feel free to grab a badge to put on your post!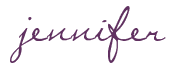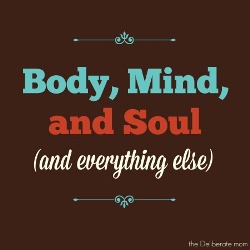 <div align="center"><a href="https://thedeliberatemom.com" title="The Deliberate Mom - Body, Mind, and Soul" target="_blank"><img src="https://thedeliberatemom.com/wp-content/uploads/2014/10/body-mind-soul-and-everything-else-badge.jpg" alt="The Deliberate Mom - Body, Mind, and Soul" style="border:none;" /></a></div>
SHARE WITH OTHERS