Delicious and affordable meals that require 3 ingredients or less?! It's true and these types of recipes are what my family has been living on lately.
I've always been an advocate for meal planning. Not only does it save money, but it helps prevent food waste.
However, between wanting to minimize my number of trips to the grocery store and trying to keep expenses low, I've found some delightful recipes have been in a steady rotation on my menu.
Most of these recipes require less than 3 ingredients. Please note, when I say less than 3 ingredients, I mean ingredients outside of condiments, oils, and spices.
Are you ready to explore this simple cuisine with me? Let's get cooking!
HOT DOG MEALS
I know, it doesn't sound "healthy" but I buy premium hot dogs and it's still cheaper than purchasing chicken and ground beef. Plus hot dogs satisfy those cravings for meat that my carnivorous family regularly has.
Wieners and Beans on Toast
All you need is wieners, a can (or two) of beans and bread. Heat up your beans, cook and slice up your wieners and serve on toast.
Hot Dog & Veggie Stir Fry
I found this hot dog & veggie stir fry recipe several years ago on the Hillbilly Housewife website. I was skeptical at first but my family fell in love with this recipe (and request it often). All you need is hot dogs, celery, and carrots (as well as oil and seasoning).
We've had this dinner on its own and served with rice. It's delicious either way!
Hot Dogs & Macaroni
This is the comfort food of my youth. Simply prepare a package of macaroni and cheese and serve with chopped up, cooked, hot dogs.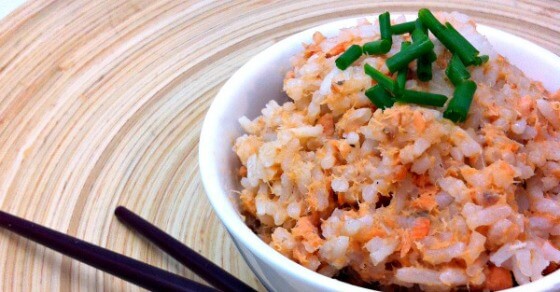 RICE MEALS
Salmon Rice
Salmon Rice is one of the most popular meals I've ever come up with. It's easy to prepare and requires just a few simple ingredients. All you need to make this dish is rice, salmon, and mayonnaise.
Fried Rice
Fried rice is a quick and delicious favourite meal in our house. All you need is cooked rice, some frozen mixed veggies, and a protein (scrambled egg, bacon, ham, or shredded chicken).
Simply fry your cooked rice, veggies, and meat in oil with soy sauce.
Rice Bowls
I recently shared this recipe as one of the self-assembly meals my kids love. Simply provide cooked rice, beans, and corn. You can also give them an assortment of toppings that they could use to assemble their own rice bowls. Topping ideas include shredded cheese, salsa, sour cream, crushed tortilla chips, etc. You can make it simple (rice, corn, and beans) or go as fancy as you want!
Mexican Rice
Talk about simple and tasty! This 3 ingredient Mexican Rice Recipe is scrumptious! All you need is rice, broth, and enchilada sauce!
BACON MEALS
Bacon is another meat which I can usually get for a good deal and it makes a variety of delicious dinners. Here are some of my favourite bacon dinners.
Breakfast for Dinner
Breakfast for Dinner is one of my family's favourite meals. I fry up some eggs, bacon, and serve with toast or pancakes. Delicious and satisfying!
Campfire Pig Greens
Don't let the name deceive you… Campfire Pig Greens taste great even when cooked in the oven! All you need for this recipe is a pound of bacon, a head of cabbage, butter, and seasoning. It's basically cabbage wrapped in bacon… and it's scrumptious!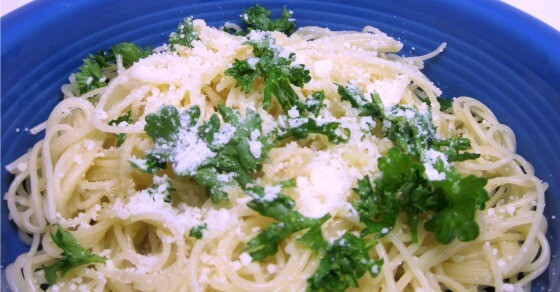 PASTA MEALS
Garlic Pasta
Garlic Pasta is another popular dish in my house. You only need to fry some garlic in olive oil and serve over angel hair pasta with Parmesan cheese and parsley. It's super simple and scrumptious!
Spaghetti & Meat Sauce
All you need is ground beef, pasta, and your favourite pasta sauce. Fry up your ground beef and then mix it into your pasta sauce. Serve over spaghetti with or without shredded cheese.
SANDWICHES
Grilled Cheese Sandwich
Mmmmm… grilled cheese sandwiches are the best! All you need is bread, butter, and some cheese. Grill up your sandwich and serve with your favourite canned soup.
Peanut Butter & Jelly
Nothing beats the simplicity of a PB & J! If you want to get fancy, you can check out my husband's famous peanut butter & jelly sandwich. It's amazing!
Bacon & Tomato Sandwiches
Bacon and tomato sandwiches are my favourite. Simply spread mayo on your bread and top with crispy, cooked bacon and slices of tomato. Delicious!
Tuna Melt
Mix some mayonnaise and tuna together. Spread on a piece of bread. Top with mozzarella or Swiss cheese. Toast in the oven at 400°F for about 5-8 minutes (until cheese is bubbly and a bit brown).
SALADS
Chickpea & Green Peas Salad
This is such a simple and satisfying meal. All you need is two cans of chickpeas (drained and rinsed), 1/2 to 3/4 cup of frozen peas (microwaved so thawed but not cooked), about 1/4 cup olive oil, and some seasoning (your choice). Mix all the ingredients in a medium sized bowl and season the way you like it. My kids like salt, a bit of pepper, and some garlic powder.
Chill salad for a bit (about 20-30 minutes) before eating.
Tuna Fish Pea Salad
I love this tuna fish pea salad! It's so easy to make (and even easier to devour)!
OTHER YUMMY 3 INGREDIENT RECIPES
Homemade Tortillas
I love making homemade tortillas! I use this tortilla recipe. While I don't have a tortilla press, I simply place the ball of dough between two plates (dough ball is also between two pieces of plastic freezer bag) and I press down. Then I cook the tortillas in a hot frying pan.
We have enjoyed tortillas with seasoned ground beef, chicken, or simply with refried beans. What makes the tortillas especially scrumptious is a bit of shredded cheese and/or salsa.
Sheet Pan Bake
This meal is delicious and can be done with just three ingredients plus oil and spices! I got this Roasted Sausage & Veggie Recipe idea from Tiffany over at A Fit Mom's Life. I use sausage, sweet potato, and broccoli in my sheet pan bake but you can use anything you desire! I've pretty much scoured the fridge and used whatever veggies I wanted in my bake. Carrots, asparagus, potatoes, cherry tomatoes… whatever you have, throw it in there and bake it!
Ground Beef and Cabbage Casserole
We love this ground beef and cabbage casserole… it's almost like eating a cabbage roll. Since there are some onion "haters" in this household, we make this meal without onion (and substitute onion powder instead). All you need for this recipe is ground beef, cabbage, diced tomatoes, and spices!
Simple Bread Recipe
I make this bread weekly and my family LOVES it! This Bread Recipe is simple to make and delicious! Some tips for this recipe… if your oven doesn't go below 100°F , simply turn it on at its lowest setting (mine goes to 170°F) for about 3 minutes. Then turn the oven off and place 1 glass measuring cup of boiling water in the oven with the dough. Keep the oven door closed and this proofs the dough beautifully!
You do need a stand mixer for this recipe – but no kneading is required… YAY!
So there you have it! A whole bunch of simple 3-ingredient recipes my family has been enjoying lately. As you can see, there is some overlap between the ingredients with these recipes, which makes grocery shopping and meal planning a cinch!
Do you have any favourite 3-ingredient recipes?! Please share!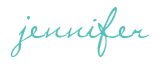 SHARE WITH OTHERS