Read a book and learn! That's my educational philosophy!
One of my favourite homeschool curriculums is Five in a Row. The premise of Five in a Row is to read a book daily for five straight days, and then every day have a variety of activities that enhance the book.
What I love about this approach, is that every day builds on the previous day. For instance, if my girls and I discuss a specific literary device, such as onomatopoeia, the next day they get excited about the onomatopoeia as we encounter it in the story. The learning is reinforced daily – so it makes the learning especially engaging and fun.
Last month, I shared how we "rowed" The Salamander Room.
This month's featured book is:
The story of Tony, his Dad, Nino, and their family business… a pizzeria. Tony's dad makes the best pizza in town. When he gets the opportunity to expand his business, a valuable lesson is learned by all.
This is a gorgeous book with vibrant, colourful pictures.
Here are some great ideas for rowing the book: Little Nino's Pizzeria! #homeschooling
Click To Tweet
Language Arts
Reading
Outside of reading this book daily, we read some other relevant books as well.
Pete's a Pizza by William Steig
Pizza at Sally's by Monica Wellington
Curious George and the Pizza Party by Margret & H.A. Rey
We also listened to the Pepperoni Pizza song from Dr. Jean Feldman's album, Totally Reading. This song is great for learning beginning sounds. The YouTube video for the song is HERE.
We studied the poem, A Pizza the Size of the Sun by Jack Prelutsky. Oklahoma Ag in the Classroom has a great lesson plan involving this poem (there are sample discussion questions and even an activity prompt). You can find the complete lesson HERE.
Literary Devices
We discussed homonyms such as the word "knead". We had fun making a list of various homonyms.
We also discussed the theme that appears the story. My oldest daughter immediately recognized the theme "bigger isn't always better" and was able to articulate her thoughts regarding the theme.
Vocabulary
We explored idioms and had fun with phrases like:
"Made of money."
"It costs an arm and a leg."
"Break a leg."
"It's raining cats and dogs."
Writing
I had my youngest daughter do a "P is for Pizza" worksheet.
Social Studies
Geography
We discussed the origins of pizza; that it goes back to the Middle East but that the pizza we're most familiar with originates from Naples. We looked at the map and placed our story disc on Naples.
Relationships
There is a special relationship between Tony and his Dad, Nino. We discussed this relationship and what it must be like to work with your family members.
Social awareness
Nino and Tony give their leftover pizzas to the homeless. We discussed homelessness and how we help people who are less fortunate than us.
Mathematics
The great thing about rowing this book was all the opportunities to explore fractions!
I got this FREE printable off of Teachers Pay Teachers and explored fractions with the girls.
We also investigated measurements that someone would use to make a pizza.
Science
We explored yeast and how yeast helps the dough to rise.
We made a flour and water mixture and a flour yeast and water mixture. We placed our creations in a warm place and discussed what happened.
We made pizza! Of course! Our dough was made from scratch, and the girls assembled individual pizzas to bake in the oven. We observed the changes that took place throughout the process of making our pizza (i.e. the dough rising, the cheese before and after baking, etc.). Delicious and fun!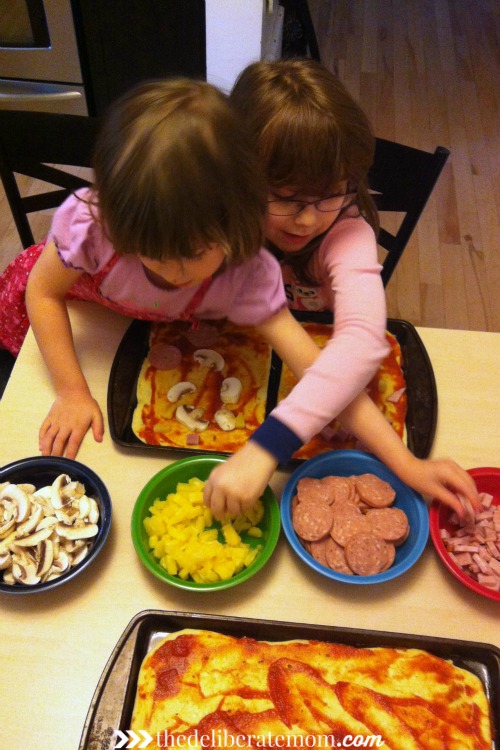 Art
Style
We discussed the gauche style of painting that appears in the book and looked at examples of gauche artwork.
The girls painted pictures, inspired by the artwork in Little Nino's Pizzeria.
Illustrating to tell a story
We explored the symbolism that appeared in the artwork of this book.
Music
We sang the song; I am a Pizza by Charlotte Diamond. I love this song because it's a blend of English and French (plus the tune is super catchy)!
Other activities
I wanted to get the Melissa & Doug Pizza Party Set but I've been extra conscientious with our homeschool funding this year. So I made an alternative! I cut out pizza "pieces" from some felt scraps we had. My youngest daughter used the pieces to assemble her own "pizzas". As she played, and exploration evolved, so did this activity. We added pizza flyers/menus and made a little pizza "restaurant". Both of my girls ended up loving this activity!
For my youngest daughter, I used a lot of ideas from this 40 page Pizza Learning Pack (from 123 Homeschool 4 Me). There was matching, word building, counting activities and much more.
I also cooked apple pizza with my youngest daughter. I know it doesn't look like the most appetizing dessert but trust me, it's delicious. Apples, brown sugar, cinnamon and cheese baked onto a biscuit is simply… perfection.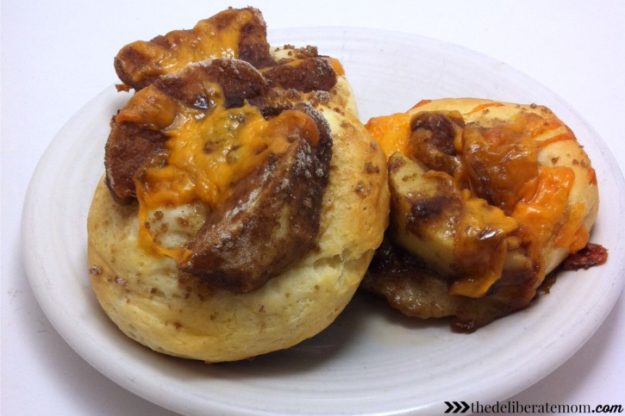 So are you hungry for pizza yet?! We had such delicious fun rowing this book. I highly recommend it!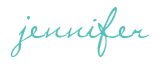 SHARE WITH OTHERS