It's been a couple days since I opened my heart and wrote the posting, The Day My Paper Shredder Made Me Cry . Within a couple hours of disclosing my innermost, rawest, feelings, my e-mail box was flooded with messages of support, encouragement and advice. There are no words to describe the outpouring of love and support I have received over the past 48 hours. I am humbled.
So many of the messages I received were about personal journeys. Some triumphant. Some full of sorrow. Miscarriages, years of waiting, fertility treatments, prayers, adoption… each person different, yet all united by a similar theme of wanting a child.
I'm taking this moment to thank you.
I had felt so alone in my grief.
I was drowning in sorrow and burdened with feelings I could not control.
My heart still aches and yearns for a child but I now know that I am not alone.
Thank you for reminding me that there is always hope and that my journey is exactly that… a journey. I haven't arrived at my destination yet but I have more companions now than when this journey began eight months ago. For that, I am grateful.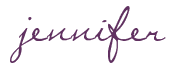 SHARE WITH OTHERS