The spring cleaning bug has taken hold of me and has ravished my home. I recently stumbled across this great blog series by the Money Saving Mom…
4 Weeks To A More Organized Home
I have been thrilled with the results! I don't know if it's the fact that the daily challenges include list-making; or if it's the timed 15 minute clean-up; or if it's the focused task assigned for the day; or the fact that I'm forced to purge seven items from my home on a daily basis… but this series has helped me transform my home from mediocre to marvelous! Trust me, any cleaning "program" that makes my fridge look like this is worth checking out!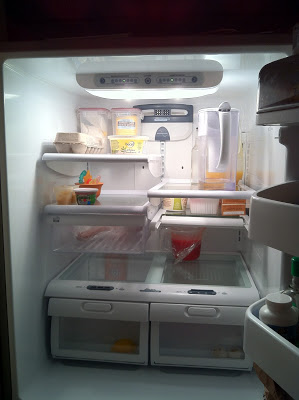 Then, I stumbled across the Creative Homemaking site and I fell in love with her…
Homemade All-Purpose, Non-Toxic Cleaner Recipe
I am thrilled with this cleaner recipe! It's surprising how far a little vinegar, dish soap, borax and water can go! The secret to the success with this cleaner is to spray it on the surface and let it sit for a couple minutes before wiping it off. My "test" of this cleaner was with the soap scum that collects around the drain of my pedestal sink. Usually I need a lot of elbow grease to get the scum off but this cleaner took it off with a swift swipe of the cleaning rag!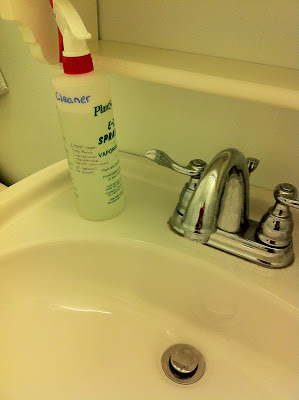 I also love that I can add my own scent to the spray just by adding a couple drops of pure essential oils. I opted for Rosemary, which has left my house smelled fresh and clean!
So there you have it. This mama has been bitten by the spring cleaning bug. Do you have the bug too?
SHARE WITH OTHERS