Our dependence on plastics has been in the news a lot lately. Reports that we eat a credit card worth of plastic every week (in microplastics) and that humans have made 8.3 billion tons of plastic since 1950 are not news stories to be taken lightly. But what can the modern family do to curb their family's dependence on plastic? This article will demonstrate some simple but powerful ways for your family to use less plastic.
What's the problem with plastics?
There are many issues with the amount of plastic being used in the world. For instance, plastic is landing up in our landfills and they can take anywhere from 400-1000 years to degrade. On top of that, plastic is being consumed by fish and wildlife. When we eat those animals, the toxins in that plastic ends up in OUR bodies! Even if you're a vegetarian, plastics will end up in your food because microplastics appear in our water supply.
The amount of plastic in our world is a crisis.
Remember how over a decade ago, people were freaking out about BPA in our plastic bottles and containers? We were worried because it put the health of us and our children at risk. Shouldn't we be as concerned over the effects that plastic has on our food and water supply?! Ingesting microplastics is harmful! In fact, in 2017, a study out of King's College in London hypothesized that, over time, the cumulative effect of ingesting plastic could be toxic.
Since my children were born, I have looked for ways to lessen my family's impact on the environment. From hosting a "green" Christmas to planning eco-friendly birthday parties, I'm often making changes to be more environmentally friendly. Cutting back on single-use plastics was one of the biggest changes we made and today I'm going to share these simple but powerful tips with you!
Our dependence on plastics has been in the news a lot lately. This article demonstrates simple but powerful ways for your family to use less plastic. #ecofriendlytips
Click To Tweet
How to Use Less Plastic in Your Home
1 – Assess how much plastic is in packaging before you buy
When you're shopping, take the time to compare the way things are packaged. For example, instead of buying the convenient 6-packs of applesauce, consider buying a large jar that you can divide into smaller containers.
The outer packaging of many products are encased in plastic. Consider buying products that are packaged in paper or cardboard instead.
2 – Say no to a straw
Let's face it. North America is a fast-food culture. It's crazy when we think of how much waste comes from grabbing a meal on the run. However, we help cut back on waste by using our own reusable straws. My family loves these ones.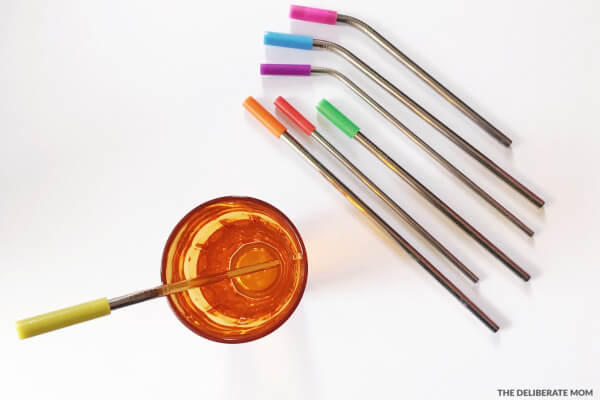 The silicone tips are fabulous if you have an aversion to putting metal in your mouth. The set of straws we bought came in varying lengths and widths. The set also included a convenient storage pouch and a cleaning brush.
3 – Reusable cutlery
While you're eating out and saying no to plastic straws, you might as well say no to plastic cutlery too. There are plenty of options for travel cutlery now… from bamboo cutlery kits to wheat straw sets. The options and colours are limitless!
4 – Use a refillable water bottle
People think that if they recycle their water bottle, it's okay to purchase bottled water. However, instead of purchasing a bottle of water, buy a refillable water bottle! Consider keeping a reusable bottle at home and one at work. Plus using a reusable water bottle is much more affordable than purchasing individual plastic bottles of water.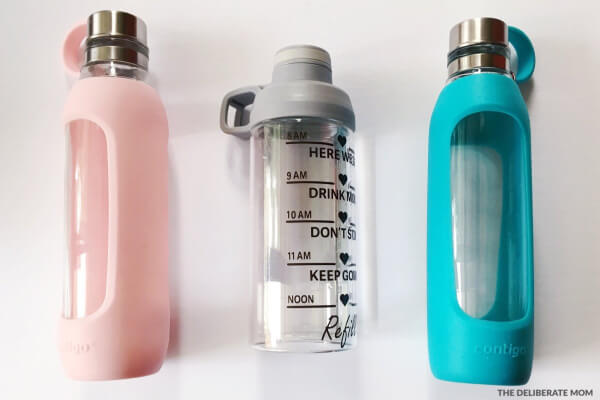 5 – Just say no to glitter
I know our kids love the glittery crafts and toys – but glitter is full of microplastics. No worries though. There are plenty of glitters on the market that are made of plant cellulose instead of plastics!
6 – Reusable grocery bags are a must
If you haven't made the switch to reusable grocery bags, then this is one measure you MUST take as soon as possible. Most stores have their own reusable bags. We've been using these ones since 2008 and I absolutely LOVE how compact they are. They've lasted many years… and they're still going strong! Plus they can carry up to 44 lbs each!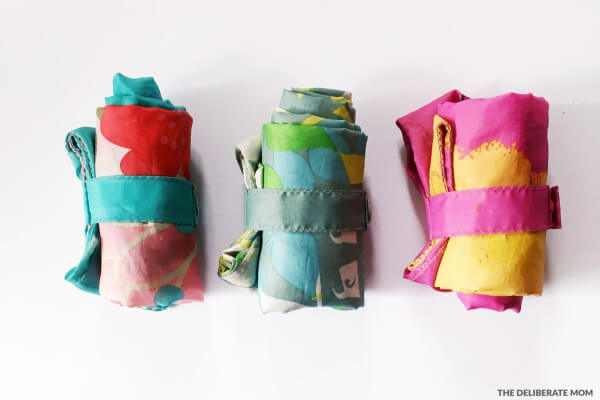 7 – Go back to bottled milk
I recently switched back to bottled milk and I have to say I LOVE it! I find the bottled milk even tastes better than the milk in a carton or a plastic jug! While glass takes a significant amount of energy to make, these milk bottles are completely reuseable.
8 – Ditch that plastic wrap
My family recently made a switch from plastic wrap to beeswax food wrap and I have no idea what took us so long to make the switch! I love this brand of food wrap. It works beautifully and stores our food well.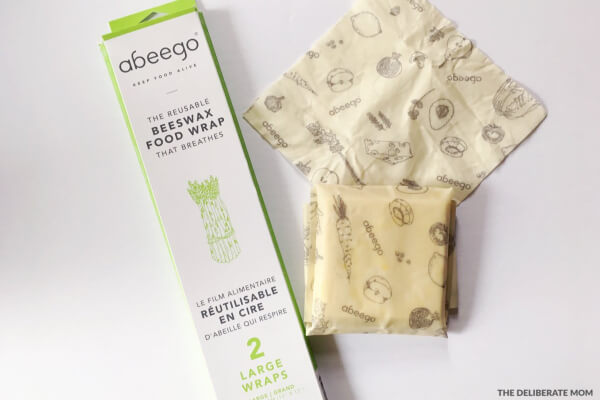 9 – Opt for toys made of natural products
I've always loved the look of natural toys but now that I know of the dangers of exposing our little ones to so much plastic, I would encourage any new parent to opt for toys made of wood and/or natural products.
10 – Reusable produce bags
I purchased these reusable produce bags quite some time ago. When purchasing your apples, bananas, potatoes, etc. simply pop them into one of these bags instead of using the plastic produce bags in the store. I recommend buying a large lot of these and carry them in your purse.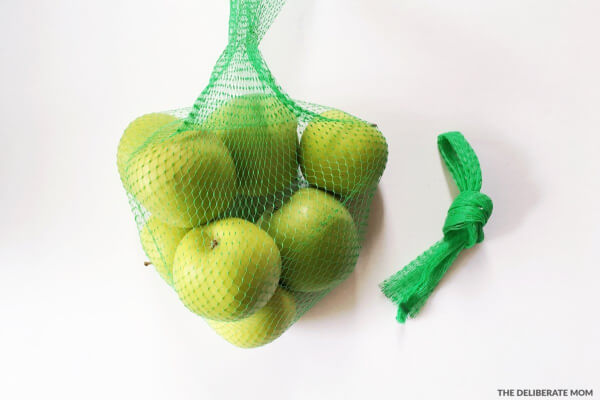 As you can see, cutting back on your family's plastic use isn't that difficult. I recommend slowly integrating these tips into your lifestyle one at a time. Before you know it, your family's dependence on (and use of) plastics will be minimal.
Margaret Mead once said, "Never doubt that a small group of thoughtful, committed citizens can change the world; indeed, it is the only thing that ever has." Let's be that group of thoughtful, committed citizens! Together, we can make a huge difference in protecting and preserving our beautiful planet.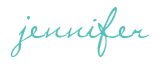 SHARE WITH OTHERS