Are you interested in creating a DIY Summer Camp at Home? This nature-themed summer camp may be exactly what you and your children need!
This year we're having DIY Summer Camp at home because of COVID-19, but even if restrictions were completely lifted, this health and economic crisis has taught me how important it is for our family to get out of debt. Hence a DIY Summer Camp is going to help us save money AND have fun at the same time.
As I began to think and dream about the summer camps I would have with my children, I wondered if other families were considering doing something similar. So I thought I would share my plans with you.
Check out this DIY Nature Theme Summer Camp - complete with plenty of activity ideas to keep the kids active and engaged! #DIYSummerCamp
NATURE SUMMER CAMP
As I began to brainstorm summer camp ideas, I decided to host a nature summer camp as our first week-long camp, as most of the materials needed for the activities can be found in my own backyard.
I also found it helpful to write all my ideas on a planning sheet. You can download and use the planning sheet that I created for my summer camp as well!
Want a peek at some of the ideas I've had for my DIY Nature Summer Camp? Check them out!
SETTING THE STAGE
I want our summer camp to feel like my kids have been transported somewhere new and exciting. That's why I'm setting the stage for this summer camp by setting up the play tent in the livingroom, with a fake campfire, as well as loads of nature books and materials.
BOOKS
Books are a big part of our everyday lives, so I have a few books selected for this summer camp. Here are some of our favourite nature books:

ART & CRAFT IDEAS
I love the opportunity to get creative. I have loads of art & craft ideas for this DIY Summer Camp.
ROCK PAINTING
Gather rocks and paint animals, insects, etc. on them!
BUILD A BIRDHOUSE
I definitely want to build a birdhouse with my kids. I'm considering these birdhouse plans or these ones.
TOILET PAPER ROLL BIRD FEEDER
Since the birds will have a home in our tree, we'll need to make sure they're fed too! I love this simple bird feeder craft.
NATURE WEAVING
Weaving is such a relaxing activity. Nature weaving was a lovely addition to our nature camp!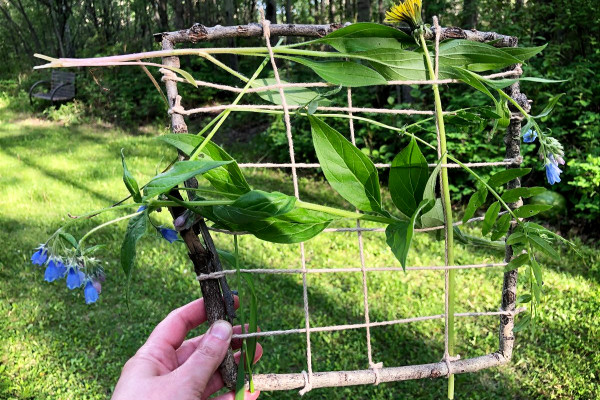 CREATING NATURE BOOKMARKS
Aren't these beautiful nature bookmarks?! This project can be done with a laminator or clear sticky paper!
CHALK PASTEL ART
We have a You Are An Artist Membership, so we're doing some nature chalk pastel art projects this week. You Are An Artist has various complimentary chalk pastel art plans that you can try for FREE on their website. For instance, this hummingbird art project is a great one!
NATURE NAME ART
This is a wonderful way to use natural materials gathered from a nature walk… making nature name artwork!
PHYSICAL ACTIVITIES
Every summer camp has a variety of physical activities for the children who attend. Here are some of the nature camp physical education activities that I planned.
NATURE WALKS & HIKES
Nature walks are super important since we'll be collecting specimens and doing nature observations all week. Some ideas for hikes:
a scavenger hunt
bird watching hike
rock collecting
rock skipping
tree walk (identify trees in the area using our guide book)
NATURE YOGA
I stumbled upon this great (and affordable) download of Nature Yoga! My girls loved doing these yoga poses – and the pictures are beautiful!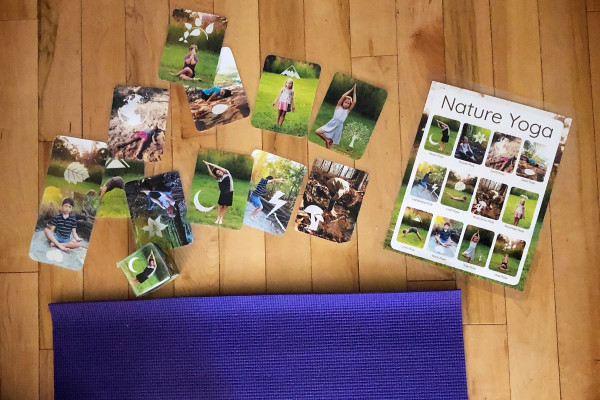 KINDLING HUNT & RACE
Each child gets a bag and races to collect the most kindling to start a campfire!
GAMES
HIDE THE WATERMELON GAME
I LOVE this game so much! We take turns hiding a watermelon in the woods and race around to see who can find it first! This is also a great physical education activity!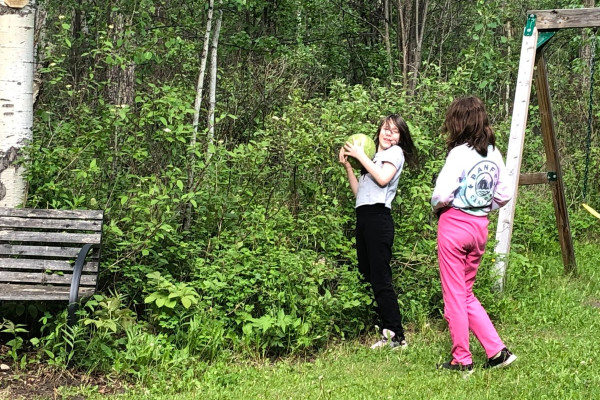 A, B, C, NATURE!
This is a great campfire game. Simply take turns naming something from nature starting with the letters of the alphabet (starting with the letter 'A'). The next person needs to name something from nature that starts with 'B' and recall what 'A' was. This continues all the way through the alphabet. If you want to make it more challenging try the game with a specific nature category like birds, insects, or animals.
WILDCRAFT
My girls adore the Wildcraft board game. We played it a few times during our nature camp week.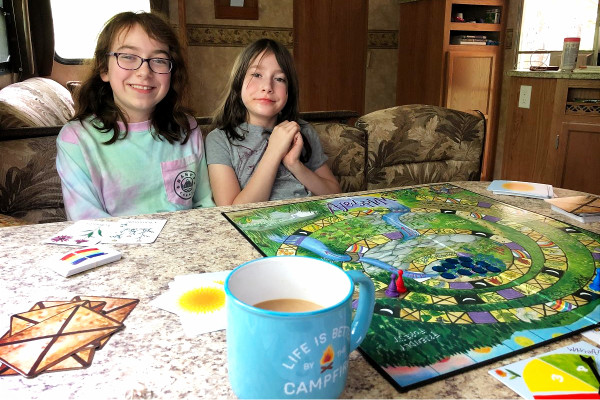 SPECIAL SNACKS
Every camp needs some good FOOD! Here are some of my snack & food ideas for this week.
WORMS IN DIRT
Worms in dirt is a favourite recipe around here! We're making this healthier version of worms in dirt.
S'MORES BUFFET
We headed to the firepit armed with various s'mores toppings to have a s'mores cook-off! These 15 s'mores recipes are a great starting point. Candied bacon s'mores… count me in!
MAKE YOUR OWN TRAIL MIX
I love making trail mix, but nature week is a great time to get the kids making their own trail mix combinations. Some of the items that I provided for the trail mix were:
raisins
dried cranberries
nuts
peanuts
chocolate chips
banana chips
candied fruit
pretzels
beef jerky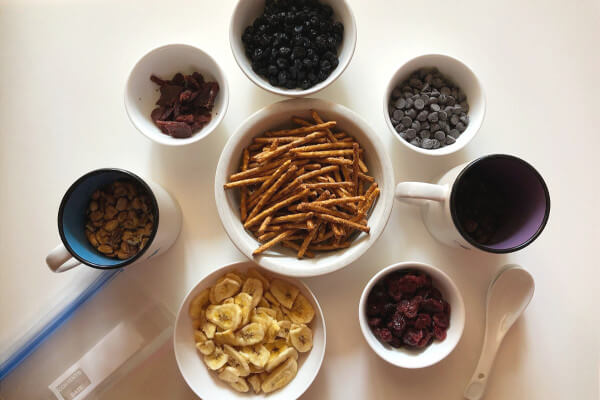 PRINTABLE ACTIVITIES
Nature Word Search from Print it Free
I Spy Nature Game from Paper Trail Design
Crossword Puzzle (Nature Themed) from KidPrintables
Nature Scavenger Hunt from FreeKidsCrafts
OTHER ACTIVITY IDEAS
NATURE PUZZLES
We dug some nature-themed puzzles out of storage to make this week. I especially love our Charlie Harper Tree of Life puzzle.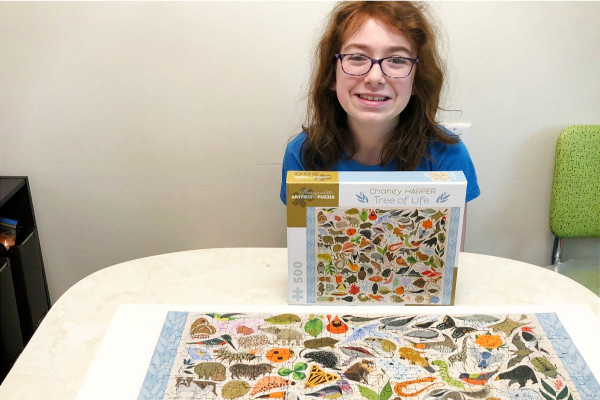 MAKE NATURE JOURNALS
Fold some 8.5 x 11″ paper in half and staple into booklets that the children can use as Nature Journals for the week. They can sketch the things they see while on walks.
SOLAR PRINTS
Solar prints are loads of fun. This paper is our favourite for catching solar prints.
CLOUD WATCHING
You can't have nature camp without doing some serious cloud watching!! This downloadable cloud viewer from Wonder-Filled Days is fabulous. I laminated ours and we used it a lot during our Nature Camp.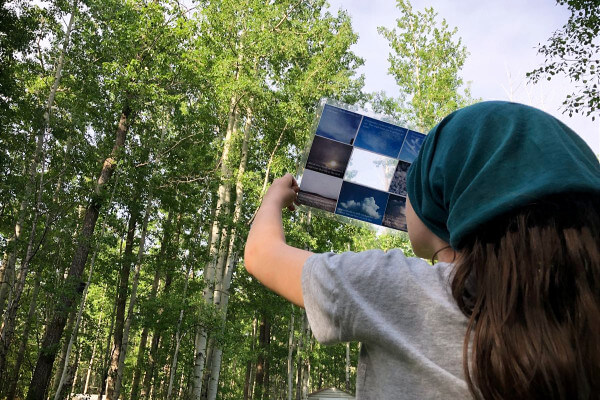 Once I selected all of our summer camp activities, I put them into this Week-Long Summer Camp Calendar.
I hope this has given you plenty of ideas for creating a DIY Summer Camp for your children! Do you have any additional ideas? Feel free to share them in the comments below!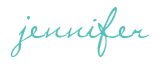 SHARE WITH OTHERS