Do I ever have a special treat for you! Today I have a very dear friend, Caroline Harries, sharing her heart about waiting.
When I asked her to write this guest post, little did I know how much I needed it. I struggle with waiting. The unknown and moments of hoping and expecting is challenging and especially difficult for my anxious type-A personality.
Caroline's post was like balm for my soul. I hope that her beautiful words bless and encourage you as well.
Waiting.
The reality of life is that we're all waiting on something. Maybe it's something smaller and less significant. But maybe it's something larger that consumes all your thoughts.
Financial breakthrough. Healing in your body. A baby. Your husband to return.
Scripture discusses the topic of waiting over and over. It also addresses the topic of suffering and facing trials. Do you realize that scripture promises that you will face trials? And, it commands you to find joy in the trials? Whew. That is a hard truth to swallow, isn't it?
"Consider it pure joy, my brothers and sisters, whenever you face trials of many kinds, because you know that the testing of your faith produces perseverance. Let perseverance finish its work so that you may be mature and complete, not lacking anything."

James 1:2-4 (NIV)
Seasons of waiting on the Lord can be hard, discouraging and exhausting. But, the beautiful thing about these seasons? They refine you to be more like Jesus. When your faith is tested, perseverance and maturity are produced within you.
"And the God of all grace, who called you to his eternal glory in Christ, after you have suffered a little while, will himself restore you and make you strong, firm and steadfast."

1 Peter 5:10 (NIV)
Not only will be become more mature and complete, but after you suffer a little while, God will restore and strengthen you. It's in the waiting that he is making you firm and steadfast. You don't have to suffer alone because God's grace is sufficient. He will give you just what you need in every moment of waiting. His desire isn't to tease or torture you, but to love you and build you up into the person he wants you to be.
I don't know what you are waiting on or what you have gone through. Perhaps it's only been weeks or maybe you have been waiting on something for years. Or maybe it's that you have faced devastating circumstances. Please know that there is purpose in everything you are going through. Jesus is so for you in this season and despite how messy and hard life might look to you right now, God is in it all.
He sees your pain. He catches your tears. He is with you, beside you and in you. And his desire when you come out of this season? It's that you would be more like him. There is nothing more beautiful than that, right?
Don't let the struggles in front of you distract you from missing the point of your trial. Seek Jesus and trust that not only will he pull you out of your pit, but you will come out stronger and more mature too.
---
Are you looking for hope and encouragement in the waiting? In Due Time is a 60-day devotional written for those who want to seek Jesus during the various seasons and trials of life. You can read more about it here.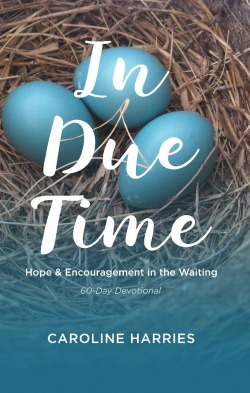 To purchase, use code deliberatemom10 for 10% off your order and a free bookmark with your purchase.
---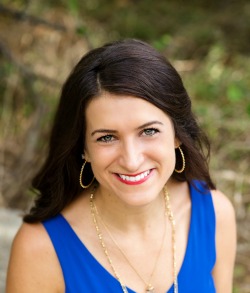 Caroline Harries has a heart for those who are waiting on breakthrough from the Lord. Her unwavering faith is evident as she believes for her own miracle of children. She delights in encouraging women through her internationally followed blog, In Due Time, and her ministry to those desiring to become mothers, Moms in the Making. Caroline holds a degree in finance and marketing from Baylor University in Texas, where she and her husband live.
{Let's Connect}
Facebook • Instagram • Bloglovin • Pinterest • Google + • Twitter
Scripture quotations marked (NIV) are taken from the Holy Bible, New International Version®, NIV®. Copyright © 1973, 1978, 1984, 2011 by Biblica, Inc.™ Used by permission of Zondervan. All rights reserved worldwide. www.zondervan.com The "NIV" and "New International Version" are trademarks registered in the United States Patent and Trademark Office by Biblica, Inc.™
SHARE WITH OTHERS