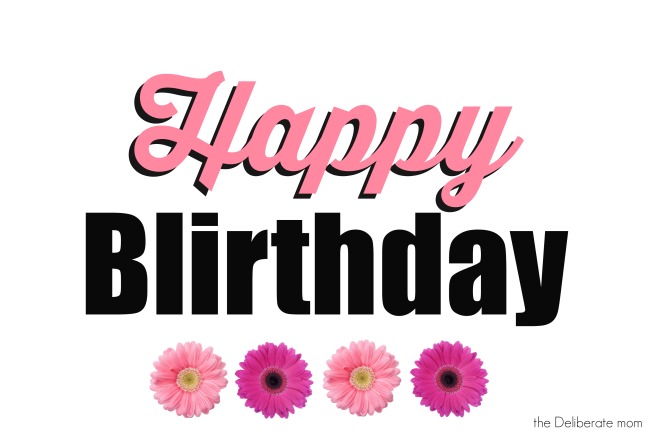 Nope it's not a typo… Blirthday is what I'm calling this event. I realize it's known in the blogging world as a "Blogiversary" but I would rather go over-the-top ridiculous and commemorate the launching of The Deliberate Mom by calling it a "Blirthday". It's still cringe-worthy but at least it makes me giggle.
That being said… welcome to the blirthday party for The Deliberate Mom. First off, if you didn't read the post I shared earlier this week about the beginnings and the history of The Deliberate Mom, then I would encourage you to do that first (there's opportunities to win prizes… so you don't want to miss out)!
Visit The Deliberate Mom Turns Four HERE.
Now, I dare you to say Blirthday Bash ten times really fast! And… go!
Blirthday Bash! Blirthday Bash! Blirthday Bash! Blirthday Bash! Blirthday Bash!
Blirthday Bash! Blirthday Bash! Blirthday Bash! Blirthday Bash! Blirthday Bash!
Can you tell it's my party and I'm having fun?! Yup. I am!
What's a party without beverages? Yes, that's right… I've stocked the fridge with some choice wine!
Now that you're here, let me tell you about this Blirthday Bash. I'm going to paint you a picture….
You've come to my house dressed and ready to PAR-TAY. Yes, I realize for some of you that means you're in your pajamas, but that's okay, there's no judgment here. You arrive, check out the decor (1960's retro cheap-chic), help yourself to a glass of wine (or whatever else you prefer), and you start to mingle.
This might mean some awkward conversation but that's okay! We can swap stories about the feminine protection we use… because apparently, that's all we women like to talk about *wink*. If you're a man at this Blirthday Bash… awkward silence… I'm sorry I mentioned feminine protection. However, please do stick around, you're welcome here as well!
Now that we're acquainted, it's time to put on the music and dance! Ahem, chicken dance anyone?!
If video doesn't display, click HERE.
Okay… so are you ready to party?!
1- To participate in the Blirthday Bash, I'm asking you to share a post that would make someone fall in love with you and your blog. If it's too much pressure to choose a post, you could always link up your about me page of your blog. The idea though is to meet and mingle.
2 – Say hi to one another and take a moment to enjoy the community that The Deliberate Mom tries to create.
3- To REALLY enhance the party atmosphere, try to make your link-up photo be a picture of you (if you don't have/dislike photos of yourself – your blog's logo would be an acceptable substitute).
Everyone who links up to this blog hop will get the opportunity to win one of these two prizes:
One month sidebar advertising on The Deliberate Mom (Oct.) + 1 $10 Starbucks e-gift card
One month sidebar advertising on The Deliberate Mom (Nov.) + 1 $10 Starbucks e-gift card
Please note, to be eligible for this prize, you need to link up your blog to the Blirthday Bash! This giveaway is open worldwide (as long as you can accept an e-mailed gift card, you can enter)! If you are a reader without a blog, then please make sure to enter my other giveaway which is open HERE.
Your loot bag for this party… is a great big juicy hashtag! #Blirthdaybash
Knock yourselves out and have a great time.
SHARE WITH OTHERS