Do you want your children to get excited about learning? Do you struggle to find educational materials that excite your children? When I was asked to review Weird But True! Canada, I jumped at the opportunity. I'm so excited to share my Weird But True review with you!
Please note, I received this product for free from Moms Meet to use and post my honest opinions. Compensation for this post was provided and this page may contain affiliate (referral) links. As always, my opinions are completely my own.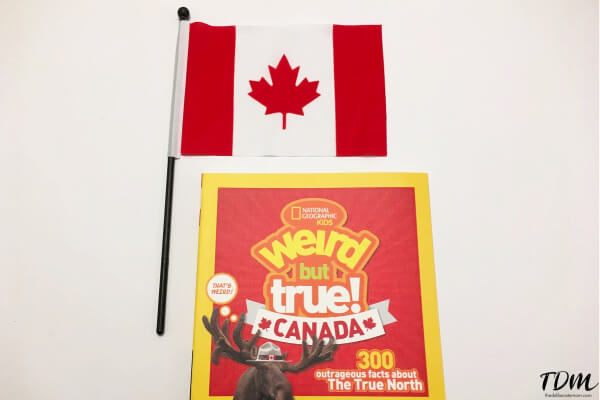 My children are raving fans of the National Geographic Weird But True books. As you may already be aware, for social studies this year, we are studying Canada. This made the Weird But True! Canada edition especially appealing!
WHAT IS WEIRD BUT TRUE CANADA?
Weird But True! Canada is a book published by National Geographic Kids that contains 300 quirky, bizarre, and unique facts about Canada. This 208 page book is full of pictures, as well as short, catchy blurbs about Canada.
MY HONEST OPINION OF WEIRD BUT TRUE CANADA
While the internet is a wonderful resource for information, nothing takes the place of books. Not only does Weird But True! Canada, provide hours of unplugged entertainment and information, but it's the FIRST country-specific Weird But True! book. Yay for Canada!
As a homeschooling mom, I'm often on the look-out for educational materials that appeal to my children, that also meet my curriculum needs. The Weird But True! Canada book is now one of my coveted educational resources. Here are some of the reasons why I loved this book.
INTERESTING PROVOCATIONS FOR LEARNING
The Weird But True! Canada book provides wonderful provocations for learning. For example, when we were reading the book we encountered the fact: "At Alberta's Gopher Hole Museum, stuffed gophers are posed in everyday scenarios, such as having a picnic at the beach, getting their hair done, and pumping gas."
We live in Alberta and I've never heard of this museum before. After doing some research, we found out that the Gopher Hole Museum is located in Torrington, Alberta. We looked Torrington up on the map and discovered it's about a 2 hour drive from our home. We're definitely adding this attraction on our "must see" list!
Many of the facts in the Weird But True! Canada book, provide the opportunity for further exploration and research. We've learned about new people and places, plus we've encountered fascinating statistics about animals! For instance, I had no idea that walruses can run as fast as humans! I always thought they were slow animals.
The Weird But True! Canada book is so engaging that my children don't even know they're learning! I love it when learning is this easy!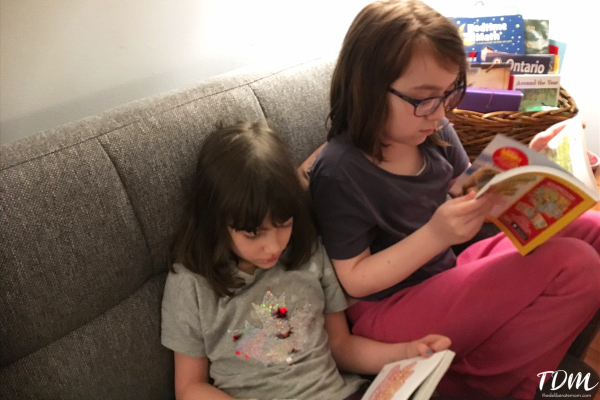 REINFORCES LEARNING
As I mentioned previously, this year we've been studying the provinces & territories of Canada. My girls were so excited when they saw the fact: "The Bay of Fundy off Nova Scotia has the world's highest tides – as tall as a five story building."
My youngest daughter exclaimed, "Hey, we learned about that when we were studying Nova Scotia!"
BEAUTIFUL FULL-COLOUR PICTURES
Another aspect I love about the Weird But True! Canada book is that it's full of beautiful and colourful images. The photos make the book extra appealing to children.
COMPACT
As a homeschooling mom, I appreciate small books that are loaded with information. The Weird But True! Canada book is very compact. They're about 6.5″ x 6.5″ – so they take up very little room on your bookshelves.
PRICE
I like that the Weird But True books are affordable. The price listed on the back of the book is $10.99 CAN and $7.99 US.
EASY TO FIND
These books are easy to find! National Geographic Kids Weird But True! Canada is available for purchase at:
Indigo, Barnes & Noble, independent bookstores, Target, Walmart, and of course, Amazon.
Come read this mom's honest review of Weird But True! Canada. @momsmeet @ngkids #sponsored
Click To Tweet
WHAT MY KIDS SAY ABOUT WEIRD BUT TRUE CANADA
My seven-year-old daughter, Hope, said: "It's amazing!"
Hope's favourite fact from the book is: "Twelve people can fit inside the mouth of the world's largest dinosaur statue, in Alberta."
We recently visited Drumheller, so I can see why this particular fact resonated with her. She said, "I knew it was big but I didn't know twelve people could fit in there!"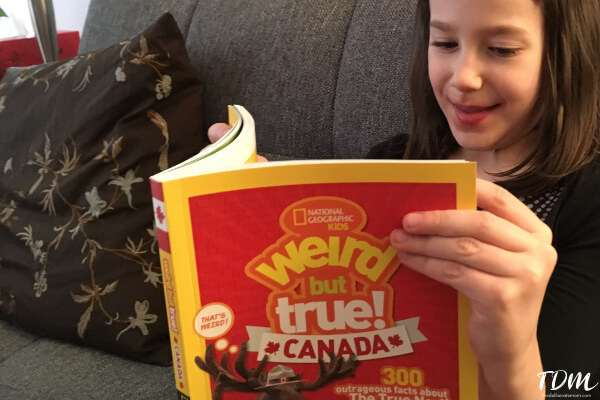 My ten-year-old daughter, Grace, said: "This book is awesome!"
Grace's favourite fact from the book is: "Canadian 'Furious Pete' holds records for the most hamburgers eaten in a minute, the fastest time to eat a bowl of pasta, and the fastest time to eat a hot dog with no hands."
It's no surprise that Grace loved this fact, considering hamburgers and hot dogs are on her top five list of favourite foods!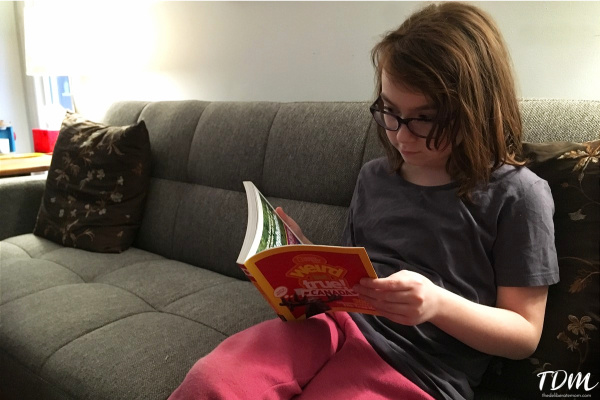 IT'S THE 10TH ANNIVERSARY!
Did you know that it's the 10th anniversary of the original Weird But True! series? To celebrate this amazing milestone, the 1-10 series is updated with flashy new covers and 50 more facts to appeal to a whole new generation of readers. You can get more details about all the Weird But True books on the National Geographic Kids website.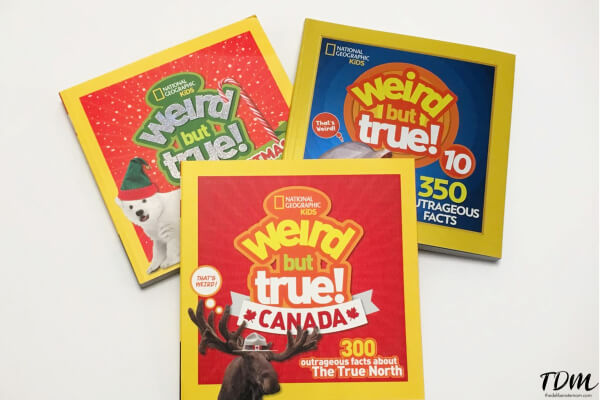 ENTER THE WEIRD BUT TRUE CANADA CONTEST
Kids 6-14 years old are invited to enter the Weird But True! Canada contest! To enter, they simply submit their own verifiable weird facts about their hometown, province, or country at: natgeokids.com/wbtcanada through March 1, 2019.
If your fact is featured on the National Geographic Kids website next May, you'll win two books: Weird But True! Canada and Weird But True! 10.
We loved the Weird But True! Canada book! From the amazing photographs to the engaging facts, my children and I will treasure this book for many years!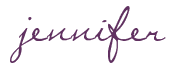 LEARN MORE
Visit the National Geographic Kids website
Follow National Geographic Kids on Facebook
Stay connected with National Geographic Kids on Twitter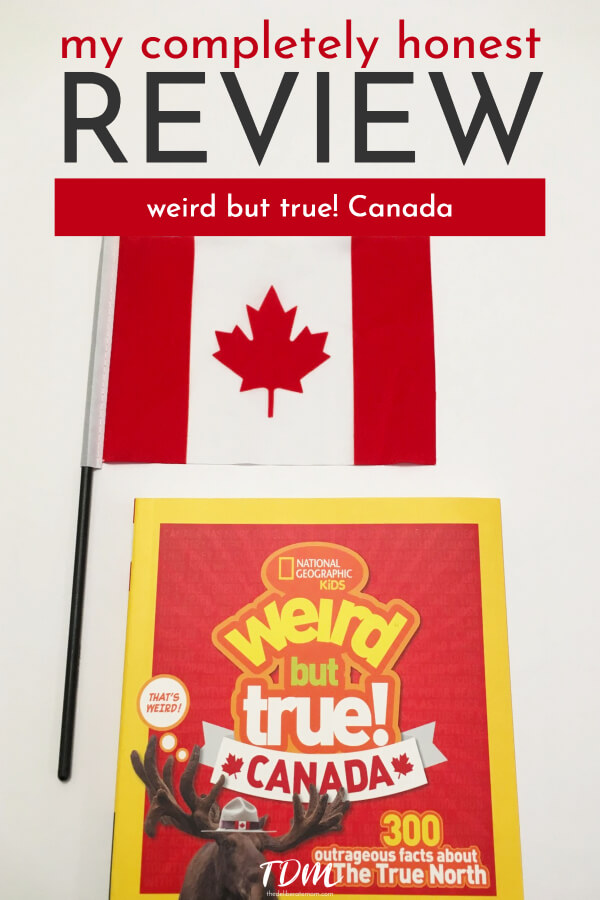 SHARE WITH OTHERS