Tomorrow, January 20th, my husband and I will be celebrating five years of being married. It's hard to believe it's been five years. In such a short time so much has happened! I finished my degree, changed jobs and had two children! Wow. While these are big events, one thing remains the same; every day I fall deeper in love with my husband.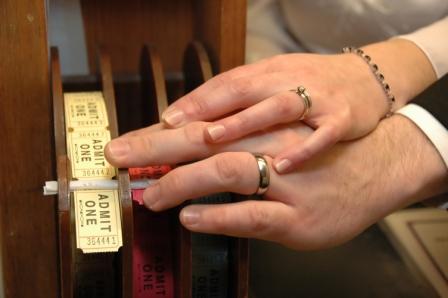 There's been moments in our relationship that I thought that my life was like some girly, romantic movie… moments where I can't believe that this is my life (and I mean that in the best way possible).
This is one of those true life love story moments.
My husband and I had been friends for years until one night we kissed and our relationship changed in an instant. We started dating and had been going out for a couple of weeks. I knew I was in love but I wasn't quite sure if he felt the same way. You know the zone that couples restlessly sit in while waiting for someone to take that first step and admit love? Well, I wasn't going to take that first step. In the past I had led relationships and I felt that this assertive nature was why my previous relationships had failed. So I bit my tongue and waited.
One night we met after work. He had done a projectionist shift at the theatre and we couldn't wait to spend some time together. He packed us a "picnic" and we went for a late night drive. He found a quiet spot in the country and parked the car. We noshed on chips, chocolate bars and sodas while listening to some music. We talked, we laughed, we kissed. At one point, we danced outside of the car to Chris Isaak's Two Hearts. It was perfect. I kept on thinking, "When is this guy going to say he loves me?" This seemed like the perfect time… yet nothing happened.
It was getting late, so he decided we should probably go home. We started driving down this quiet country road when he stopped the car.
Me: "What are you doing?"
Him: "I'm going to clean that bug off." (I hadn't noticed the disgusting mess obscuring his side of the windshield).
Me: "Hurry up, I don't like being stopped on a road."
He got out of the car and started cleaning the windshield as I watched impatiently.
Him: "Jennifer, come out here."
Me: "No way. I want to go."
Him: "Will you just get out of the car? You have to see this."
Me: "I can see the bug guts perfectly fine from inside the car." (Now this was years ago… so I can't remember if I said this out loud or if I thought it… but I made it clear there was no way I was getting out of the car."
Him: "Get out of the car, quick!"
The urgency in his voice made me get out of the car… and then I saw it.
The most beautiful Northern Lights I had ever seen in my life. They danced and swayed in the sky. Beautiful hues of turquoise, blue, pink and green. I was hypnotized by their movement. It was all around us… we seemed to be in the middle of them. Then, I looked at him and realized that he was looking at me.
Him: "I love you Jennifer."
My heart leaped out of my chest.
Me: "I love you too."
We kissed and stood under the Northern Lights…at the epicentre of their magnificence, embracing each other… surrounded by beauty and glowing in love.
It's been an awesome five years. I'm looking forward to decades more with the love of my life.
Happy Anniversary Sweetheart!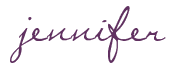 SHARE WITH OTHERS