This past Saturday was my baby shower. Since this is my second child, I didn't need a lot of things so I decided to utilize the opportunity to fund raise for a special charity… The Shanti Uganda Society.
100% of the proceeds from the party goes towards Shanti Uganda's programs aimed to improve the lives of mothers and grandmothers living with HIV/AIDS, improving infant and maternal health and supporting teen girls. I felt this fundraiser was perfect for a baby shower, as some of their proceeds support birth programs and helps to sponsor such things as; birth classes, birth kits, midwives, and medical supplies.
What made this fundraiser so exciting was that it was not an average charitable event. It was a home party to sell handmade bags and jewelry which are skillfully crafted by Ugandan women.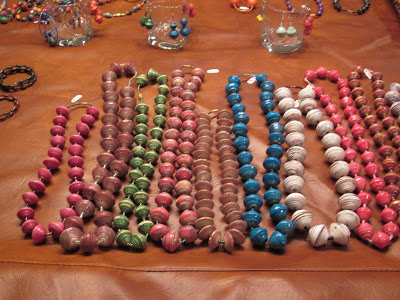 The whole process of arranging my party was quite simple. I contacted Shanti Uganda through their online home party sign-up form. A very kind and helpful representative phoned me a few days later and took my credit card number to keep on file as a deposit for the products that they would be mailing out to me. Shanti Uganda even has nice selling incentives for the hosts of parties.
The details about hosting a home party can be found on their website. Within a week I received a huge box full of beautiful, colourful, handcrafted products. There were various types of bracelets, necklaces, earrings, tote bags, banana bags, yoga bags, diaper bags, meditation CDs, blank note cards and T-shirts! I was in awe when I first saw these gorgeous treasures!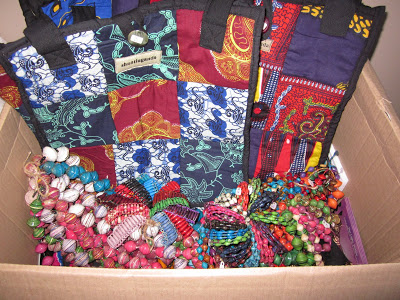 My sister-in-law hosted the shower in her home. We had a great time looking through and displaying the products. I was so excited when I saw everything set up and showcased so beautifully.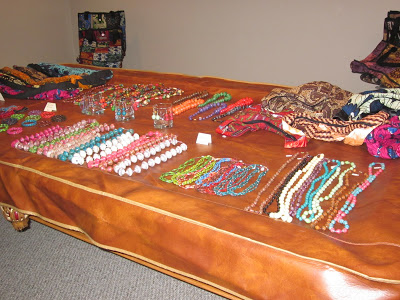 My baby shower was so wonderful! Of course we visited, talked, passed the baby around for snuggles and cuddles, ate, and shopped the Shanti Uganda wares.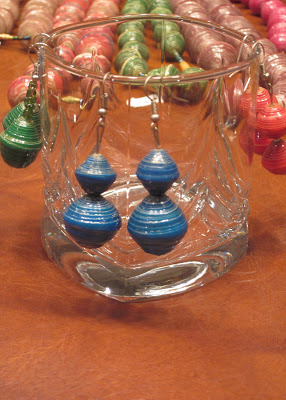 Each bead is hand-made with recycled rolled paper, varnished and then added to a clasp.
If you want more information about Shanti Uganda, please visit their website:
Also, here's a great YouTube video about this wonderful charitable organization.
Please note, I was not compensated in any way to do this posting. I just love a great find and dear friends, this is quite possibly one of my greatest "discoveries" ever!
SHARE WITH OTHERS