We all know the drill… for optimum health we need to drink 6 to 8 cups of water daily. In the heat of the summer, we often need more than that.
Do you find it hard to drink all that water? I know I do. Like a lot of moms I know, I sometimes function on coffee and wine. In moderation these choices are okay, but if I want to be the healthy, energetic, mom that my children need, then I have to drink more water.
According to Jegtvig (2010) "at least twenty percent of the water you need will come from the foods you eat. The rest will come from the beverages you drink" (paragraph 6). Do you think you're drinking enough water?
When I try to drink more water, I find that 6 to 8 cups of water per day can get a little boring.
Here are some ways to add some excitement to your daily dose of H2O.
Check out these tips to make drinking water more exciting! #health
Click To Tweet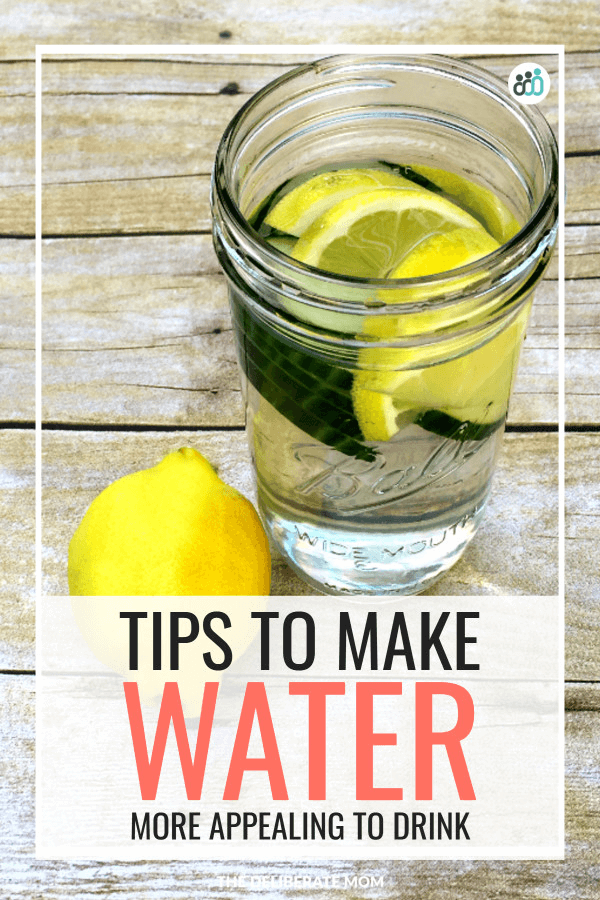 START EARLY
The first thing I do in the morning is drink 8-10 oz of lukewarm lemon water. It's easier to meet my water consumption goals when I start the day with a drink of water.
USE A PITCHER
Serve your water in a beautiful pitcher. By having a pitcher of water readily available, you're more likely to help yourself to water.
You can also try leaving a pitcher of water and a few glasses on your kitchen table. You may be surprised at how quickly the water disappears when it's in view.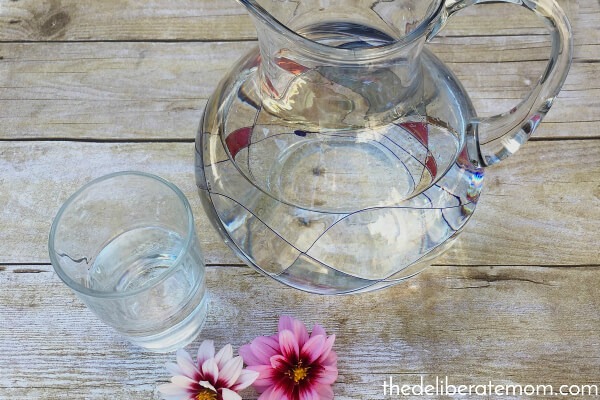 SPECIAL ICE
Serve your water with special ice cubes. Fill your ice cube tray 1/2 full with your favourite edibles (pomegranate seeds, blueberries, raspberries, sliced strawberries, whole maraschino cherries, and mint sprigs are a few examples of what can be used). Then fill the tray with water and freeze. These make for cute ice cubes that also serve to flavour your water as they melt.
Shaped ice cube trays can be purchased to make interesting ice cubes as well.
CARRY A WATER BOTTLE
Always have a water bottle available. I personally prefer glass over stainless steel and plastic. Glass is easy to clean and I'm confident that no chemicals will leach into my water. I also make sure that my glass water bottle has a silicone sleeve (to resist breakage if dropped).
Whether you're at work, driving or at the gym, your body will thank you for the hydration.
ADD SOMETHING
Serve your water with sliced fruit or veggies in it. Here are some of my favourite additions to water:
lemons
limes
oranges
grapefruit
ginger
apple
cucumbers
pomegranate seeds
cranberries
sprigs of mint
There are a couple water and fruit/herb combos which are metabolism-boosting. Check out these recipes here.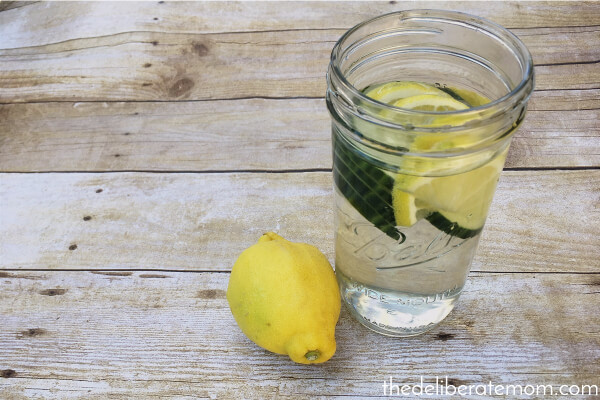 HERBAL TEAS
Still can't stand the daily dose of water? Try drinking herbal teas instead. There are so many teas available. Check out these organic herbal teas. You may find a few that you like.
MAKE IT FANCY
Drink water out of your finest crystal. Using a wine glass to drink water can add enough flair to make the consumption of your water that much more enjoyable.
USE AN APP
I love challenging myself. That's why using an app to track my water consumption is one of my favourite ways to make drinking water exciting! I wear a FitBit, so it's easiest for me to track my water intake using the FitBit app. However, there are loads of water drinking apps available.


Water is essential to our health and well-being. Hopefully these suggestions have inspired you to drink a lot more water (and drink it often)!
Do you do anything to make your consumption of H2O a bit more exciting? If so, please share your ideas!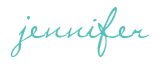 Jegtvig, S. (2010). Drinking enough water. Retrieved from http://nutrition.about.com/od/hydrationwater/a/waterarticle.htm .
SHARE WITH OTHERS