Picture this… I'm sitting at the computer squealing with excitement. Yes… I am, because do I ever have a treat for you today! Sarah from Ruffles and Rainboots is my special guest here on The Deliberate Mom!
I have a confession to make… I absolutely adore Sarah. She is sweet, funny, insanely creative, and such a dear blogging friend. I couldn't be more honoured to share this space with her today. Even more exciting, Sarah is sharing a fabulous handmade ornament for your children to create this holiday season. So without further ado, I would like to hand things over to Sarah!
Crafting with Kids: Handmade Kid Ornaments
Hello, everyone. I'm Sarah. I'm so excited to be here sharing a craft for some handmade kid ornaments with you while Jennifer is writing her novel. As one of her readers, you know how powerful Jennifer's words can be; how her voice seems to reach through the screen and touch your heart. I am so proud of Jennifer and her decision to join this year's NaNoWriMo competition and I'm delighted to be a part of her cheering section. While Jennifer is busy typing, let's wrangle up some kids and make these ornaments.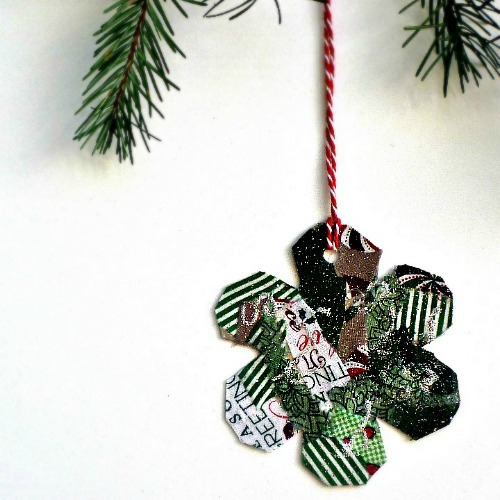 Before we get to our craft, I should introduce myself. I find myself drawn to create and after having a child, a lot of the crafting I do now centers around our nearly 3-year-old girl, Elise. Over at Ruffles and Rain Boots, I write tutorials for handmade gifts, gifts and crafts for children, dress up clothes, and even games. I also share a bit about our fun-filled days crafting with kids, too – it seems my little one loves to create as much as her mom. Our love of reading gets highlighted when we pair up learning and crafting to share activities that go along with some of our favorite books. Come over and join the fun – we love to make new friends!
While Jennifer is working through her color-coordinated collection of Post-Its, we should gather up some supplies. Most, if not all of these you should have on hand. Here's what we're making: handmade kid ornaments.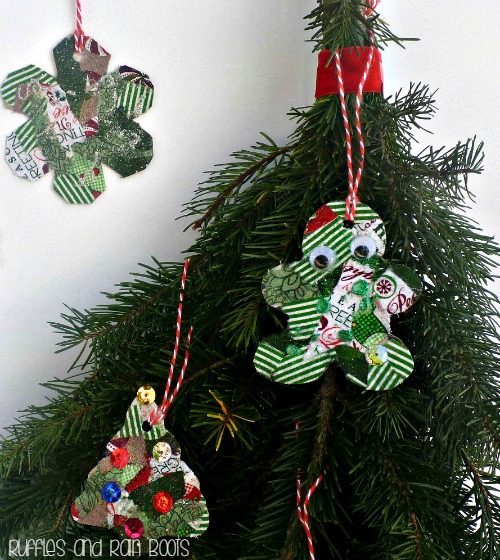 Supplies
Holiday Shapes to Decorate: You'll need a cereal box (or other cardboard) and holiday cookie cutters to trace. We celebrate Christmas, so our shapes are from a Christmas-themed cookie cutter set. If you have a paper cutting machine (Cricut or Silhouette) and thick card stock, you could use those. Another idea is to check the dollar and craft stores for pre-made wooden shapes. Most of the time you will have to drill a small hole in these for hanging, but because they are very thin wood, it's easy to do without power tools.
And that is something my husband is thankful for, because honestly I'm not a gal you want operating power tools. I've been known to be a tad clumsy. Back to the supplies…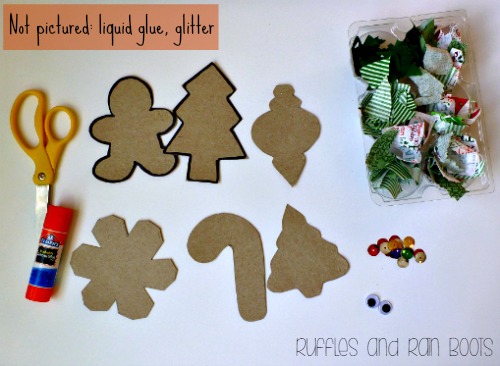 Patterned Material: I chose to set out holiday fabric scraps I had on hand, but you could use holiday-themed scrapbook paper as well. If you don't have any holiday fabric or paper, run to the craft store and pick up a couple of fabric 'fat quarters' – they are inexpensive and there are so many to choose from, both patterned and solids.
Decorations: Elise opted for sequins, googly eyes, glitter glue, and loose glitter, but pom poms, Perler beads, and ribbon scraps are some other items you could set out. I like to use these types of projects to burn through crafting supplies that have been sitting for a while, but you can get most of these items at the Dollar Store (or Target's Dollar Spot) if you don't have them on hand.
Other Supplies: safety scissors, glue, ribbon or string for hanging, ModPodge (or diluted school glue)
Ready, Set, Create!
While I was tracing the shapes onto the cardboard, Elise was practicing her scissor skills, cutting the fabric scraps. She needed very little direction from me once I told her that we would be creating some holiday ornaments. She began gluing the fabric scraps to the cardboard cut outs – most of them are completely covered. Here she is crafting on the IKEA table I refashioned for her, complete with some FROZEN friends under the Plexiglass to cheer her on.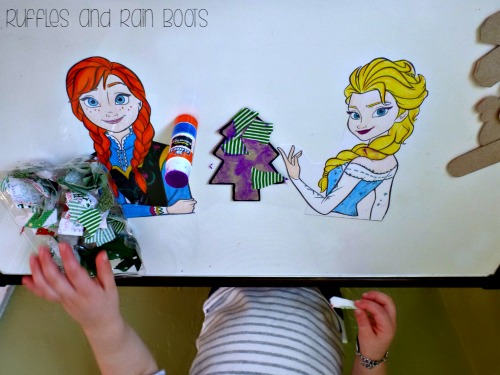 If you have older kids, you can have them trim up the shapes once they are covered. I had to do it for Elise after she got frustrated when she cut up one of the trees too much for her liking.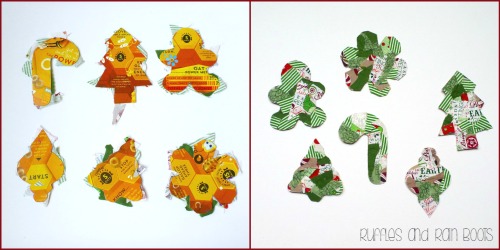 I thought these looked great, but Elise wanted some sparkle, and began gluing on sequins and googly eyes with fervor. We normally use glue sticks, but because glitter was involved, the liquid glue was necessary. The glitter addition was the only part of this craft that got messy but because we're always covered in glitter 'round here, it didn't bother us. If you have an aversion (or very young children), take care by helping them or eliminating it. Check out the shirt – this little one is serious about her love of glitter!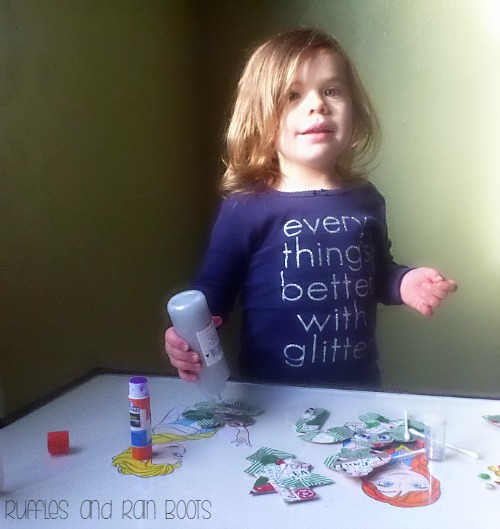 To secure everything to the shape, give it a quick once-over with ModPodge (or diluted school glue). True to form, Elise used a lot of glue, so ours took a couple of hours to dry. Once they did, Elise was smiling as she examined her scrap ornaments.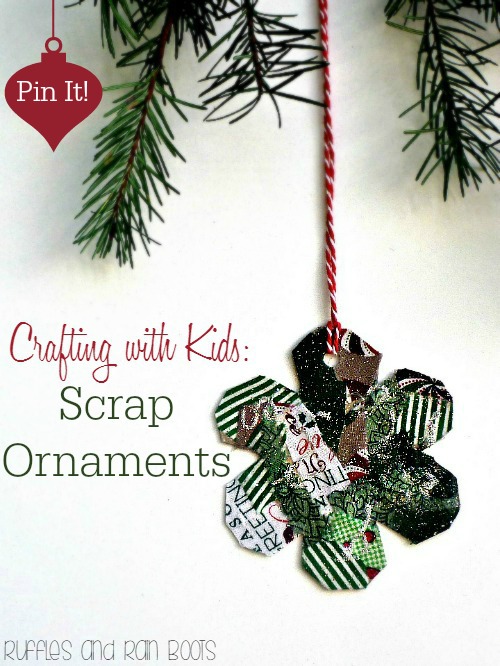 Here are some tips and suggestions for this project:
If you're hosting a family get-together, you could have this quick project prepared for the kids as an activity to help calm them before you sit down for the meal.
If you'd like to make it more of a keepsake, you could add a photo to the center after the kids have decorated their shapes. You could also write a year or a memory on the back.
When setting up this project, consider putting the decorating supplies in a cleaned egg carton (cut it in half, if you'd like). When we use a collection of small baubles in a craft, this method helps to keep everything tidy, yet accessible.
If using glitter, I recommend using plastic shaker-top bottles and only adding a small amount of glitter. We got our tiny bottles in a multi-pack from the Dollar Store and I fill them with glitter for each project.
If you set up this craft for the kids in your life, we'd love to see their creations. Connect with Ruffles and Rain Boots and share them on Instagram. Thank you for allowing me to spend time with you today and join me in wishing Jennifer the very, very best in her NaNoWriMo competition!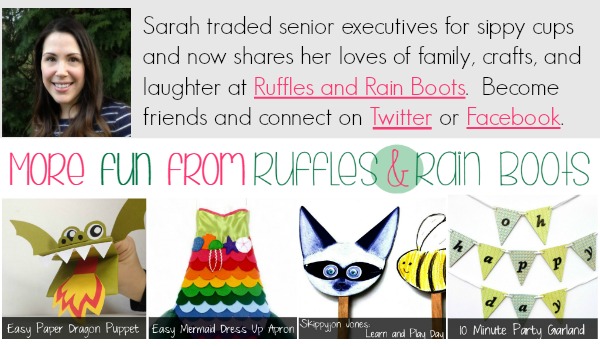 SHARE WITH OTHERS