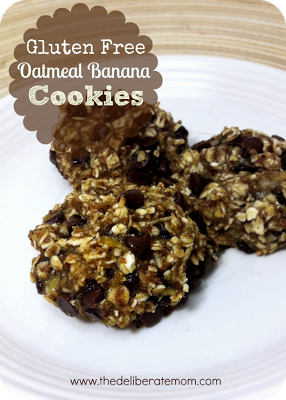 I love cookies! Last week I had a craving for cookies but I didn't want all the calories that go with it. I suddenly recalled the pancake recipe I made last May. I used that foundation to experiment with making this healthy, low calorie, gluten free, oatmeal and banana cookie.
Ingredients
2 ripe bananas
1 cup oatmeal
1/4 cup ground flax seed
1/2 tsp vanilla
1/2 cup mini dark chocolate chips

Instructions
Heat oven to 350 F
Mash bananas in a bowl.
Add oatmeal, flax seed, vanilla, and chocolate chips.
Mix well.
Scoop by the tablespoon onto a cookie sheet lined with parchment paper.
Bake for 16 minutes (or until brown on bottom of cookies).
Cool on a rack.

Additional Information 
* These aren't your granny's crispy oatmeal cookies, they are very soft on the inside and have a strong banana flavour.
* I ran this recipe through the MyNetDiary fitness app. The nutritional breakdown (per cookie) is as follows:
72 calories per cookie
1.5 g saturated fat
0.4 g polyunsaturated fat
0.2 g monounsaturated fat
0 % cholesterol
0 % sodium
11 g  / 4% carbohydrates
1.8 g
5.9 g sugar
2 % Vitamin C
1 % Calcium
4 % Iron
SHARE WITH OTHERS