Nothing says, "I care and enjoy thy bounty" like a personalized gift basket. My wonderful Aunt Janice did just that this past Christmas, ordering me a Fruit Basket from Shari's Berries, which means fresh fruit will be arriving at my doorstep each month all year long. As a lover of food, like most people, I am excited for this lovely allotment but more excited for what I am going to do with them. Since I am not exactly sure what will be arriving each month I came up with a few different ways to use common fruits.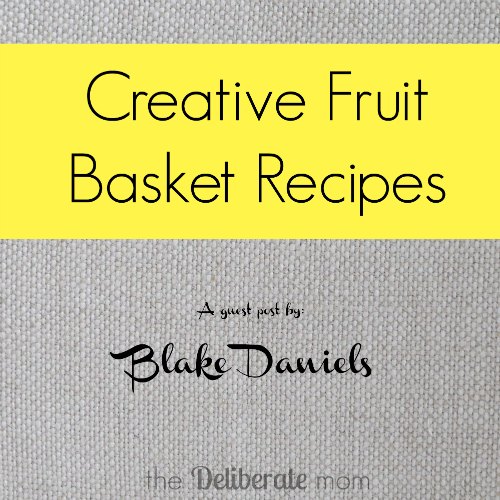 Apples
The American classic apple, great for baked goods and pies. Dessert is one of my favorite courses, and if your mouth begins watering at just the thought of it, you are in very good company! Here's my tasty idea for how I plan to use apples when they arrive.
My applesauce recipe is real easy. Just take your apples, peel and core them. Give them a chop (rough or fine: your choice) then add about a cup of apple juice, a squeeze of lemon, half cup of brown sugar, and 2 tablespoons of cinnamon. Just cook it over medium heat until in all breaks down and gets saucy! Then just eat as is or my favorite is to top a wonderful stack of pancakes with this applesauce and some whipped cream.
Cherries
Cherries, a summer time treat. They are delicious on their own but that's just too easy. Personally I love adding crushed fresh cherries to my morning oatmeal with some light cream and dried apricots.
A recipe I am dying to try is a fresh Cherry Salsa. Take your fresh cherries, give them a quick chop and add lime juice, olive oil, scallions, cilantro, jalapenos, and a little garlic. Or for a full meal I might top a warm sautéed spinach salad with shallots, goat cheese, and the cherries.
Pears
It amazes me that when you go out to eat at a restaurant you could expect to pay anywhere from $10 to $20 for a gourmet salad.
Pears are one of the most popular choices for gourmet salads because they are a mild, flexible fruit that pairs so well with a variety of nuts, cheese, and greens. A pear and blue cheese salad with walnuts, arugula, and baby spinach topped with raspberry balsamic vinaigrette dressing is a great example. I know, it sounds amazing right? Another twist would be a pear caprese salad with rounds of Bosc Pears, Heirloom Tomatoes, mint chiffonade and a drizzle of aged balsamic.
Strawberries
Nothing can compare to the wonderful refreshment of a great fruity drink. Whether it be "adult' or "virgin", strawberries can make any drink fantastic.
From margaritas to daiquiris, lemonades to sangrias they are all great ideas for using fresh strawberries for festive beverages. As soon as the weather starts to warm up I plan on making strawberry sangria with mint and lemon. Or even a sparkling lemonade by adding macerated strawberries and ginger ale to your favorite lemonade.
With all these great family-friendly (and party-friendly!) recipe ideas to try, I can't wait for the rest of my deliveries. Hopefully you will have become inspired as well to look at food as more than just what meets the eye!
Blake Daniels is sharing Creative Fruit Basket Recipes! #recipes
Click To Tweet
AUTHOR BIOGRAPHY



Blake Daniels is a native of Upstate NY and is constantly trying new things in the kitchen. His newly started "hobby" has slowly evolved into a full-on obsession overflowing the pantry and refrigerator (according to his lovely wife) with fresh produce and new exotic ingredients. He's still learning the ropes but is lucky enough to have plenty of willing friends to serve as taste testers (or guinea pigs) for his latest recipes.
I would like to thank Blake for being a guest blogger on The Deliberate Mom. If you enjoyed this post by Blake, please make sure to share it.
SHARE WITH OTHERS