I love Christmas! I especially love hearing about others' Christmas celebrations and traditions.
Today I am so excited to share Jaime's guest post about Christmas with the Buckleys! I grew up an only child so the idea of Christmas with a large family fascinated me. I promise you, this post delivers every last bit of festive goodness! I can't wait for you to read it… so without further ado, I'll hand things over to Jaime.
---
29 Angels, Dr. Who and Missing Dentures–Christmas at the Buckley's
First off I have to thank Jennifer for having me come back to her blog.
Truth be told, I didn't think anyone would ever want to hear what I had to say outside my fantasy novels and comic books. She was the first one to ask me to talk about my family.
If you've read my works, you know I adore that subject (huge grin).
Last time I was here it was such a wonderful experience and I made a lot of new friends. Thank you–each and every one of you who participated in the comments, especially those who took the time to come over to Wanted Hero to say hello. The huge hearts that I've interacted with and seen myself have been awesome.
(Translation: I like you ladies.)
So thank you, Jennifer, for the opportunity to come back and share a little more about my family, especially during this beautiful time of year.
Society, Traditions and our changing life
A couple weeks ago I wrote an article called, Do you feel obligated to buy things for your kids? Read This. In it, some sickening statistics about society, our purchasing habits as individuals and families were revealed. Big business has completely changed our perspectives and views by engraining twisted and false traditions into us… and our children. It's been happening, in a coordinated effort, for generations.
It's not that I want to start this conversation by being overly sober or forecasting some uncomfortable, emotional shadow on the season, but I would like to start by saying that "tradition" is the focus of my family.
Not toys, not decorations, not gaining anything… other than deeper and more meaningful relationships with others.
From the comments seen here and visiting many of your blogs, traditions seem to be important to most of us.
In what some might be call a perverse and selfish society, our family hasn't always been able to control the variables in life. I've made a great deal of money in my life and I've been broke. But let me make this statement in all seriousness:
I have never been 'poor' in my life. Meet my family and you see my wealth. #family #parenting #love Click To Tweet
There came a time, however, when the financial pressures became so great, that we took a step back, as a family, to see what was really motivating us.
To discover what we were focusing on.
Were we focusing on Christ?
Were we focusing on family?
Or were we focusing on some type of quota, or preconceived obligation, either mentally or emotionally, to meet another's expectations of what we should be giving?
If you haven't thought about this in your own life & family, you might want to consider it. It was a game changer for our family and we learned an important lesson in shifting our perspectives.
The point of creating 'traditions' is for binding hearts together. #parenting #family Click To Tweet
I'd like to say something boldly here. The Gospel of Jesus Christ is the center of my existence. It is the light of my soul, the great and grand secret of all my successes and enduring all hardships. It is the foundation of my marriage and my testimony of Christ is at the center of all my efforts to love, uplift and encourage others… regardless of their beliefs. I am a man who repents daily… so I may (hopefully) reinvent myself into something more… that I may serve my Lord better.
I bring this up, because I'm going to share some personal things—and it's important for you to know that for a person to truly give of themselves—they must know who they truly are.
One cannot give what they do not possess.
What Do You MEAN Buckleys Do Christmas for 28 days?
Jennifer asked what it was like around our household during the Holiday Season…to have Christmas with the Buckleys?
Oooooooo. It's loooovely.
An awesome thing about our family, at least in my slightly-biased opinion, is how we tend to do everything big. In our household, Christmas actually lasts for 28 days.
Yeah, I know. WHAT?!?
It wasn't until I started writing this article that I realized that there is not a single, regular, sleeping schedule in this household from Black Friday until January 2nd.
We simply don't bother maintaining our regular morning or evening rituals.
All the events, activities, goals – – it keeps every single one of us jumping and running as fast as we can. Even the littlest children lose out on sleep, because they're sneaking about, wanting so badly to be included as one of the "big kids" that they miss out on their own rest.
The great thing is, none of this is bad. It builds bonds and produces a lot of happiness in our household.
Christmas to a Buckley, is creating heartfelt memories. #parenting #family Click To Tweet
What I'd like to do now, is take you on a trip through our family schedule over the course of the entire Christmas season.
See, even this article is big.
Ready? Take a deeeeep breath.
Here we go.
Black Friday: Screams of terror, happiness and joy
So it all starts at 4 AM, the day after Thanksgiving.
That's when Kathilynn gets up, dons her combat armor of warm clothes, jacket and gloves and ventures out the front door to start her long journey to meet up with her mother.
The goal? To wade through the great wild of shopping psychotics and desperate grandmothers brutally engaged in the combat of fabric warfare and secure cloth for PJ's.
Oh yes! You ladies who have the ability, no, I should say "magnificent talent" of crafting your own clothes, know about the fantastic deals offered by many big name stores. When it comes to fabric and the components used to make outfits for your family, Black Friday is THE day to snatch it.
For my wife, this means finding the right flannel for at least 14 pairs of pajamas.
Kathilynn is out there, having a wonderful time with her mother—laughing and taking a daughter or two from time to time to share in the fun.
I love the stories she brings back at the end of the day.
Like the little old woman, who is at least 80 years old, hunched over her cart, weaving in and out of the shoulder to shoulder crowds, gathering bolts of cloth. Packing them tightly in her cart with a hoarders obsession, she growls when you look too closely to her wares, until she can find those 4 yards of cloth she really wants.
This year was learning about a little old man, who, in a sea of fast-moving, vicious and downright rude women, kept his cool. Displaying his precious smile, this man told Kathilynn and her mom that he'd triumphantly found the last four bags of batting to re-stuff his wife's favorite pillows for Christmas.
The best part was, Kathi said he stood there in bold confidence, unwilling to be rude or any less a gentleman to those around him.
Way to go buddy. You… are a stud.
Seriously, I looked it up—your picture was in the book.
The crazy thing about Black Friday is the city is jam-packed with psychos!
You couldn't pay me enough to leave the house, which is really convenient, because I never do.
On the flip side of my wife's adventures, I'm always at home that day, with the little children and those left behind. My job is to fill the house with love and laughter.
That's right ladies, this big boy is the house dad that day – – and my kids love it. I've earned the reputation of being the party guy on Black friday. Cooking and eating, wrestling and giggling, Lego building and watching a Star Trek or Lord of the rings marathon.
HOW TO ACHIEVE HOLIDAY CHEER: in three hours flat
When Kathilynn gets back from her adventures… intact… she's usually tired, and very bubbly.
This is when the house explodes with the next wave of cheers and smiles.
BTW: How do you ladies DO that?
Seriously—you're amazing! Shopping all day long… and you come home with a smile? And this was done while battling attitudes, dishonesty, miscommunications, dealing with people who should have their mouths washed out with soap in some instances and even vast disappointment.
(tips his hat in respect)
…seriously, you're all awesome.
Anyway—my darling gathers the offspring army and directs the most jaw-dropping 'decoration dance' I've ever seen… and I'm not just bragging because she's my wife.
(Ok, maybe a little.)
The tree goes up, stockings are taken out and hung about the house, pictures & cards, wreaths, strings of lights, mini-trees about the house and all train load of other festive knick-knacks I honestly don't know the names of….
They all go up. In three hours.
Maybe it helps to have a small army at your command?
Not sure about the rest of you—but I wish we could have decorations up all year long. The feeling in the house shifts to a permanent happiness and excitement.
The final touches are a simmering pot of holiday herbs, apples and spices set on the back of stove that simmers until the day after Christmas…and music.
The Only Time Mismatched Socks Are Acceptable
The house is set and the season nearly ready to launch… so my little ones gather around, take a few sheets of typing paper and rip them into small strips.
Names of each member of our family are put on each strip. This includes my married children, their spouses and kids.
Into my hat they go.
Shake, pass around and open.
You now know the name you have for the "Crazy Sock Exchange."
This was started back when we were homeless a few years ago and money was tight. We were staying with my best friend Ondi Allred and wanted to do something fun and memorable with the children—and get their minds of our poverty. Something that focused on thinking about someone else and giving.
It's grown each year. Turned out to be a LOT more fun than we anticipated.
Kathilynn or the kids will call family members and let them know who they have this year.
Rules are simple: You may buy any kind of socks you can find and afford—but only the kind of socks the person can appreciate and would wear.
My son Evan, got fluffy pink socks with ruffles last year and I got newborn socks that barely fit over my big toes (that was way funny though).
Offerings To The Christ Child
In our home we do have a lot of fun—but we strive to focus on the Savior. That's why we started a family tradition to keep our minds engaged in a certain way.
On the last night of November, we gather together with a warm fire going and a clean, decorated home in silence…kids ready for bed.
Part of the decorations is our advent calendar. It's as old as our oldest daughter—and it depicts the journey of Joseph and Mary to the place of Christ's birth.
The other piece is a moderately size golden box, which sits as a center piece on our fireplace mantle.
Using the New Testament, we read about the birth of Christ to the children. #Christmas Click To Tweet
We discuss the mercy and love of God, of this being the greatest gift the world has ever received, and about the small details in the story…to bring it to life.
Then we make it special.
Paper and pens are passed out to every family member.
This is the write a special letter to the Christ Child, offering a gift of the heart to Him during the month of December. Something we will do, individually, as an offering, between this night and Christmas Eve.
Jaime and the 12-15 year olds in his

Sunday

School class crafted a story around the Gifts to Jesus tradition of his family… and he's created a podcast where he narrates the story. If you'd like to listen to this Christmas story, you can find it HERE.
These are personal moments… and the older kids help their youngest siblings or our grand babies (if they're here), to write something from the heart.
Once that is done, we fold the letters up, place the in the golden box and place the box back on the mantle for the month—a reminder that we have made promises to fulfill this offering before Christmas Eve, for Christ.
All during the next month, both Kathilynn and I can refocus children by asking, "Have you done what you promised Baby Jesus?"
Keeping Our Minds On What's MOST Important
The last thing we do for the night is start our family story reading.
Kathilynn put together a book of stories offered to us from friends over the years. A set of spiritual masterpieces that she paired with scriptures and songs for each day of the month. The stories end on Christmas Eve.
We ready a story every night of the month, as a family, to stay focused, keep the spirit with us… and enjoy one another's company.
At the end of each story—one of the youngest is chosen to help Joseph and Mary take one step closer to their destination.
CANDY WEEK: Santa Ain't Got Nothing on Grandma.
The biggest expense we have each year is for buying the components for candy making…so we can give it away. $400 is spent just for starters on imported chocolates, which we order in bulk with my daughters and grandma. Nuts, sugar, up to 40lbs of butter (or more if I whine enough)…herbs and spices, you name it. It takes some time to gather it all up—and this year, for the first time, we thought we might not be able to do it.
We are a family of priorities, not frivolity. The first priority is, no matter what, we stay indoors. House payment is first, then utilities, then food, etc… and nothing was left this year. Kathi had already decided to brush it aside—though it hurt her to do so. We simply couldn't afford it.
Until the kids found out.
God bless my children—when they found out why mom was sad and that we weren't having candy for the first time… ever… which also meant Grandma wasn't coming down to stay, they took over.
Sitting their mother down, they assured her all was well and NOT to cancel grandma's visit. Every single one of them got extra shifts at work and grinned form ear to ear as they handed savings and tidbits saved for lunches, over to their mother.
It wouldn't be right to tell you the amount—I don't want the children to be embarrassed, but it was more than enough.
Grandma comes down at the beginning of the first week of December. She stays with us, and the whole family makes sugar delectable:
Cherry Chocolates
Toffee
Peanut Brittle
Chocolate Pretzels
Peanut Butter Cups
Peanut Clusters
Turtles
Truffles
Fudge
Caramel
Coffee Creams
Coconut Creams
Hazelnut Creams
Snow Man Poop (#1 favorite of everyone we give it to)
Once the candy is all done, lists are made and the treats are put into cute little containers or bags to be given to those we like and love.
Ready? Set. SEW!!
Last night was the collection of the female forces of our family. All the ladies get together for a day-long sewing party. Why? Because one of the family customs Kathilynn and I started has been adopted by other branches of the family, including my fathers household.
Laughter, singing and much anticipated conversation occurs while little children play and mothers nurse…the sound of half a dozen or more sewing machine humming and clacking in the background.
I like this time of year because I get to see my younger siblings, which doesn't happen often. #family Click To Tweet
To hug my 6 year old sister, while I'm a grandpa—it just feels so…beautiful.
At the end of the day, after everyone is fed well and the projects completed, we visit a while longer as the older children get ready for a Christmas Ball put on by our church.
Are YOU on "THE LIST"? Sharing the Love: Candy Delivery
Double and triple checks are made on the lists of those who will receive our candy.
What we do has grown over the years… and that includes rumors among those we know. The hard part is, some people have developed expectations. We have many friends and unfortunately we cannot supply everyone with candy each and every year.
…but except for the small portions to go in stockings here at the house, we do give all of it away.
How do you explain to someone whom you love, and who loves you that you did not forget them, but that you feel inspired to give it to someone else?
Someone who needs to know they are loved and thought well of this season?
That is our determining factor at this point of our lives.
…until I become monetarily wealth and we can do five times as much.
SPECIAL NOTE: How to know when your parenting is taking hold
I hope that Jennifer doesn't mind, but I'd like to pause and say that I'm so pleased with my children this year. Not that I'm not usually pleased, but this year has been a particularly hard struggle for us.
Each month we count pennies and combine all we have to survive and make sure we stay indoors this winter. For us, this is no small matter.
So when I see my darling children, saving each and every penny… listening to the whispers and prayers of their baby siblings… taking notes… my heart smiles.
There is no doubt that you have amazing children just like this.
Isn't this why we love being parents? To see all the labor, and the focus on being consistent with teaching, encouraging and more…to come to fruition?
To see good, kind, and wise choices being made of their own free will?
CHRISTMAS EVE: Christ, PJ's and Bedtime
When Christmas Eve arrives, our house is usually full of kids, grandkids and others who want to spend the holidays with us. The sweet smell of the spices still simmering on the stove fill the room, along with the crackling fire and soft seasonal music.
The golden box is taken from the mantle and placed on the table for all to see.
We then let one of the little children place Joseph and Mary in the manger on our advent calendar.
We read our last family story from the book Kathilynn made… which is the story of Christ's birth. It's the same story we did before the month began, but tonight we open the box and read our offerings of the heart to the Christ Child to all.
We get to see if we have, indeed, done what we have promised.
This isn't to embarrass anyone or to shine a spotlight on others. It's a way to look inward and see how we act and keep our word, especially when it comes to the Lord. Did we do what we said we would do?
One by one, we read the letters. In every case, each of us can tell that the person has been striving to complete the offering.
"I will share my toys, even when I don't feel like it," is one the little kid's note.
"I will do one random act of kindness to someone who needs it each day," has been another.
"I will help my little brother/sister say their nightly prayers, so they don't forget."
You get the idea.
It's lovely to watch the children come alive when they realized they've succeeded what they set out to do. That the Lord would be pleased.
Before sending the kids to bed, we pass out the new Pajamas and everyone races to change. The comical part is, Simon (my 8 year old) has taken over the tactics of his oldest brother, jumping behind the couch and changing, rolls about on the floor (out of view) with his mother and I laughing hysterically.
When done, he jumps out and shouts, "I WIN!"
Everyone is hugged, kissed…and sent to bed.
No Santa In This House—but we LOVE stockings
Though we don't do the whole Santa thing—there is an aspect of Christmas we never compromise and that's the stockings. However, the significance of these is because my mother, rest her soul, started and maintained this tradition in my father's house.
She would hand crochet a stocking—each original and special—for every member of our family. Just got married? Spouse gets one. Had a baby? No worries, Nana's got you covered.
…and the amazing part is—the colors always seemed to fit the personality of the person she gave it to.
Now Kathilynn has taken up the mantle of making stockings. Not just for us—but at times for my siblings too.
These hang during the month, wherever we find the right place to display them, while the original stocking… the first my mother ever made…hangs by itself to be admired. It is 46 year old this season… and was made for me.
It's one of only four items I still possess from my mother. #mom
Click To Tweet
With the children in bed, we take down the stockings and stuff them with little goodies and knick-knacks the children love. Things we have collected over the year and special things made, given and exchanged.
Peanuts, almonds, oranges, candy, marbles, books, personal sets of hot chocolate mixes, maybe a special mug to put it in…the list is wide and varied.
Once completed, we set them out in their own places about the family room and go to bed.
Waiting on Dad…AGAIN.
Christmas Day is one of laughter and family time.
It's about playing to us.
Yes, the children are excited…and you may not believe this, but there is never a problem with the children getting into the gifts before everyone is awake.
I am usually the first one up in this home each day.
On Christmas Day, I am always the last.
On purpose.
When the kids just can't stand it any more… they usually send in the smallest person to rouse me.
I guess they figure I won't yell at an adorable antagonist.
Mmmmmm… they're right.
So I will sloooooowwwwwwly get up, brush my teeth… if I'm feeling particularly obnoxious, maybe take a long hot shower… and then join everyone in the front room.
The children… heck, even grandpa (Kathilynn's father, who lives with us) is chomping at the bit. Yet no one touches the socks.
Amazing.
All I have to do is give them the signal and everyone plops down next to their stocking and the room explodes into giggles.
Myself and the little kids always go for the instant treats—nuts, fruit and other edible goodies. Presents aren't going anywhere.
Once we've all enjoyed the stockings, we always try to have a few items under the tree for the whole family.
Food, Fun, Crazy Socks, Dr. Who and Warhammer
The whole of Christmas day rolls along wonderfully. Food has been prepared and there is always an assortment of cheeses, olives, meats, breads, hot chocolate, veggie trays and the mountain of edible gifts given to us over the past 48 hours to much on throughout the day.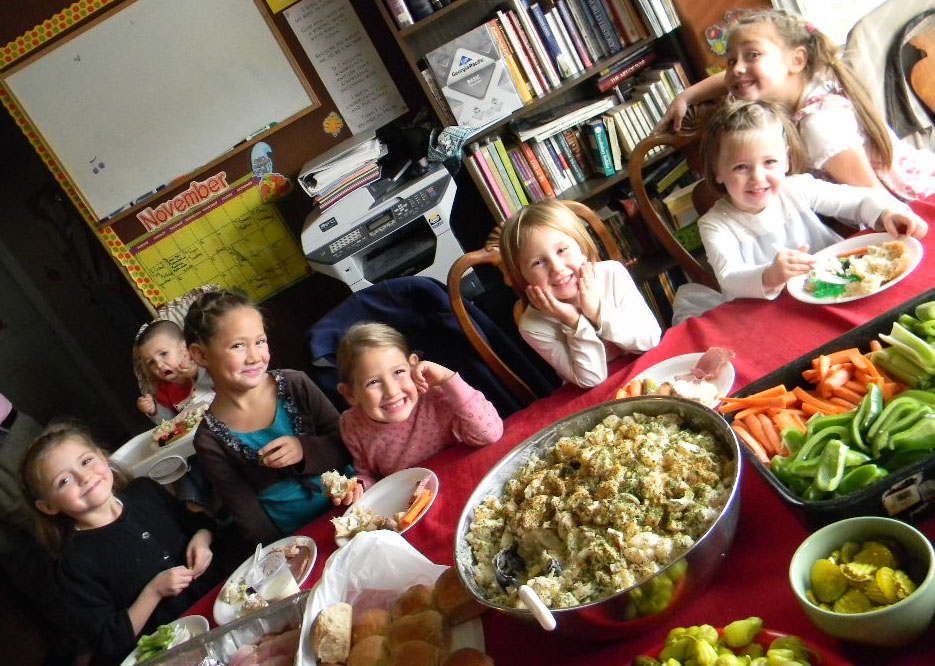 When the rest of the the family arrives, we stop whatever we're doing and enjoy the Crazy Socks exchange. We all put them on and the day resumes.
Little ones play with each other and their new toys or family games.
Mom and dad usually lose consciousness for several hours from sheer exhaustion.
There will always be someone who wants to watch a new movie or have a Dr. Who marathon running in the background… and my son Evan?
Well, he'll have a giant table set somewhere, ready to play a game of Warhammer with those willing to go against his High Elf Army.
Conclusion
Christmas is a time of year where the barriers, sour attitudes and conflicts between us seem to fade… even if only a little. This gives us all a chance to reach out and make connections with one another.
I'm interested to hear a tradition from each of you that is unique to your family. What do you do for Christmas??
I hope this season will provide you with opportunities to not only experience miracles in your life and the lives of your loved ones… but to make some miracles of your own.
God Bless you all.
– The Buckleys
Jaime Buckley is a loving husband and father of 12, Jaime Buckley is the children's champion. This self-taught writer, illustrator & game maker, entertains the young and young-at-heart with epic fantasy and parental cleverness. His focus and passion? Just one line: You are more than you think you are.
Jaime can be found over at: WantedHero.com
SHARE WITH OTHERS