Between homeschooling, my children's extra-curricular activities, and my fitness classes, our week is hectic. Over the past year, I have come to rely on some great pantry meals which I rotate regularly through our weekly menu.
If you didn't already know this, I love meal planning. In fact, I have a homemade dry erase menu board in the kitchen so the hubby and kids know what's on our menu at all times.
During the week, I try to keep the meals simple and quick to prepare. Plus, since we're a one-income family, I make sure to plan dinners that are cost effective.
Today I want to share my 5 dinners, which take 5 ingredients or less, all for under $5 per meal! Each of these recipes serve a four person family. To increase the nutritional value of the dinner, simply add a simple salad to each meal!
Don't miss these 5 dinner recipes, made with 5 ingredients or less, for under $5 each! #mealplan
Click To Tweet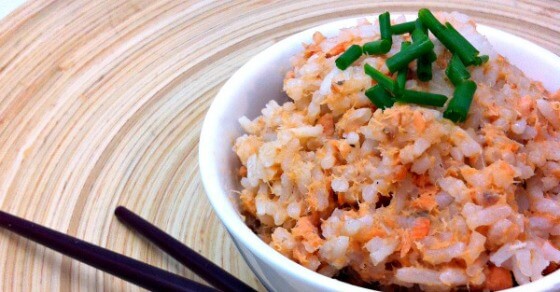 Ingredients
1 can sockeye salmon
1/3 cup mayonnaise
2 cups cooked rice
salt and pepper
Directions
While rice is cooking, mash salmon in a medium sized bowl.
Add mayonnaise to salmon.
Season salmon mixture with salt, pepper, and/or other seasonings (optional).
Once rice is cooked, combine the rice with salmon mixture.
Serve with soy sauce and top with chopped green onion or cucumber (optional).
ROTI
Ingredients
1 large can of chickpeas, drained and rinsed
2 cloves minced garlic
1 1/2 TBSP brown sugar (or more if you wish)
1/2 TBSP curry powder (or more if you wish)
Tortilla shells
Directions
Place chickpeas into a skillet and cover with water.
Mix in minced garlic, brown sugar, and curry powder.
Cook until chickpeas are tender.
Serve in large tortillas.
VEGETARIAN CHILI
Ingredients
2 cans of mixed beans
1 large can of diced tomatoes
1 can of mushrooms, drained and rinsed
2 cloves of minced garlic
chili powder (to taste)
Directions
Mix everything into a large pot.
Simmer until beans are tender.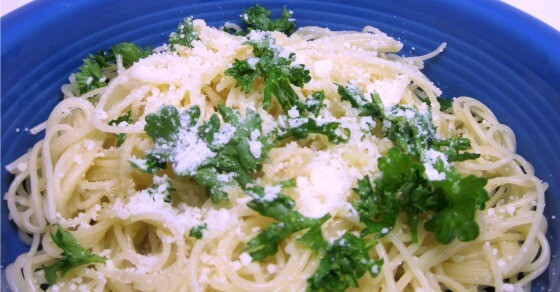 Ingredients
1/3 cup olive oil
1/2 of a bulb of garlic (minced) I usually use 3/4… but we LOVE garlic
190 g of angel hair pasta
1/3 cup fresh parsley (finely chopped)
Parmesan cheese
Directions
Prepare angel hair pasta as directed on the box.
Warm the olive oil over medium heat.
Saute the minced garlic until softened (don't wait for it to turn brown or it will overcook).
Pour garlic/oil mixture over strained pasta.
Mix well.
Add chopped parsley. Mix.
Scoop onto plates and sprinkle freshly grated Parmesan cheese over top.
TUNA WRAPS
Ingredients
2 cans tuna, drained
1/3 cup mayonnaise
1/2 to 1 cucumber, diced
salt and pepper
tortillas
Directions
Mix tuna, mayonnaise, cucumber, salt and pepper into a large bowl.
Spoon into the middle of a tortilla.
Roll tortilla and serve.
Get your free grocery list
I've included a free downloadable grocery list for these 5 recipes. All you have to do is click the download button below.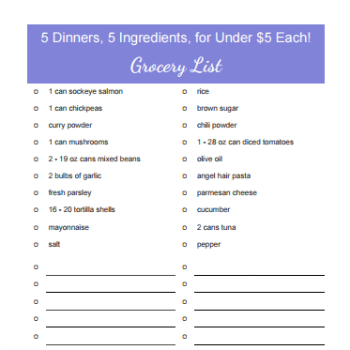 Grocery List for 5 Dinners
Check out this handy grocery list to make 5 dinners for $5 or less (each)! Download your grocery list today!
I invite you to share in the comments, do you have any quick, inexpensive meals which use less than 5 ingredients? Then share this article with any friends who might need some new meal ideas!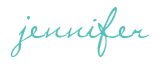 SHARE WITH OTHERS