*Links to merchants in this post most likely use an affiliate link, which means that if you buy something through the link, I may get a commission. See disclosure policy.*
Why the 2018 Ultimate Homemaking Bundle is the Best One Yet!
Do you need parenting, homemaking, and organization help?
You may have already heard about the Ultimate Homemaking Bundle – if not, stick around and I'll tell you all about this fabulous resource kit for moms!
But first I want you to know that the 2018 Ultimate Homemaking Bundle, without a doubt, is the BEST one yet!
Before I tell you why this specific bundle is the best I have a confession to make…
I have been purchasing the Ultimate Homemaking Bundles since 2014!
I saw such value in these bundles that by 2016, I began submitting my own products for consideration in the bundle sales!
I have had my products in the 2016, 2017, and now, in this year's bundle! I choose to participate because Ultimate Bundles is a trusted brand that I love, respect, and admire. It's an honour to include my products in these bundles.
But as I said previously, the 2018 Ultimate Homemaking Bundle is amazing and I can't wait to tell you about it!
Let's dig in shall we?!
QUICK FACTS ABOUT THE ULTIMATE HOMEMAKING BUNDLE
62 ebooks
30 ecourses
34 printable packs & workbooks
3 membership sites
Valued at $3,687.47
INCLUDING 8 AMAZING BONUSES VALUED AT $176.92
Bundle price: $29.97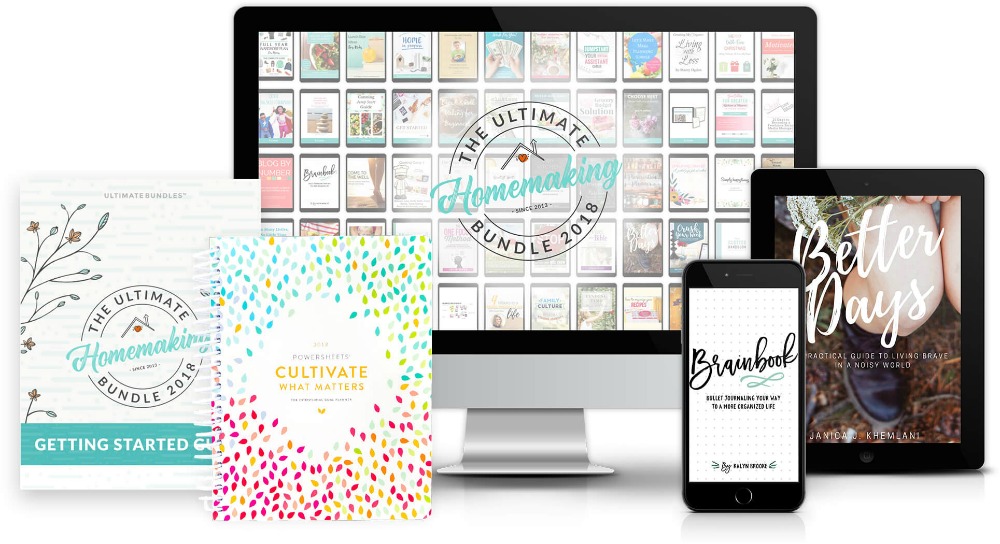 TOPICS COVERED IN THIS BUNDLE
Family
Time Management
Intentional Living
Self-Care
Home Management
Budgeting & Finances
Homeschooling
Faith
In the Kitchen
Working at Home
This homemaking bundle has everything! There are products from 10 amazing categories! It was hard for me to select which products I've enjoyed the most, but here are my top 3 selections from this bundle! I've included the list price of each of these items so that you can see how easily this bundle exceeds the $29.97 investment.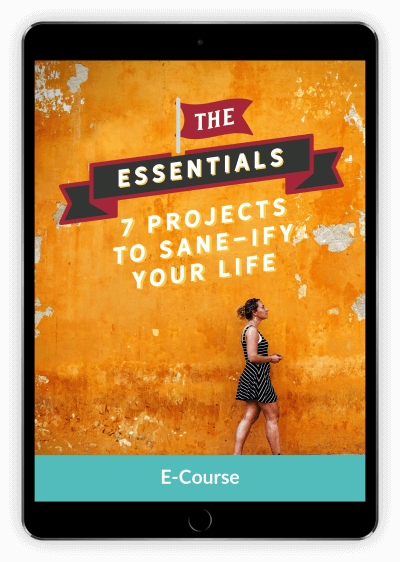 The Essentials: 7 Projects to Sane-ify Your Life (eCourse) by Tsh Oxenreider ($37.00)
Oh my goodness, this course is an absolute treasure! Tsh takes you through a 7 step journey to help you get control of your life. This eCourse is a must-have for every busy mom… and here's a spoiler alert… this eCourse will transform you and your home!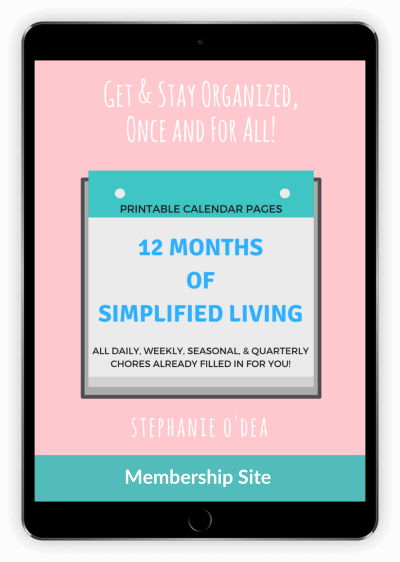 12 Months of Simplified Living: Printable Calendar Subscription by Stephanie O'Dea ($47.00)
This one resource ALONE makes this bundle a steal. With this year-long subscription, you get a month's worth of checklists and tasks to keep your home running smoothly. I immediately saw a difference in my home and management of household duties when I started using Stephanie's subscription. EVERY busy mom needs this!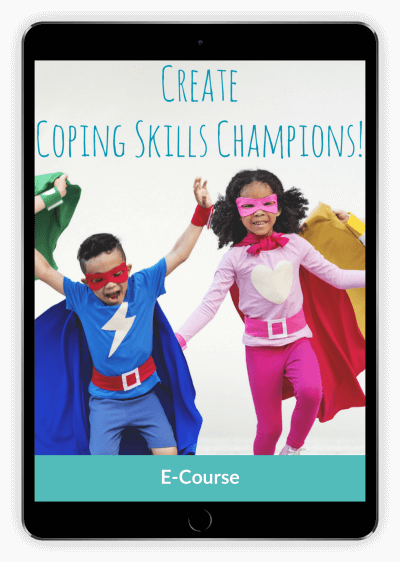 Create Coping Skills Champions at Home (eCourse) by Janine Halloran ($49.00)
Children are growing up with more stress, anxiety, and depression. Janine's course teaches parents how to empower their children with various skills such as, calming coping skills, physical coping skills, distraction coping skills, and much more!
PLUS SO MUCH MORE!
It's worth repeating, there are 62 eBooks, 30 eCourses, 34 printable packs & workbooks and 3 membership sites in this bundle! Just think of the savings! You simply have to check it out for yourself, but don't delay because this bundle is only available until the end of April 16, 2018!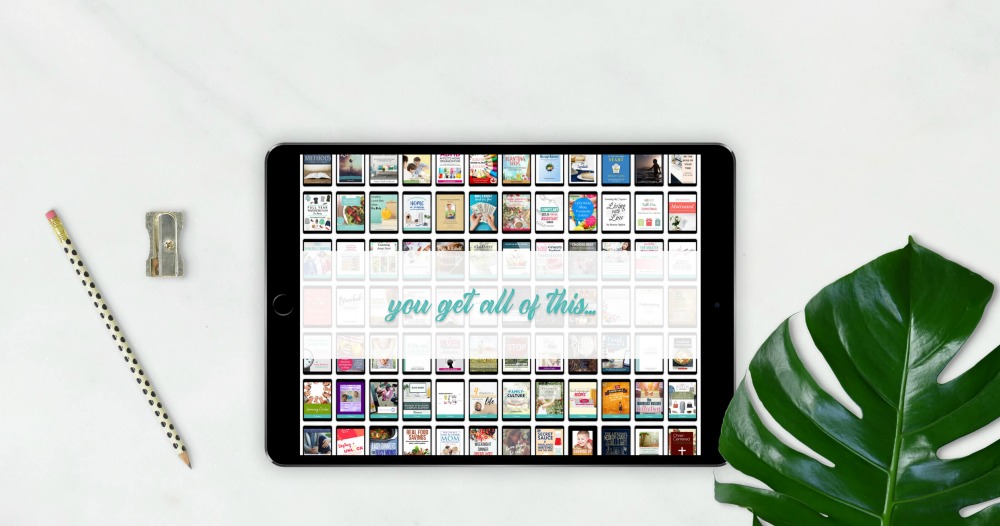 THESE BONUSES ARE AWESOME!
Check out all of the businesses providing awesome bonuses in this bundle!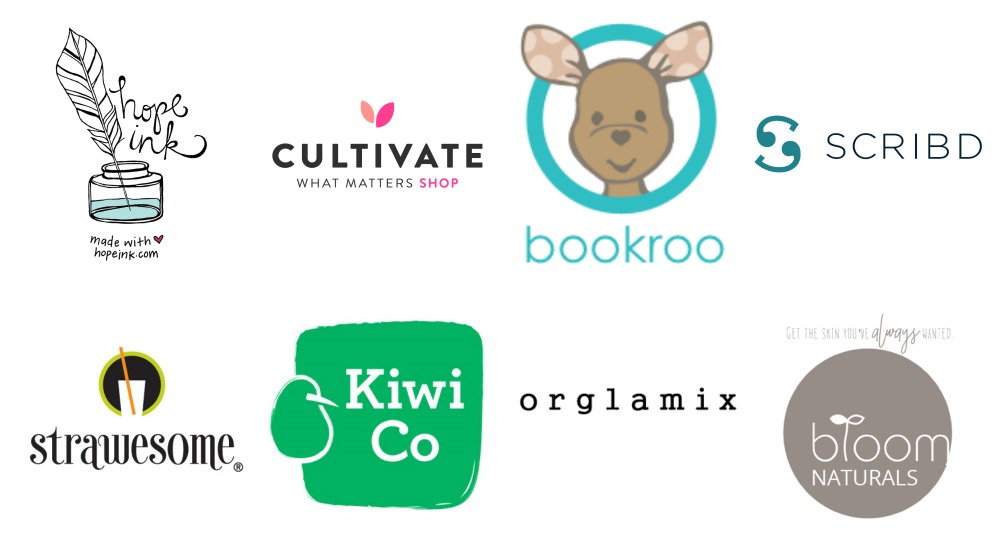 Free printable colouring collection from Hope Ink, $52 value
Free 1 month subscription from Kiwi Crate, $19.95 value
1 month subscription from Bookroo, $18 value
3 month subscription from Scribd (unlimited books, audiobooks, and magazines), $26.97 value
$15 store credit from Strawesome
$15 gift certificate from Cultivate What Matters
Free spot or $15 off any product from Bloom Naturals
$15 store credit from Orglamix
Grab your Ultimate Homemaking Bundle before time runs out!
Grab your Ultimate Homemaking Bundle before time runs out!
You get 30 days to try out this Ultimate Homemaking Bundle!
That's right friend! We want you to be completely satisfied with your purchase. I'm certain you'll love these resources as much as I do, but I always find it reassuring when a company confidently provides a money-back guarantee if their customers aren't happy.
Like I said previously, this homemaking bundle has everything! Its value far exceeds the affordable price tag of $29.97. Bundles can save you loads of money… especially if you look at the value of the content that YOU love and the resources YOU'RE interested in!
Now I would love to hear from you… which resources in this bundle appeal the most to you?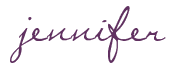 SHARE WITH OTHERS