School is almost in session! Wait, what?! I can't believe in three weeks we're hitting the books once again!
I love seeing what other homeschooling families have chosen for their curriculum, so I thought I would take an opportunity to share our complete grade 2 homeschool curriculum.
**Note this post contains affiliate links. Clicking these links and making a purchase simply means my family gets a small commission. Our full disclosure policy can be found HERE. Thank you for your support.**
Where to begin?! I am so excited about the curriculum choices we made this year (although I have a small fear that I may have chosen too many things for us to do… but only time can tell).
Language Arts
Smart Start in Language Arts – Grade 2 
We completed the grade 1 component of this curriculum and we really enjoyed it! The only problem… lots of worksheets! However, I don't plan on doing all of them. I want to make sure that this year we don't get stuck in the worksheet rut!
Five in a Row
I've heard about Five in a Row and decided to give it a try this year. Essentially, the idea is that you read the same book five days in a row. Each day you do a different activity to reinforce the book as well as various curriculum concepts. There may be a science activity, a social studies activity, etc.
Raz-Kids
My daughter loves Raz-Kids. She can read books and listen to books. She is "tested" at the end of the story and earns "stars" to build a rocket ship.
Mathematics
Jump Math


We did Jump Math last year and my daughter loved it! It is a fully aligned to the Alberta curriculum. We will be continuing with the Grade 2 program this year as well.
Life of Fred
My daughter LOVES Life of Fred! She often laughs hysterically at Fred's antics. We will be continuing the Butterflies book and then graduate to the Cats book.

CTC Math

There was recently a huge sale on ctcmath.com. After doing the trial and seeing how much my daughter loved it, I purchased a subscription. We paid $78 for 18 months! There are many video tutorials and lots of sample evaluations for her to test her knowledge. I also have access to a parent area where I can monitor the lessons she's worked on, as well as her progress.
Social Studies
I made a big decision and decided not to fully align with the Alberta curriculum for social studies this year. Even though we'll explore the curriculum as set out by the Alberta education standards, I wanted to get more into history with my daughter.
The Story of the World – Volume I
I have seen many homeschooling families share rave reviews about The Story of the World. I bought the full package (including the CDs) and so far I'm very impressed by the comprehensive nature of this curriculum. I also love that my daughter can listen to the CD while looking at the book. I know she'll love this!
Kayak Magazine
Kayak Magazine is a Canadian History comic book/magazine for kids. My daughter is really into comic books lately, so this is right up her alley!
Body-Mind Institute
The Body-Mind Institute offers free social studies curriculum for grades 1-9. Much of the learning aligns with the Alberta curriculum standards. We will be doing some of the social studies activities from the Body-Mind institute.
**Edit – the Body-Mind Institute no longer carries elementary curriculum but the same curriculum is now carried by The Natural Learning Centre. They charge per unit but it's a very affordable option.**
Science
All of our science curriculum will come from the Body-Mind Institute. Their fully downloadable and printable teacher's guide and children's work book are awesome!
**Edit – the Body-Mind Institute no longer carries elementary curriculum but the same curriculum is now carried by The Natural Learning Centre. They charge per unit but it's a very affordable option.**
Bill-Nye the Science Guy
We will be enhancing some of our learning with Bill Nye videos from the library.
Brainpop Jr.
Brainpop Jr. is an app we have on the iPad but it's also available online. Our homeschool association provides FREE access to all the BrainPop videos. Although there are BrainPop videos on various subjects, I plan on incorporating many to reinforce our science concepts.
Health
Once again, we will get our health curriculum from the Body-Mind Institute. Last year's curriculum exceeded our expectations, so we will continue with it!
**Edit – the Body-Mind Institute no longer carries elementary curriculum but the same curriculum is now carried by The Natural Learning Centre. They charge per unit but it's a very affordable option.**
Bible
This year we will continue with the Jesus Storybook Bible curriculum.

We will continue doing the Jesus Calling Daily Devotional for Kids.

This year, I'm very excited to introduce the Faith Builders LEGO Bible curriculum. The lessons are detailed and include a LEGO activity! Plus, it's FREE! Everything IS awesome (sorry, I couldn't help but reference the movie).
Art
Last year my daughter did a daily drawing journal. We ARE NOT doing that this year. We will have drawing journal time twice per week and once a week will be a specialized art activity (clay, painting, weaving, collage, sewing, etc.).
Physical Education
We are on a wait list for weekly swimming lessons but outside of that, my daughter will be doing Kid's Yoga DVDs, Wii Fit Plus, and Dance Kids. We will also have regular hikes, park trips, and organized sports.
Other Activities
Some additional activities I have planned are cooking, sewing, and piano lessons on the iPad through KinderBach.
Pictured below is our schedule with the curriculum listed so you can see how often we are using each resource. I'm certain this will change throughout the year, but this is how we'll be starting our homeschool days in September.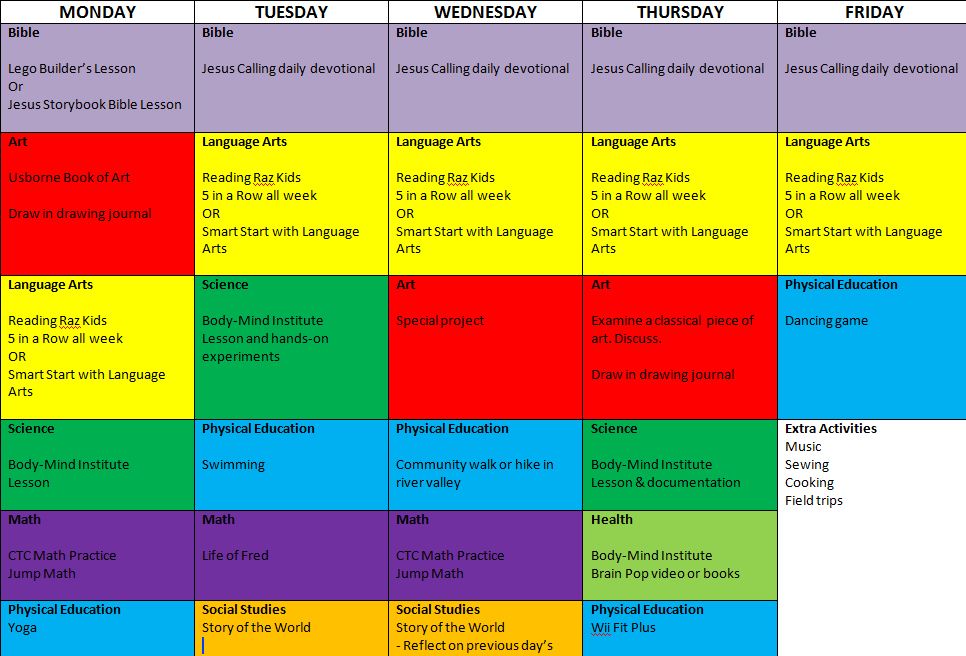 I'm really excited for our year! I'm hoping that once we're settled into our year, I can give you a glimpse of a day in The Deliberate Mom academy of fun and learning.
TIME SAVING TIPS FOR MOMS!
Join us for a coffee break with our email updates! You'll get a booklet of 50+ Time Savers for Busy Moms, plus access to our exclusive Subscriber Library!