Movies! We love them!
Normally our movie nights consist of just our family. We work together to gather our snacks and we find our places on the couch to watch the movie which we've selected for the evening.
However, since we had this awesome opportunity to review Turtle's Tale 2, we took up the challenge to "make a party of it" and invited a couple of my daughter's friends to partake in the festivities. We decided to host an afternoon matinee on the release date of Turtle's Tale 2 (July 9, 2013).
Disclosure: I am participating in A Turtle's Tale 2 – Sammy's Escape From Paradise Blogger Campaign by Mom Central Canada. I received compensation as a thank you for participating and for sharing my honest opinion. The opinions on this blog are my own.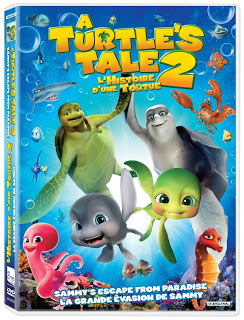 The Party
My daughter was so excited! She even wore a green outfit (so she could look like a turtle). We laid out our delicious spread of treats… popcorn, fresh fruit, pink lemonade and gummy candies!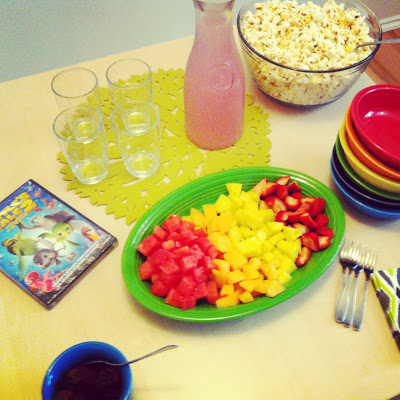 When my daughter's friends arrived, we gathered our snacks and started the show.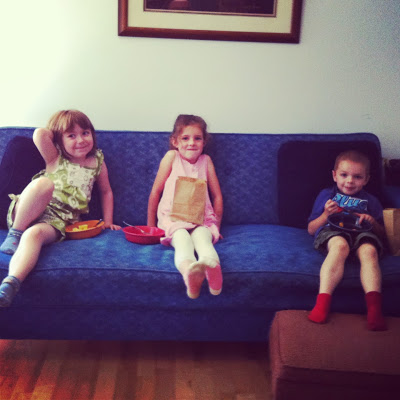 The Plot
The movie's tagline, Dive into a Fun-Filled Adventure was definitely suited to the film as there was plenty of adventure! Sammy and Ray get trapped in an underwater restaurant/aquarium. They desperately work to create an escape plan so that they can be reunited with their grandchildren Ricky and Ella. However, they need to convince Big D and his henchmen to let them go.
What the kids said:
"I liked it."
"That was good!"
"I liked the baby octopus (Anabel)."
"That was awesome."
"I liked the hammerhead shark because he was funny and kept banging his head."
"The escaping part of the movie was good."
"I liked the baby turtles (Ella and Ricky) because they helped save the Grandpa turtles."
What the adults said:
"The music was fun (who doesn't love Rock the Casbah)?"
"It was beautiful animation."
"Some of the characters' accents were difficult to understand."
"It was so colorful."
"It was fun."
Some things for parents to be aware of:
Scariness: There are some intense chase scenes.
Mild rude humor: Seagulls pooping on the boat crew.
Language: Mentions of "idiot" and "stupid". One use of the term "friggin".
The movie is 92 minutes long and is rated G.
Even though the film is targeted at 3-10 year-olds, there is a lot of dialogue which can make it hard to keep a young child's interest. If showing the film to younger children, I would recommend splitting it into two segments.
As with most animated films, it's enjoyable for adults too!
The release date for Turtle's Tale 2 DVD is July 9, 2013
Check out the movie trailer if you have a chance:
http://www.youtube.com/movie/a-turtles-tale-2-sammys-escape-from-paradise
Who can resist those big eyes? So darn cute!
We had an awesome afternoon and our movie matinee was a big success!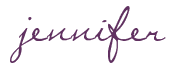 SHARE WITH OTHERS