When Heather Von St. James first approached me to do a guest post on my blog, I hesitated. I've never had a guest blogger in this space before. How would I go about this? Well, I took the plunge and I'm relieved that I did! 
Heather is here today to share about her life when she first discovered she had mesothelioma cancer. I am truly honoured to use my little corner of the internet to give inspiration and hope. So without further ado here is Heather's story about….
The Healing Strength of My Personal Village
The old saying that it takes a village to raise a child has been around for quite some time now, and most of us probably aren't aware of how true this really is. I heard it often after I gave birth to my daughter, Lily, on August 4, 2005. The pregnancy itself was mostly uneventful until the end when I had an emergency C-section, but I was still surrounded by my own personal village after Lily's birth. My husband's family, my parents and as well as our many combined friends came by to welcome Lily into the world and to wish us well as we embarked on the journey of parenthood. Everything was going well, and neither my husband nor myself had any idea of the difficult storm that we would soon be navigating.
I soon returned to work full time, and often found myself tired and out of breath. I assumed that this was simply because I was a new parent with a demanding schedule, but I couldn't shake the underlying feeling that something was wrong. After visiting my doctor and having a variety of tests performed, we found the answer to why I had been feeling so poorly.
I was diagnosed with malignant pleural mesothelioma cancer on November 21, 2005. This was only three months after Lily's birth, and I was devastated, confused and frightened. Mesothelioma cancer is in the lining of the lung and is caused primarily by exposure to asbestos. I had been exposed to asbestos as a child 30 years prior to developing the disease.
Lily was my first thought after my doctor gave me the news that I may only have 15 months to live if I didn't receive treatment. The thought of Lily and my husband continuing on alone motivated me to decide to do anything it took to save my life. Because the prognosis for mesothelioma cancer is grim, my husband and I took the most drastic course of action available to us. We flew to Bostonwhere I put myself under the care of one of the top mesothelioma physicians in the world. On February 2, 2006, I received a treatment called extrapleural pneumenectomy, a surgery which involved the complete removal of my left lung. The next 18 days were spent recovering in the hospital, and two months later, I began receiving chemotherapy treatments.
If our own personal village had not surrounded us with love and light, we could not have made it through this. Lily lived with my parents while my husband and I were in Boston, and in turn, their own village provided them with the support that they needed.
Lily learned to eat real food while I was battling cancer, and the photographs that my parents sent helped me to keep fighting for my life. Although I missed Lily desperately, knowing that she was in such good hands made the treatments easier for me.
My village pulled me through, and we are all stronger and happier because of the experience.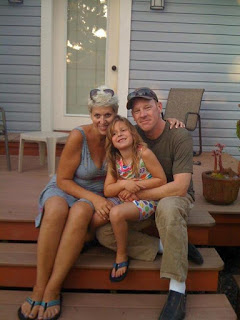 Heather Von St. James is a mesothelioma survivor and guest blogger for the Mesothelioma Cancer Alliance. Her story is one of hope and inspiration and she hopes to spread her message to anyone who may be going through similar situations to her own. Check out Heather's story on the Mesothelioma Cancer Alliance Blog.
SHARE WITH OTHERS