For the past couple of years I have been looking for a personalized name plaque for my daughter's bedroom.
However, nothing quite fit with her room decor. I wanted something cute, original and big enough to fill a large empty wall in her bedroom. I decided that the only way I could get what I wanted was to make something of my own.
Check out this cute and affordable children's room decor idea! #kids #decor
Click To Tweet
The inspiration came from the cutest set of flashcards that I bought at Anthropologie. The artist, Lisa DeJohn, has the sweetest illustrations. As soon as I saw these flashcards, I envisioned my daughter's name spelled out on the wall in her room.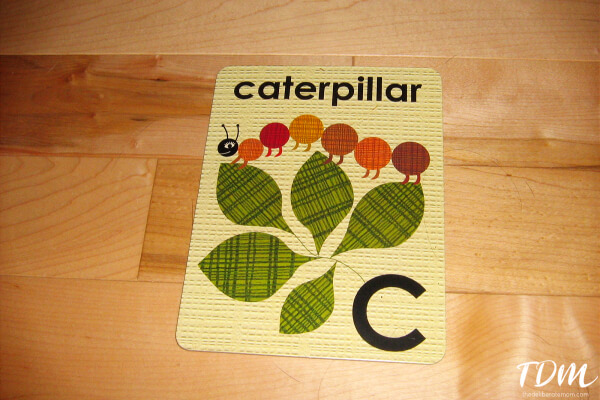 This children's room decor idea is one of my favourites and it's so easy to do! Here's what I did to make a personalized name banner for my daughter's bedroom.
I chose the space.
This was pretty easy as there is one large empty wall in my daughter's room. We recently moved the furniture around, so the bookshelf and bed that used to be along this wall is no longer there.
I mounted the flashcards on card stock.
On their own, the flashcards would get lost on the wall, so I mounted them on a dark brown card stock. The brown card stock looks great against the green walls.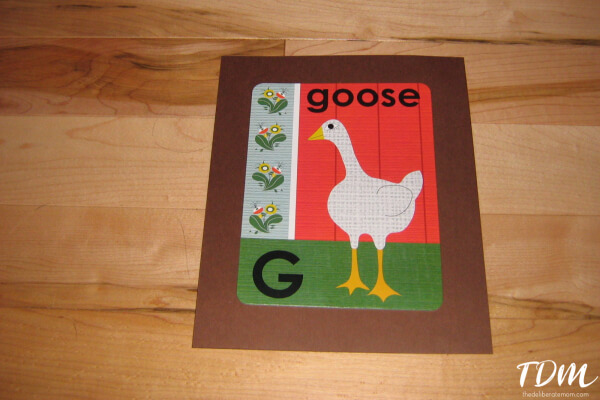 I hung the flash cards on the wall.
Overall, this personalization "feature" is very rustic in appearance. The illustrations and the colours give a very strong "country" appearance. I decided to go with the "country theme" and I strung a jute twine clothes line in my daughter's room. The letters were hung with old-fashioned, wooden clothespins.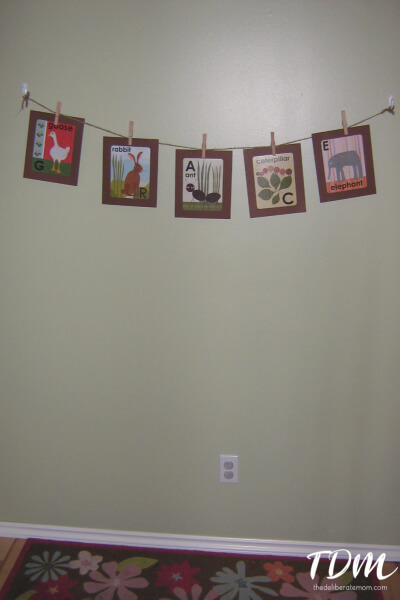 My daughter was so thrilled when she saw this! In fact she said, "Oh…… that's pretty fancy today Mommy!" I thought it was pretty fancy (in a simple way) too!
So there you have it, a cute and affordable kid's room decor idea!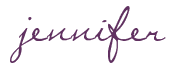 SHARE WITH OTHERS