I am always amazed at how homeschool curriculum can be so integrated… so embedded into the day. It further amazes me when I let my daughter take control of the process – she thinks of things that I wouldn't think of doing!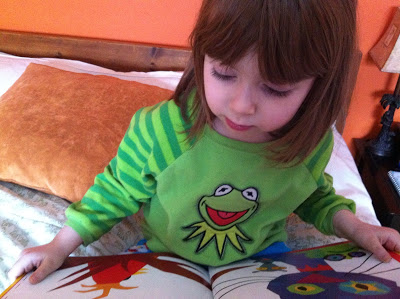 Here's a day of curriculum which stemmed from one book…
The Red Hen
by Rebecca and Ed Emberley
My daughter and I read the book together. We talked about how the other animals wouldn't help make the cake… and how that must of made the little red hen feel. We also talked about why the other animals might have chosen not to help. Perhaps they were tired. Maybe they don't know how to bake. Maybe they were just plain lazy.
At the end of the story was the recipe for The Red Hen's Simply Splendid Cake. My daughter immediately asked if we could make the cake… how could I say no to cake?!
So, we got to work. I had my daughter read the recipe and gather the ingredients. She even gathered the measuring spoons and cups which corresponded with the measurements in the book. We measured out the ingredients as she read the recipe. We mixed and transformed the ingredients into a glorious batter.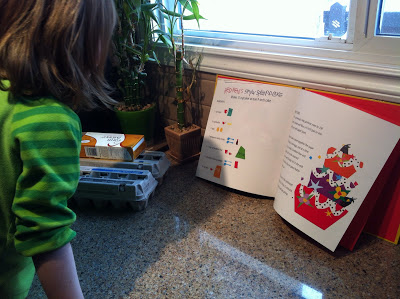 While the cake was baking, we worked to make the icing for the cake. The problem was, we didn't have all the colours that she wanted for the cake. So we mixed the food colouring to create the colours of orange and purple.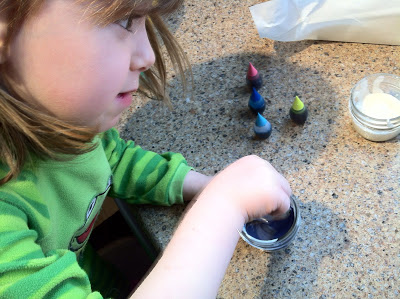 Then we licked the beaters that we used to mix the icing. Yum.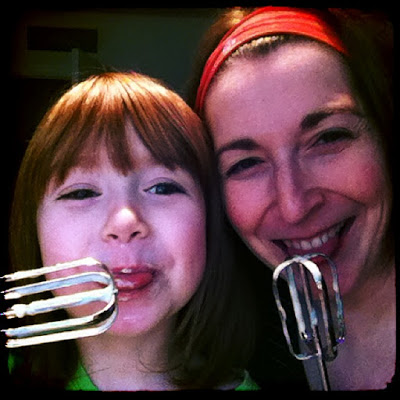 My daughter was anxious to ice the cake but we had to let it cool first because we quickly discovered that the icing "melts" when you apply it to a hot cake (I already knew this but hey, it's much more meaningful if they discover it themselves right?)
Then my daughter had a wonderful idea… we had borrowed this book from the library, what will we do if we want to make this recipe again? She decided to copy out the recipe into one of her handwriting books. It's a big recipe, so I reassured her that she could work on it daily for the next couple of weeks.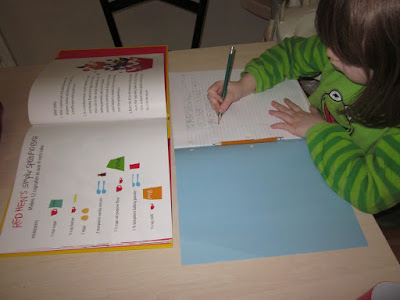 When the cake had finally cooled down, we began to ice it. I loved how my daughter proudly declared that she has the perfect word for the cake… "Glorious". I told her that it indeed was a good word to describe our cake.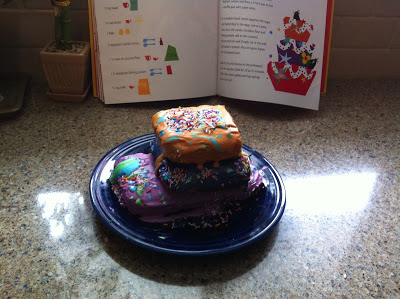 When we were done icing the cake, I encouraged her to write an invitation for her daddy to come have cake with us. She wrote the invitation and delivered it. Her daddy promptly responded.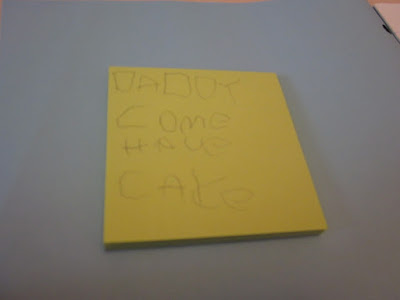 He joined us at the kitchen table and we ate our Simply Splendid Cake… and it was splendid indeed.
SHARE WITH OTHERS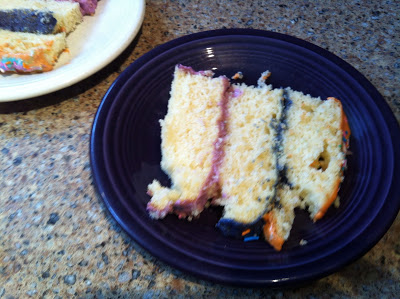 Today's activity had incorporated reading, writing, social, math, art and science. What great, educational (and tasty) fun!