Disclosure: I received compensation in exchange for sharing about this event. The opinions on this blog are my own. My complete disclosure policy is HERE.
I'm almost 41. Yes, my friends, it may surprise you (hopefully) but I am less than a month away from turning 41.
I never feel like I'm the age I am. I'm young at heart and still very playful.
When I was a little girl, I loved to play with dolls (that's me pictured above with one of my beloved dolls). While I was most obsessed with Barbie®, I enjoyed all dolls, especially my Cabbage Patch Kids®! I would dress my dolls, play with them, and talk with them (dolls are such great listeners, don't you think)?!
This past weekend, I had the amazing opportunity to see the American Girl® dolls up close and personal! We were invited to get a close-up look at the newly expanded Indigo Kids® in West Edmonton Mall! With 5200 more square footage, Indigo Kids was able to add 80% more toys and 20% more books. This space is pristine and phenomenal!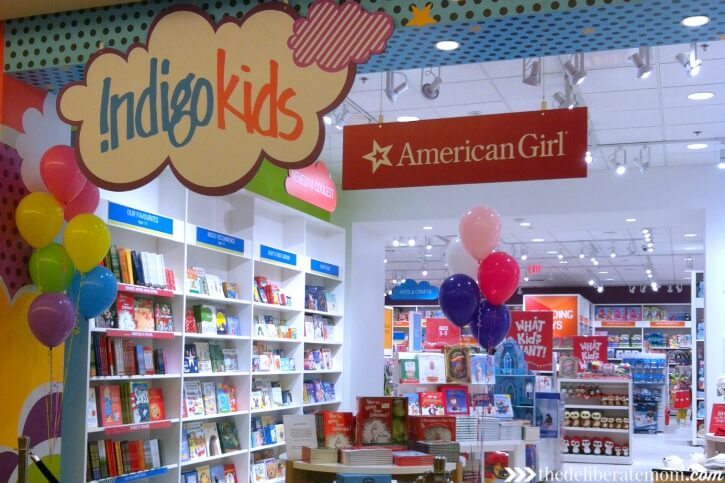 However, the jewel of the newly expanded Indigo Kids is the brand new American Girl boutique!
The jewel of the newly expanded #IndigoKids is the #IndigoAmericanGirl boutique!
Click To Tweet
Friends, I kid you not, I was transported back to my childhood and got swept up by the beauty of these amazing dolls. From their clothing, to their furniture and accessories, I was enchanted. I was especially fond of the Doll of the Year: Grace Thomas.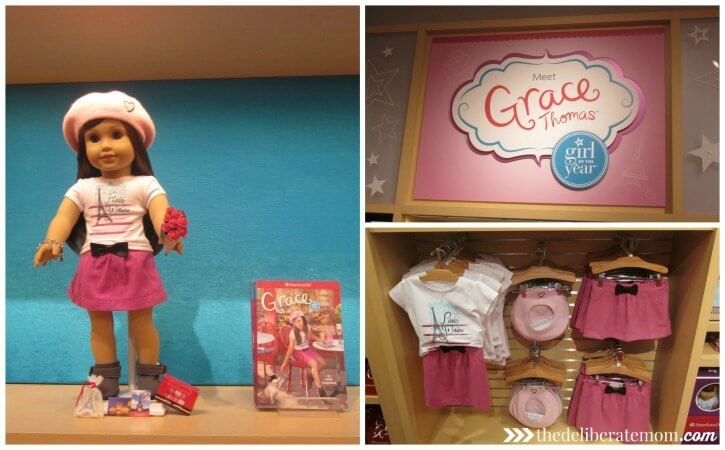 My girls loved the boutique too. They raced from display to display, chattering about all the cool features of each doll.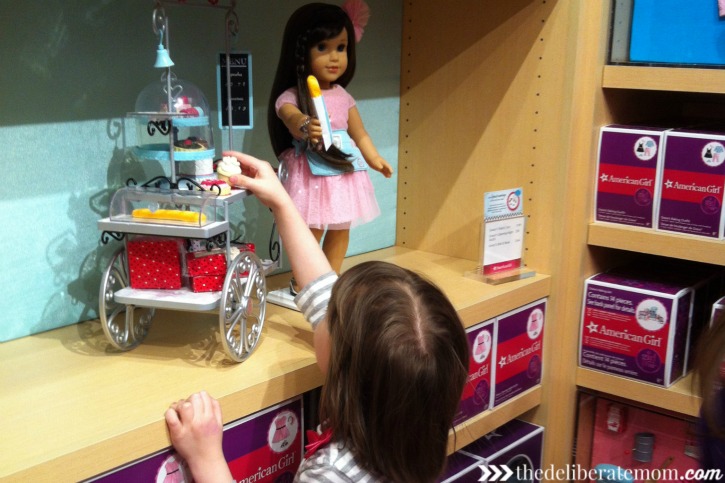 We watched in awe as some dolls were getting their hair done in the doll salon. I chuckled when I saw the stylists cover the dolls' eyes as they misted their hair with water.
We especially enjoyed looking at the Truly Me collection. What little girl wouldn't want a doll that looks like her? It's absolutely stunning!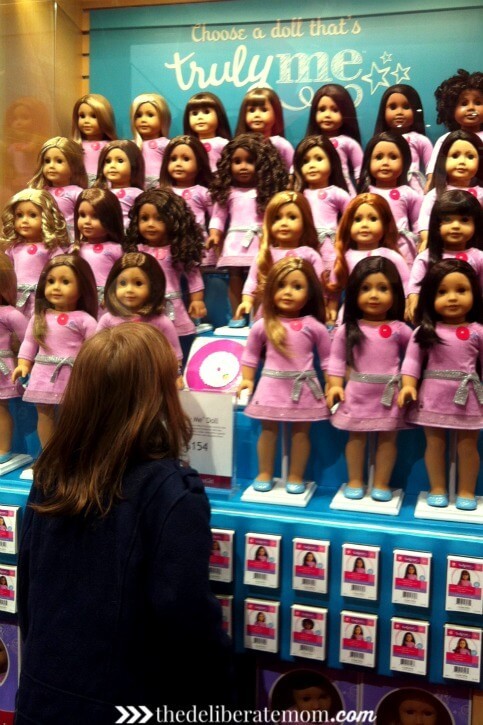 I even found a doll that looks like me! What do you think? Could #57 and I be twins? The resemblance is uncanny. So… what do you think, should I get it for me but say it's for the girls? *wink*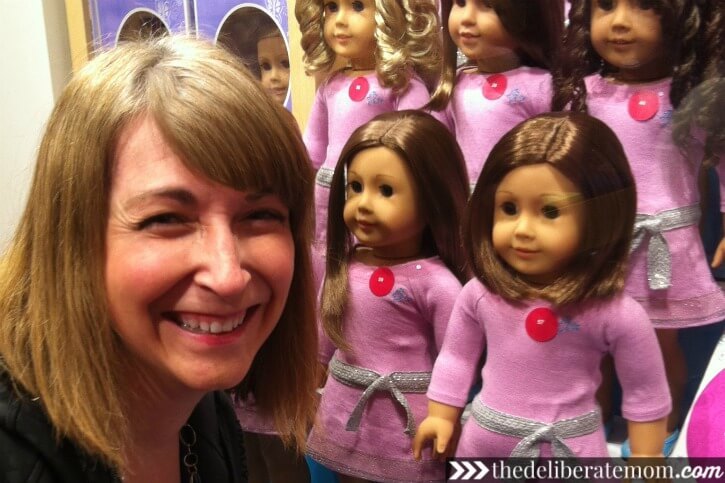 Even my husband got caught up in the excitement. He especially loved the 50's set with MaryEllen's Diner. The jukebox actually works and the diner seats are covered with real vinyl! So very cool!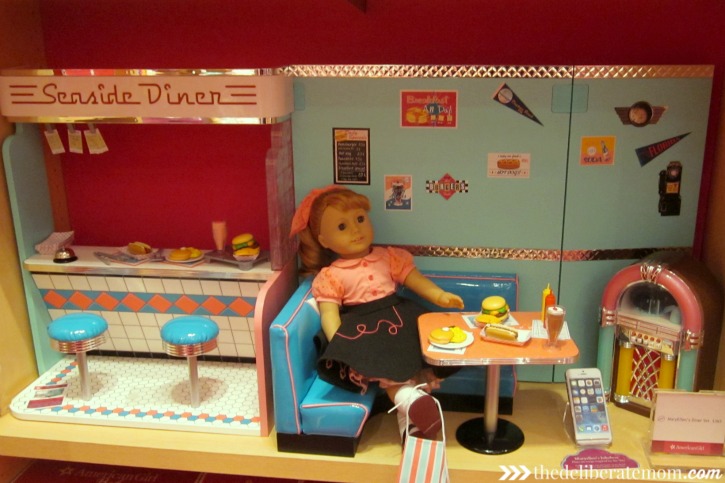 I felt like a little girl again. The awe, the wonder, and the urge to sit down and play.
We made sure to take away some special tokens from this fun occasion! My oldest daughter selected a French Bull Dog toy with the Grace book and my youngest daughter selected an adorable little bunny set.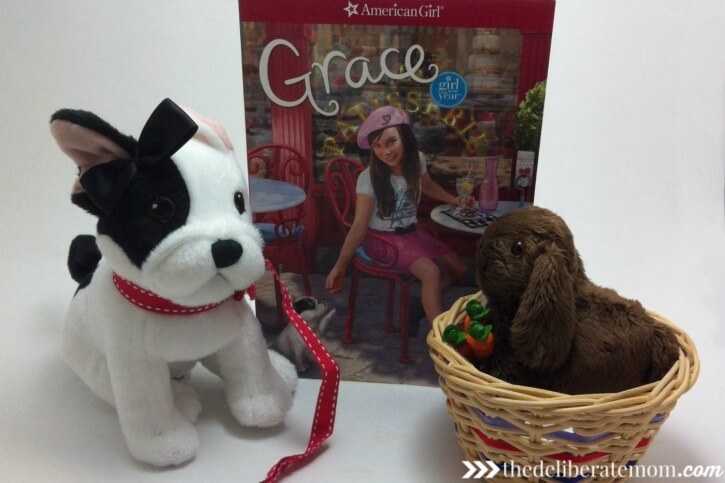 Thank you Indigo Kids for the lovely opportunity to explore your newly expanded store. We had a wonderful time and we are ecstatic that an American Girl boutique is right here in our city.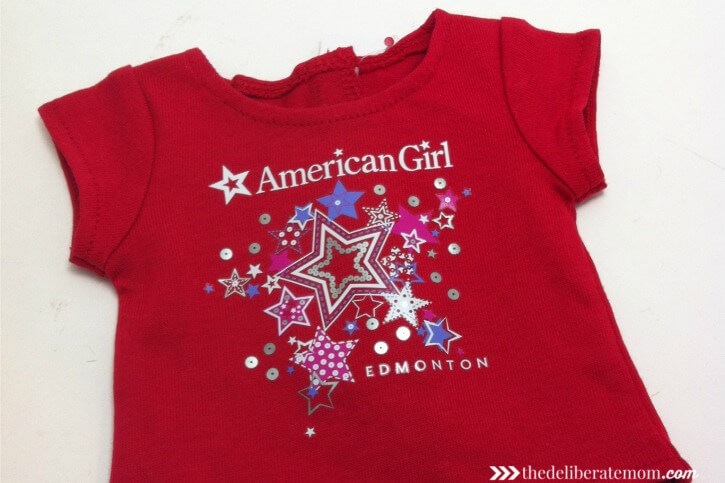 Are you excited that Indigo Kids now carries the American Girl brand? Will you be adding American Girl to your Christmas shopping list this year?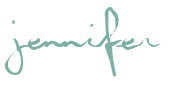 SHARE WITH OTHERS