I was challenged to read digital books for 7 days using the Kobo Glo HD. The results of that challenge can be found in this Kobo Glo HD review.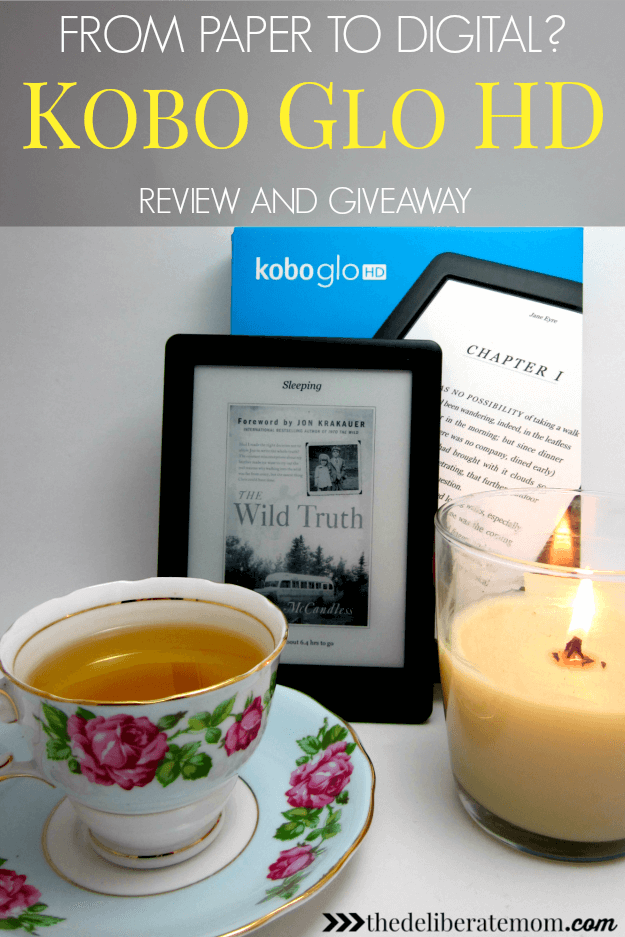 *Disclosure: I am part of the PTPA Brand Ambassador Program with Kobo and I received compensation as part of my affiliation with this group. The opinions on this blog are my own. Some of the links in this post are affiliate links which means if you click one of these links and make a purchase, you get an awesome product and I get a commission! That's what I call WIN-WIN! Additional information about my disclosure policy can be found HERE.*
I love the feel of a book in my hands and I adore the smell of ink on paper. I'm known to have several books in rotation at one time and my nightstand serves as a mini-library. I confess, I'm a book hoarder.
I've sworn that I would never turn in my paper books for digital. However, Kobo challenged me to read 7 days in a row using their brand new Kobo Glo HD reader. I was skeptical at first but I was willing to put the Kobo Glo HD to the test.
The Deliberate Mom took the @Kobo 7 day reading challenge and put the #KoboGloHD to the test!
Click To Tweet
I'm almost surprised to say that I've been converted from paper to digital and here's why:
An enhanced reading experience.
* My reading experience has been enhanced with the Kobo Glo HD. The 6″ HD Carta E Ink touchscreen is the perfect size and highly responsive. The text on the screen is clear and the convenience of adjustable fonts, sizes, line spacing, and margins makes using this device a completely unique experience.
* The adjustable Comfortlight is amazing! I can read the Kobo at night and not have to disturb my hubby with a light on in the bedroom. I can also read the Kobo outside and there's absolutely NO glare on the screen. The text on the screen looks like it would in a book. I actually prefer reading on a Kobo when outside. Paper books reflect a lot of sunlight and I can't read unless I'm wearing sunglasses. However, the no glare screen makes it easy for me to read, even without wearing sunglasses.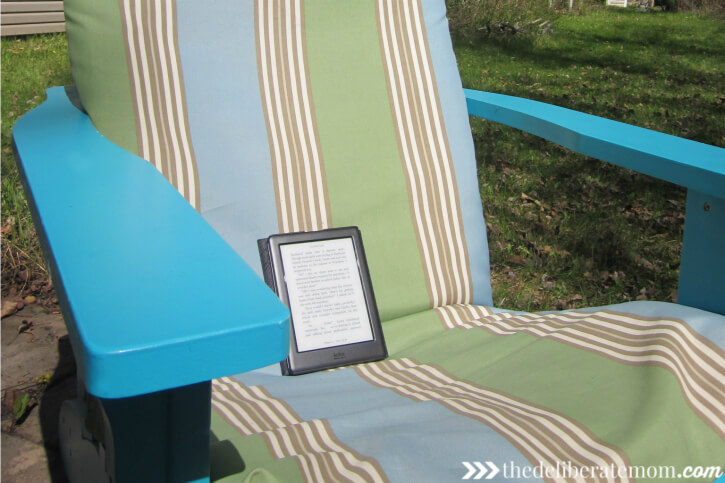 Convenience.
* I love the convenience that the Kobo Glo HD provides. It's lighter than a hardcover book and fits easily into my purse. Plus it can store up to 3,000 eBooks, so I can carry my entire library with me wherever I go! In addition, the battery lasts up to 2 months before it needs recharging.
* I took the Kobo with me on a day trip to the lake and the battery indicator didn't shift the entire time. I'm impressed by how this device keeps its charge.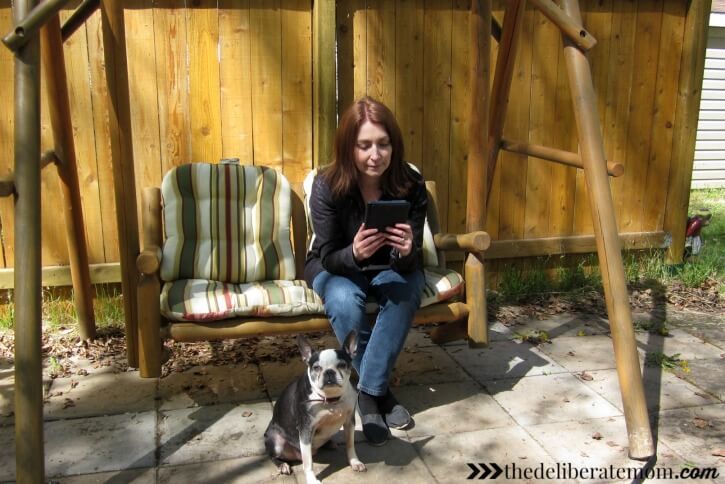 A huge selection of books to choose from.
* The convenience of Kobo's 24/7 eBookstore is phenomenal. If I have an urge to purchase a new book, I can do so with ease through Wi-Fi. With millions of the best books at my fingertips, I can select and start reading my next book with a click of a button.
Kobo Concierge.
Kobo Welcome is the first ever free concierge service with tips on getting started, eBook recommendations, great deals & more. Kobo Welcome is exclusive to Kobo Glo HD owners and is available 9AM – 9PM local times, 7 days a week.
Personalized recommendations.
* Another feature I enjoy is the personalized recommendations, free previews, and reviews. Between this, Kobo Welcome, and the Kobo eBookstore, discovering my next great read is a breeze!
Kobo app.
* The Kobo app makes it possible to read from all of my devices. This means if I forget my Kobo Glo HD, I can continue reading my book on my iPhone or iPad. Plus, I'll never lose my spot with the synced bookmarks feature.
Read documents or blog posts.
* I love that Kobo has the Pocket application. If I'm on the internet and see an article I want to read, I can save it to my Pocket and open up later to read on my Kobo!
* The Pocket is a wonderful feature for homeschooling too! I've saved activity ideas and educational articles to the Pocket for us to use in our homeschool lessons. By doing this we're saving on paper and ink.
I'm over a week into the reading challenge and I'm reading more than I used to. Between the Kobo Glo HD and the Kobo app, reading is easy and convenient. I'm reading while cooking dinner, in the car, at the lake, and in my backyard. I've definitely been converted from paper to digital.
Here's a short video highlighting the many features of the Kobo Glo HD.
If you're not quite sure about reading on a device, I encourage you to download the Kobo app and try it out for yourself! The app is available on iOS, Android, Blackberry 10, Windows 8, Windows 8 Phone, or desktop computer. You can download the Kobo app at: https://www.kobo.com/apps.
35% off of discounted eBooks!
In addition, if you use my coupon code, you can get 35% off of a great list of discounted eBooks. Just visit the Kobo eBooks Store to browse the collection and choose your next great read!
Enter the promo code of: thedeliberatemom to get 35% off.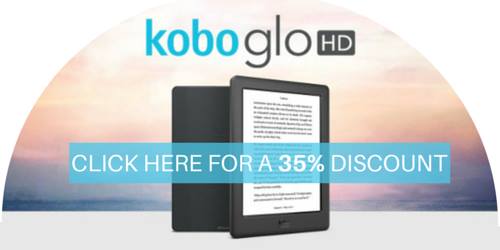 **Discount code is valid for 35% off select eBook purchases from this page and select lists. Discount will be confirmed at checkout. Offer valid until June 30, 2015 at 11:59 PM EST. This offer is not valid in conjunction with any other offer or promotion and cannot be used to adjust amount paid on previous purchases. Discount code must be entered at time of purchase to qualify for this discount. Discounts cannot be applied nor the discount value refunded once a purchase is complete. Rakuten Kobo Inc. reserves the right to change or cancel this offer at any time without notice.**

Have you used an eReader? Do you think you would enjoy reading on a Kobo Glo HD? Would you try reading digital books for 7 days in a row?
You can connect with Kobo on Facebook, Twitter, Instagram, and Pinterest.
Enter to win!
Kobo is giving away 200 $10 Kobo gift cards. Please read the terms and conditions before entering this giveaway. Terms and conditions are found on the entry form.
Kobo Mom 2 Mom Challenge
SHARE WITH OTHERS