Today I would like to introduce you to Kaitlin from An Apple Per Day. Kaitlin shares many posts on the topics of eco-friendly, healthy living. Today Kaitlin is sharing the importance of signing your kids up for swim lessons. So without further ado, here's Kaitlin.
---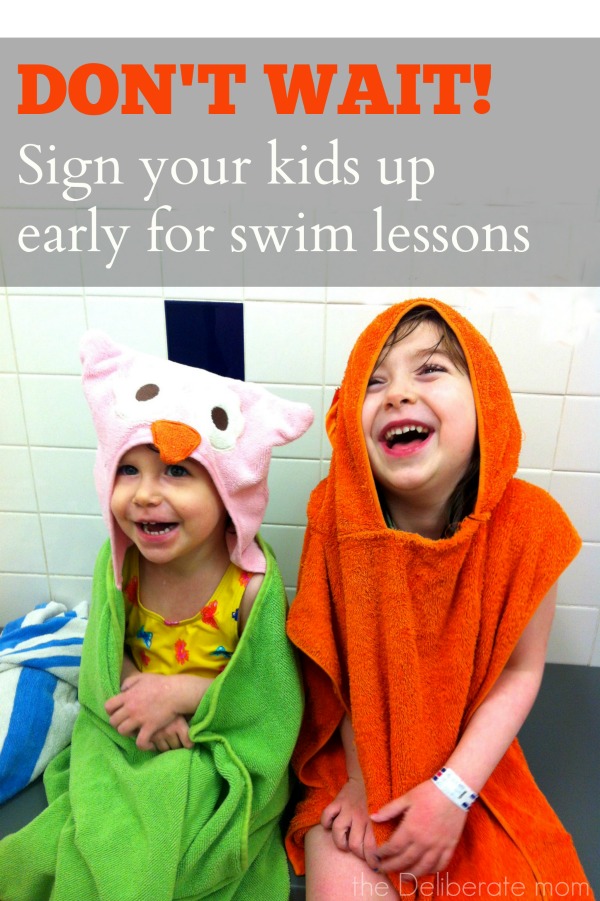 One of my kids is at the age when it's time to sign him up for swim lessons. I made a mental note to do that next summer, until I talked to my good friend Katie. She was signing her kids up in the winter, and once I heard her logic – I changed my mind and did the same.
Don't wait! Sign up your kids for swim lessons! A guest post by @KaitlinGarder Click To Tweet
Kids and summer. If I looked forward to next summer, I knew my child would be like all the other kids – he'd want to be hanging out with his friends. They would want to spend time at the community pool. I remember when school let out when I was a kid. I ran home that day all excited about a whole summer with only play on my mind. If my Mom had mentioned anything with the word "lesson" in it, I would have rolled my eyes. I know my son will be the same way. Getting swim lessons out of the way before next summer makes a lot of sense. Here are some articles with great information about kids and swim lessons:
Swimming Pool Safety: Layers of Protection
Why Is It Important To Know How To Swim?
The school mindset. In the fall, kids fall back into the routine of listening to teachers. My son will be more receptive to what a swim instructor has to say. I went to a swim class last summer to see what it was like, and I do remember some of the kids seemed to wander and not pay attention at times. Swim lessons are too important for my son's safety to have him staring off into space. In the fall, he's likely to pay better attention. He will be in the habit of school, and that is a key element in having him retain what he is taught in a swim class.
The class experience. I looked at the signup sheets for lessons, and saw that there were fewer children on the list than the large summer classes. I asked an instructor, who confirmed that lessons were smaller and more orderly in the fall and winter. Since my child would get more individual attention from an instructor in a smaller class, I thought that was a definite advantage for fall lessons. My son can be pretty rowdy and rambunctious when he is around other kids, and with a smaller class, I thought it would be easier to keep him in line.
Check out the instructor. Not all lessons are the same, so I politely asked the instructor for his credentials. He was glad to comply, and said that was a smart idea. I watched him teach a class, and it was amazing how quietly he kept the kids in line. He had them really paying attention, and was obviously working from a plan. He didn't move forward until all the kids understood what he was telling them, or could perform the move he was teaching them.
A lifetime skill. My children will be around the water many times in their life. We will go to the community pool together, he will be invited to swim parties, and we're planning to take family trips to the beach. The skills to feel confident and comfortable around the water will be very valuable throughout his life. That's why I'm not going to just do beginning lessons – I will sign him up each fall for intermediate and advanced lessons. I want him not only to know how to swim, but be thoroughly schooled in water safety knowledge.
I smile as I watch my child in his lesson, because he's learning how to safely enjoy all the fun the water has to offer.
---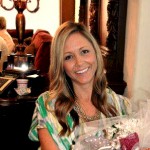 Kaitlin Gardner started An Apple Per Day to explore her passion for a green living lifestyle, and healthy family living. She and her husband have just moved to rural Pennsylvania, where they enjoy exploring the countryside to discover interesting and out of the way places. She is also learning how to paint watercolors.
SHARE WITH OTHERS