I have been wanting to publish the plans for this project for quite some time now. I hope you enjoy the story of the creation of my daughter's play kitchen.
For my daughter's second birthday we wanted to buy a play kitchen for her. As we shopped around, we quickly became aware of three things:
1- Play kitchens are very expensive
2- They are huge
3- Not very many play kitchens would match our decor (which means a lot when you live in a small townhouse)
So I proposed to my husband that we BUILD the kitchen. I did some research online and got some basic ideas… then we went shopping.
Here's the pictorial diary of our play kitchen creation.
Check out this fabulous DIY project and make a play kitchen for kids! #diy #kids
Click To Tweet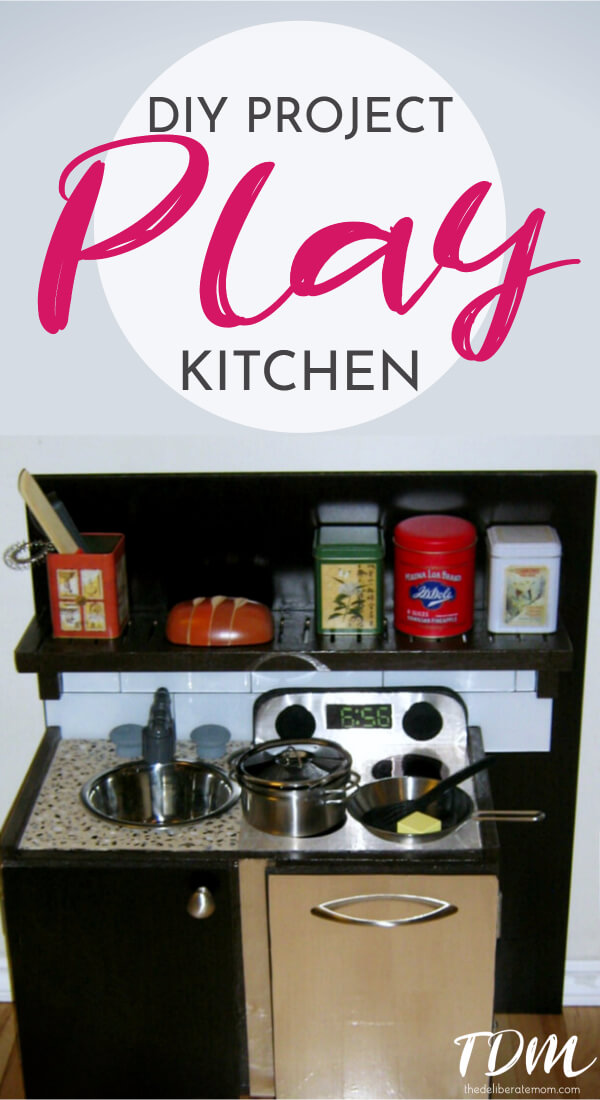 STEP 1
We bought one small pine end table from IKEA for $19. This table served as the foundation for the play kitchen. Everything was built around this key piece.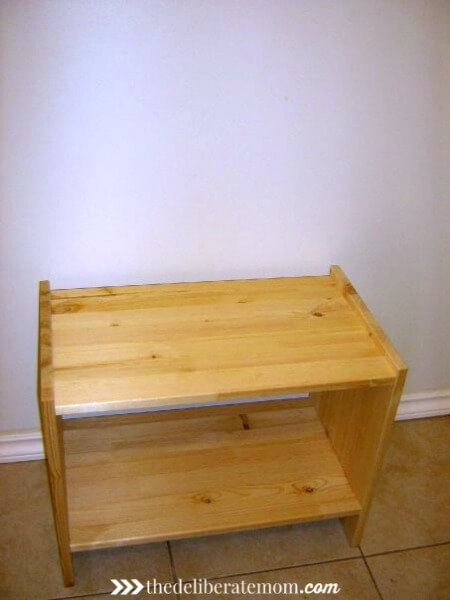 STEP 2
We purchased a small stainless steel dog dish from the dollar store and used it for the sink of the kitchen. My husband traced the dish onto the surface so he would know how much of a hole to cut out for the "sink".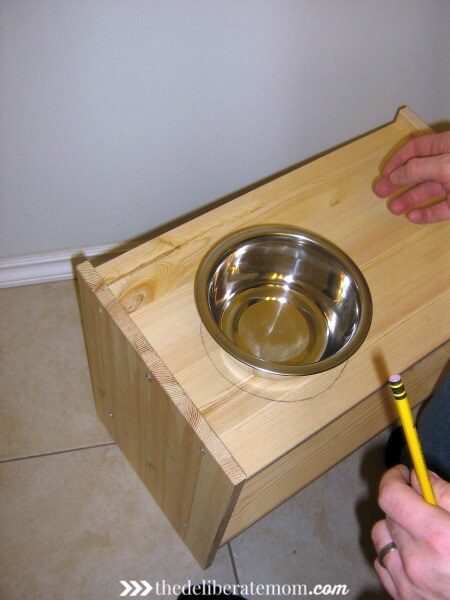 STEP 3
My husband then cut a small piece of plywood to attach to the the back of the kitchen. This piece would serve as the back of the stove.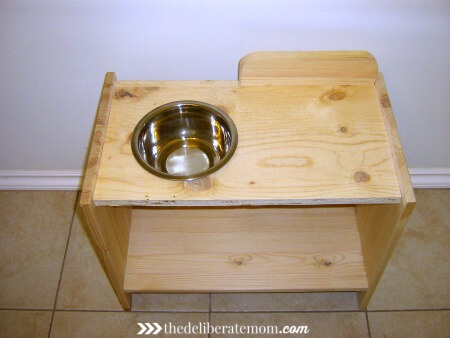 STEP 4
A small piece of plywood was attached down the centre of the table. This piece would allow for two doors to be added to replicate cabinets.
My husband decided to get creative with the paint and replicate the quartz counters we have in our own kitchen. The rest of the piece was painted with a small can of dark brown paint (which matches the espresso finish on our own kitchen cabinets).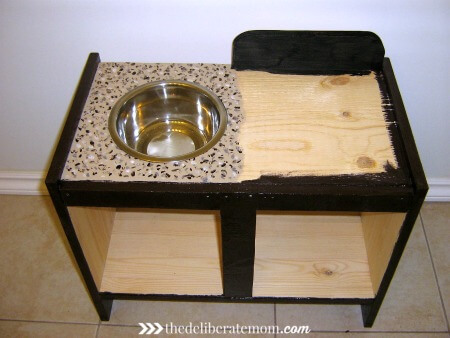 STEP 5
We added a few plastic pipes for the faucet and painted wooden drawer knobs for the oven and sink controls.
Two cupboard doors were added by using plywood and some simple door hinges.
We used "stainless-steel-like" shelving paper for the oven top, oven backing and door. The oven burners were hand-drawn using a permanent black marker.
We added a brushed chrome knob for the cupboard door and a brushed chrome handle for the oven door.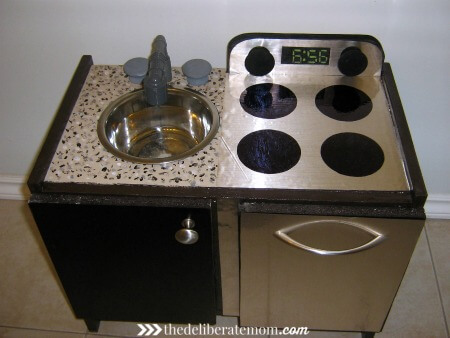 STEP 6
We tried our best to make the play kitchen match our own kitchen.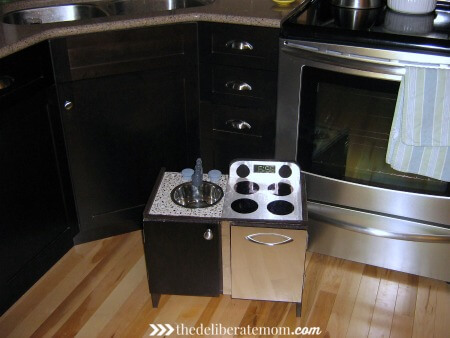 The backing of the unit is a leftover piece of maple from the previous year's kitchen renovation.
We then found a great shelf at IKEA for $2.99 (which we painted to match everything else) and added some peel and stick subway tiles that we found at Home Depot (for $1.00 each) to complete the look.

Step 7
Added a battery operated light under the counter. Painted a digital clock (set to 6:56, the time my daughter was born).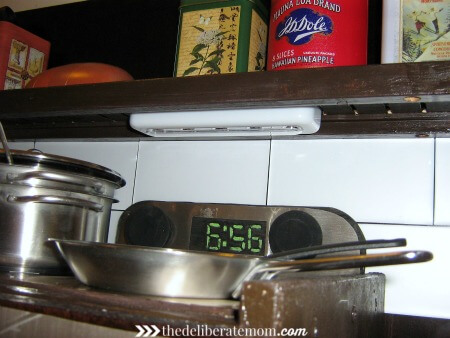 STEP 8
We purchased some simple pieces to complete the look of the kitchen. Pots and pans, tin cans from the dollar store and play food made the kitchen ready to play in!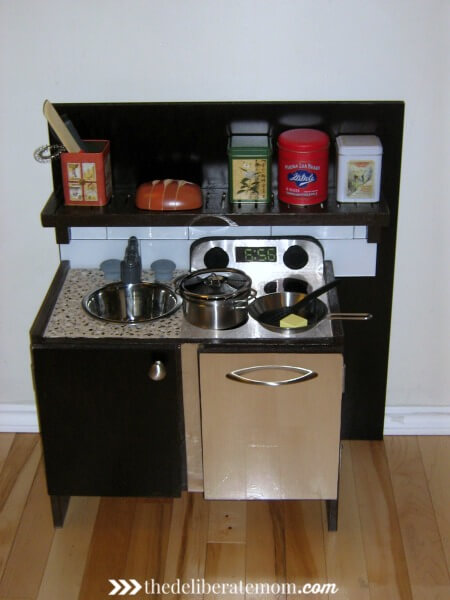 In the end, our kitchen was about $50! My dear husband did all of the design and construction and I was the interior designer. We worked as a team on this project.
The love and care we put into my daughter's play kitchen could never be matched by the store-bought kitchens we were originally looking at.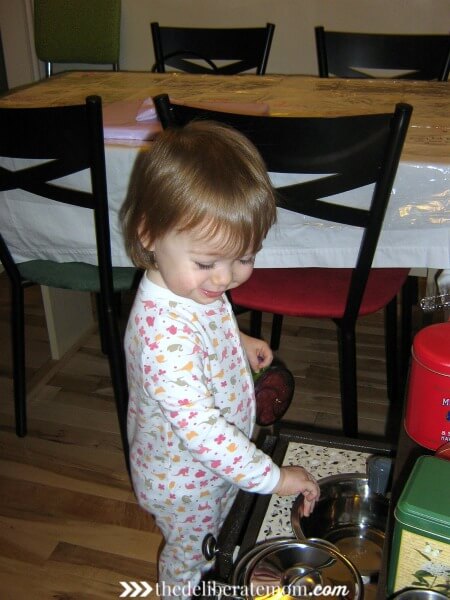 This project also inspired us to create one handmade gift every year for our daughter's birthday. I look forward to sharing our most recent project that we designed for my daughter's third birthday… her Mr. Dressup Tickle Trunk.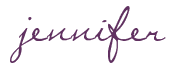 SHARE WITH OTHERS