A year has passed. A year since I pushed and cried my way through bringing her into the world. She was perfect. She was beautiful. She was a sister for my other daughter and the newest member to our little family.
The past year has been amazing. I have nurtured, loved, stressed, cried, and prayed my way through every day. I have watched this little person grow and I have loved her beyond what I thought I could ever love.
I thought I had the parenting "thing" figured out… I thought it would be easier the second time around. However, this first year with this new little person has been its own unique journey. God blessed our family with a completely different, amazing little girl… cuddly, affectionate, yet busy and curious.
The weeks leading up to her birthday have been a time of reflection for me. It's been wonderful remembering this past year and my husband and I had been planning to celebrate her first birthday in a magical kind of way.
Here are some pictures from my baby girl's first birthday….
We went "crazy" with the decorating. We chose a "retro" theme by decorating with old Golden Books, vintage fabrics and collectible items.
I sewed a happy birthday banner (shared here on my blog). We bought a white tablecloth that can be signed with fabric markers every year on her birthday. I also made her a Waldorf birthday crown.
My husband and I handcrafted a Waldorf birthday ring.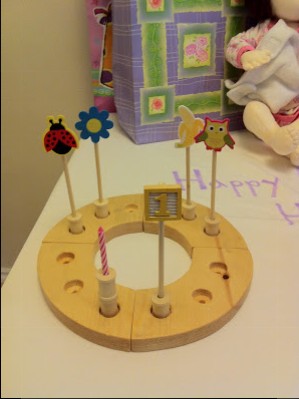 I cut out large triangles from old Golden Books and sewed them to bias tape. We decorated inside and outside the house with the pennants.
I displayed her monthly anniversary photos on a line of bias tape hung in the living room. Each clothespin used to hang the photos was adorned with a picture from a classic Little Golden Book.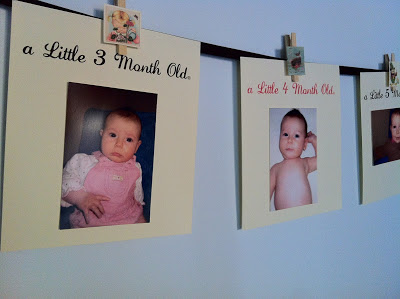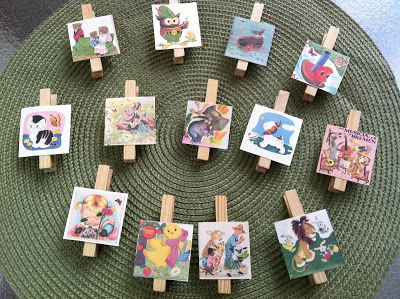 We loved watching our little girl open and interact with her gifts. Her big sister was very helpful too!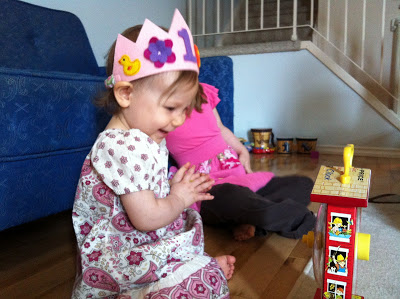 Then there's the Waldorf doll that I made for her. She loves it! The doll has movable arms and legs, a bum, belly button and even a heart (my husband and I wrote special notes on a paper heart and I placed the heart inside the doll's body before sewing it up).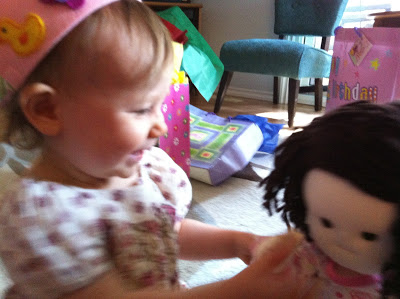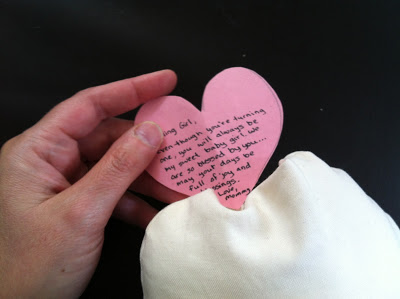 Here's a close-up picture of the Waldorf doll. I am so pleased with the way it turned out.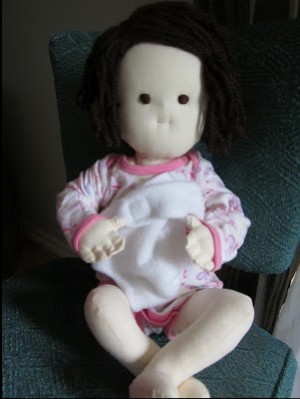 I know first birthdays are magical no matter what you do. However, the "magic" in this birthday is the love and work that went into planning for this very special day.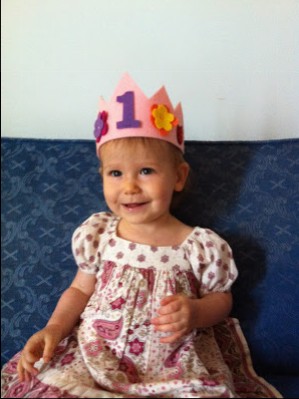 Happy Birthday my darling baby girl. You've blessed us more than you could ever know.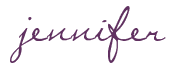 SHARE WITH OTHERS