Do you wish you knew how to have an effective Bible Study time? Bible study is essential to building our relationship with the Lord and deepening our faith.
Regardless, I don't know about you, but sometimes I get overwhelmed when it comes to Bible study. I bombard myself with questions like: "What do I study? How do I study? Which study tools should I use?"
Today I would like to welcome one of my dear blogging friends, Ifeoma, to The Deliberate Mom. She will be sharing five strategies for effective Bible study. So without further delay, here's Ifeoma.
---
By the start of my week, I worry that I may not find sufficient time to dig into the scriptures. Many of us have this concern.
Our busy schedules may not provide us with sufficient time to improve upon our Bible study.
Study to shew thyself approved unto God, a workman that needeth not to be ashamed, rightly dividing the word of truth. 2Timothy 2:15 (KJV)
It all boils down to one question: How can we improve our Bible study habits?
How can we improve our Bible study habits? Check out these 5 tips. #faith #Christianity
Click To Tweet
Five Strategies for Effective Bible Study
Do you desire to deepen your time with God? I have five suggestions to improve your Bible study. Here they are…
Pray and get serious about it.
Sounds familiar? Maybe. But until we take our spiritual lives seriously no one can help us. You probably have written this in your New Year's resolution a dozen times already.
But have you prayed about it? The Holy Spirit is our helper. We can draw close to Him with His help (John14:26). The next time you feel you are drowning in the pressure of life, pray for the comforter to help you through.
Plan.
What study plan can you adopt? You can use a devotional or a Bible study plan to help you navigate the Bible with ease.
Sometimes, I study with specific keywords. For example, using a keyword like "healing" or "faith" or "holiness" will aid your in-depth study.
Using a concordance, reference bibles or Internet Bible sources like Bible Gateway can be a great help too.
Prepare time.
Fighting for the time, in most cases, is our biggest challenge.
So, what is your best time in the day?
A busy momma with a spouse and kids and work commitments may find it easier to have devotions in the early hours of the day. Rise before the kids do. There is so much wisdom in rising early (Psalm 63:1).
Late night after an exhaustive day may not work because your body and mind need to rest. So maybe you should stick to getting up earlier.
Pen-it-Down.
Aha! This is my key principle. Choosing to journal our thoughts on the scriptures helps us in six ways:
helps with memorizing scriptures
helps you remember where and what you read last
helps you reflect
reduces the effect of distractions during Bible study time (you can locate where you stopped before the distraction)
you can draw up a list of life applications of a particular scripture.
you can write up prayer points too
Proclaim.
I cherish this strategy a lot. The more we share what we have studied, the more we grow and improve too. How can you share? Have a Bible study partner, such as your spouse, a friend, or colleague. When you talk about what you learnt, you remember with greater ease.
My vlog on this information can be found here:
I hope these tips help you. If you have any other suggestions, please share them in the comment section below.
---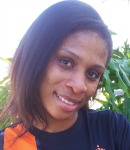 Ifeoma Samuel is a woman after God's heart and is happily married to her sweetheart Obiora Samuel. She serves the Lord fervently in Children's Ministry as a Sunday School teacher and occasionally speaks in women's meetings. Ifeoma is the author of the devotional, My 30 Days' Journey to a Fulfilled Life. You can find her blogging regularly at Purposeful and Meaningful. Other places you can connect with her are Pinterest, Google +, and Facebook.
SHARE WITH OTHERS