"Mom, Santa Claus left me a letter in my drawer yesterday," says my 6-year-old.
Now before I go on… our family does not "do" the Santa Claus thing.
From the get-go my husband and I decided we did not want to buy gifts and tell our children it was from someone else. We wanted to foster a trusting relationship with our children and save them the disappointment that comes with discovering that Santa Claus isn't real; so we kept Santa out of the picture.
Every year we do fun and festive things; we give to the needy, we help out in our community, and we celebrate the birth of Christ.
The avoidance of Santa Claus was easy at first but now that my daughter is almost seven, something interesting is happening.
She believes.
While all the other children her age are starting to deny the existence of jolly old Saint Nick, she has embraced it.
My daughter believes.
She really, really, believes in Santa Claus.
In fact, she believes so much so that she has told us that Santa will be bringing gifts for all of us… even me, her mom who does not believe.
My daughter has told her three-year-old sister all about Santa Claus too. She's told her all about that big round guy who lives in the North Pole and who once a year flies around the world and delivers presents to all the good boys and girls. Worse yet, she has told her sister that Santa is coming to our house.
"To our house? Yay!" my 3-year-old exclaims.
So naturally when my daughter tells me that she has found a letter from Santa in her drawer, I press for a bit more information.
"What does the letter say?" I inquire.
"Well Santa wrote that last year all the adult reindeer had died so he couldn't deliver gifts to us but this year the baby reindeer are old enough to pull his sleigh."
Morbid.
"Hmmm. May I see this letter?" I ask.
"Oh no Mom. Santa said I must keep it a secret."
"Really? But we don't keep secrets except when it's about gifts."
"Exactly," she says.
Well, she got me there.
I feel like I'm living the movie Miracle on 34th Street and I'm almost expecting some round, friendly, old man to move into our neighborhood and befriend our family. Meanwhile, I struggle with the idea that my daughter will wake up on Christmas morning and be disappointed that Santa did not come to our house.
So now I'm full of guilt and concern that perhaps the "magic" of the season will be lost this Christmas. The grief that we tried to protect our daughter from in the first place, could be visiting us this year and that makes this mom feel a little sad.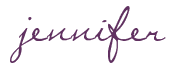 This article was featured on SheKnows.
SHARE WITH OTHERS