No it's not a new rock band… but rather a glimpse of my life this week. You see, on Monday I woke up with a hideous, reddish-purple, swollen eye. No prior trauma. No punch in the face… just a random black eye. I used to get these all the time. I was told it could be sinus-related or because of a blocked tear duct in my left eye.
Anyway, it sucks and I'm feeling a little self-conscious so I have unfortunately been locked up in my house like a hermit. To make matters worse, it's gorgeous outside… balmy temperatures and I refuse to get out of my pajamas.
But hey, I won't just tell you about it. Here's a picture of my eye (the swelling has come down significantly but it's still not very attractive). I can't believe I'm posting a picture of myself with my hair a mess and no make-up on! Either I've developed a healthy sense of self-esteem or my eye problems have infected my brain!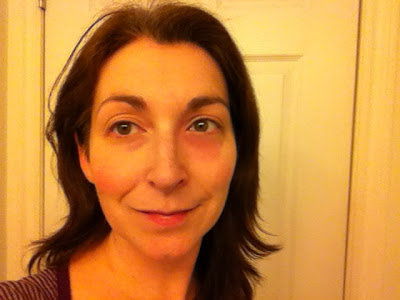 So what about the rainbows, you ask?
Well, I hate that I've pretty much "ruined" my daughter's week by forcing all of us to be cooped up, so today I set up a provocation. While my daughter was busy, I placed a "rainbow-maker" in the kitchen window and observed as the excitement unfolded.
I was in the living room when she ran up to me….
"I went up to the kitchen and it was sooooooo colourful!"
"What a beautiful room! It's so rainbowy around here!"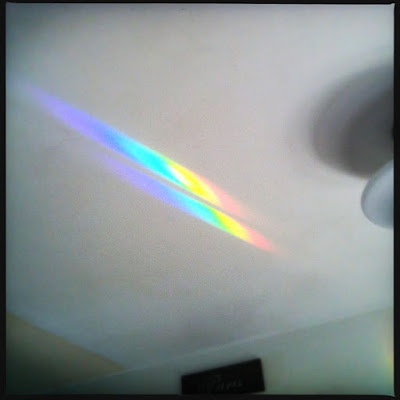 "I like our rainbow room!"
"I'm spinning around and around in a rainbow!"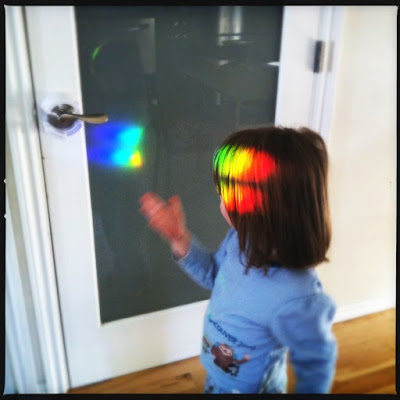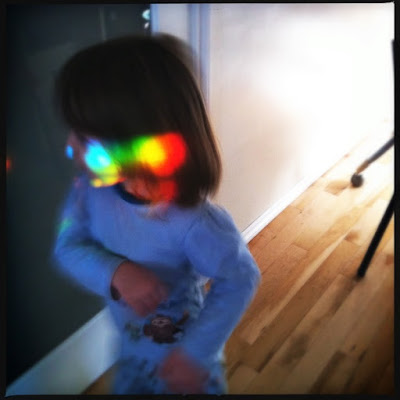 "I have to dip my apple into the rainbow so I can taste it."
"Mmmmmm… it tastes like rainbow candy!"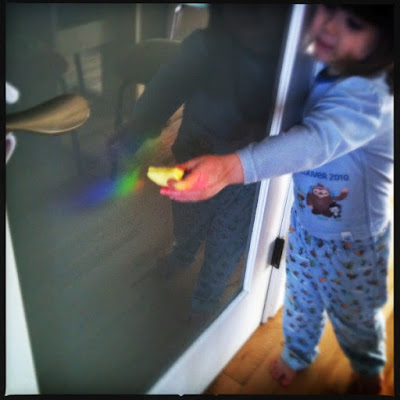 "The rainbow is on my hand!"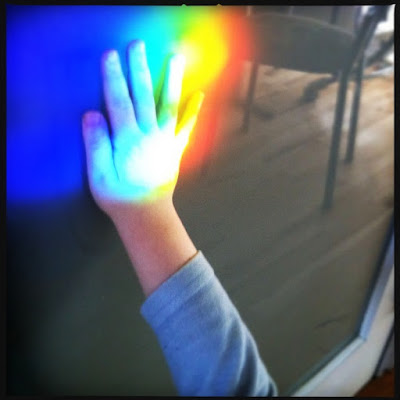 "… and my foot!"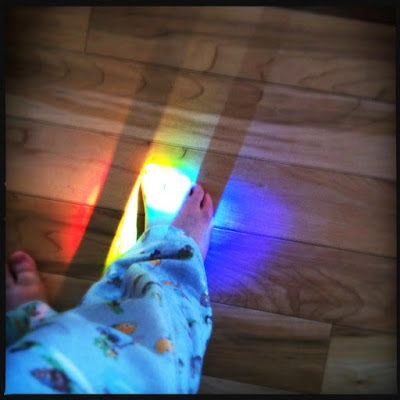 "I'm going to dip my puppet in the rainbow!"
"He's turning a different colour! Like red and blue!"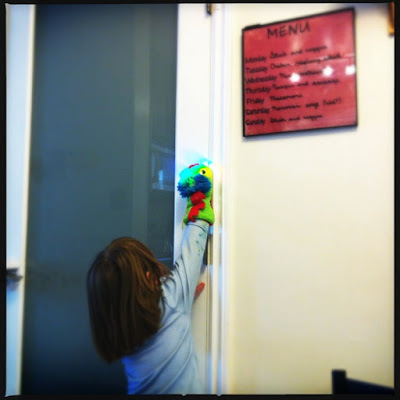 "Do you think my baby sister will like the rainbows?
"Maybe her first word will be rainbow… that could be funny!"
The rainbows started to fade, but the inspiration was still there. We drank rainbow tea, we made rainbow soup, ate rainbow cake and we read A Rainbow of My Own by Don Freeman. It brightened my day.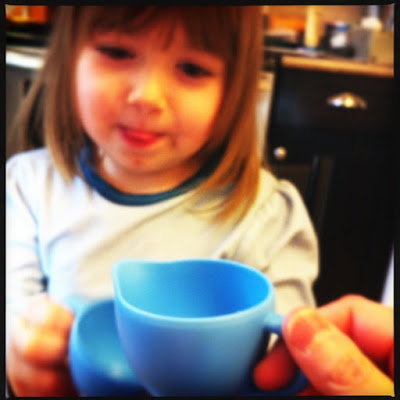 Wishing you a lovely day full of rainbows of your own (minus the black eye).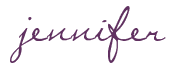 SHARE WITH OTHERS