Once again, I've been on the prowl for a good recipe that I can "veganize". I recently stumbled across this Yeast Biscuit recipe and thought I would try altering it. What do you know? It was fantastic. Delicious, melt-in-your-mouth biscuits!
Here's the recipe (and of course my little girl helped make the biscuits).
The Ingredients
1 Tbsp yeast
1/4 cup water
2 1/2 cups flour
1 tsp baking powder
1/2 tsp baking soda
1 tsp sea salt
2 Tbsp organic cane sugar
1/2 cup shortening
1 cup plain (unsweetened) rice or soy milk + 1 Tbsp vinegar
The Process
Dissolve the yeast in water. Let stand.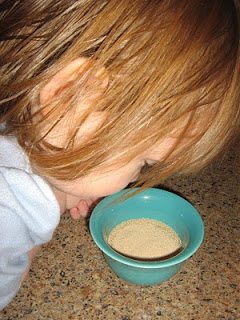 In a large bowl, mix dry ingredients in the order given.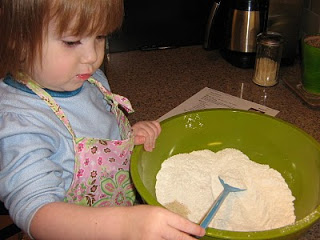 Cut in shortening until it's the size of beans.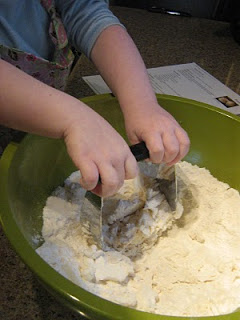 Mix rice/soy milk and vinegar together in a small bowl. Add to the large bowl.
Add the yeast mixture to the large bowl. Mix well.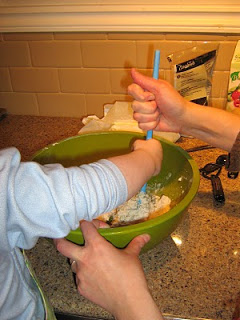 Cover the bowl with a warm, wet towel and let sit until ready to use. (1 hour minimum, but it can sit for a couple of hours). Dough is very sticky.
Scrape the dough out onto a well floured board. Flip over and gently knead (4-6 times).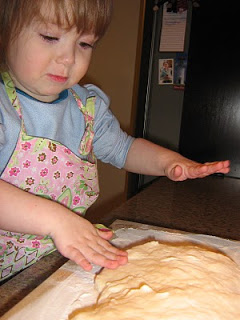 Roll the dough out and cut it with a biscuit cutter. We didn't have a biscuit cutter so we used the mouth of a glass.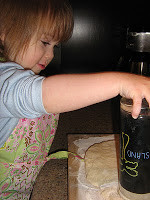 Put on a greased cookie sheet.
Let it rise a bit (about 20 minutes).
Bake at 400 F until light brown (10-15 minutes).
Enjoy!

SHARE WITH OTHERS