Tax season… fun?! I know it sounds impossible but today I'm going to share some ways to get through tax season with the least amount of pain possible.
Staples Canada recently sent me a tax "pain reliever basket" and it got me thinking, what else I would use to make tax season "fun" and painless.
Disclosure: I received product samples from Staples Canada for the purpose of this posting. No other compensation was received. All opinions on this blog are my own. More information about my disclosure policy can be found HERE.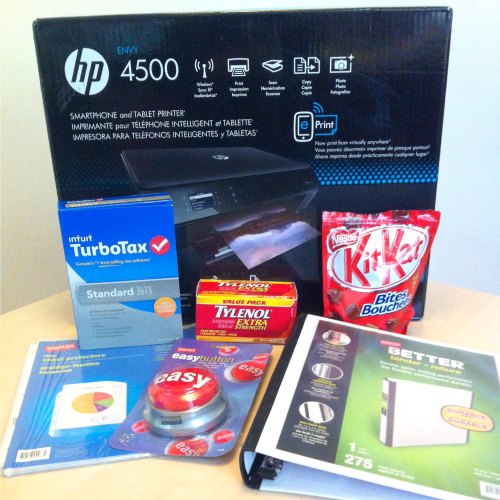 Staples included a lot of goodies in their tax time pain reliever basket… from TurboTax software, to an "Easy" button, to a bottle of Tylenol! However, there's a few other things I would use to make tax season more bearable. Here's my wish list (most can be found and purchased at Staples Canada of course):
A Filing System
You've got to keep all those receipts and documents organized, right? Since we don't have lots of documentation I would opt for an expandable pocket file system. Each pocket could contain it's own year's worth of tax documentation. I especially love the Cardinal pocket file system… it's so cute!
Files
You need these to further organize your pocket file system! The cuter the files, the better! I especially love the Martha Stewart files, they are gorgeous!
Post-it Notes
When do we not need Post-it notes?
Really Good Pens
I loooooove a really good pen. Currently my favourite pen is the uni-ball Jetstream Rollerball. The ink flows so easily out of it.
Music
Whether it's your iPod, cell phone, or computer, make sure you're streaming some fantastic music to keep you motivated and on task!
Coffee
Because let's face it, taxes aren't the most energizing of chores to do!
Staples Canada would like to help you out this tax season. They are offering one lucky reader a copy of Turbo Tax Standard 2013.
So tell me, what would you put in your tax time survival kit?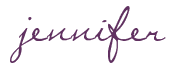 To stay on top of information and promotions, Staples Canada can be followed at:
Twitter: @StaplesCanada
Facebook: http://www.facebook.com/StaplesCanada
Pinterest: http://www.pinterest.com/staplescanada
Giveaway
This giveaway is open to Canadian residents who are at least 18 years of age.
The giveaway ends on March 5, 2014 at 11:59 p.m. MST. A winner will be drawn randomly on March 6th. The winner will be notified by e-mail and will have 48 hours to claim the prize and provide all the necessary shipping information. If I do not receive a response from the winner within 48 hours, the prize will be forfeited and a new winner will be chosen.
Shipping of prizes usually takes a couple weeks.
The winner has 90 days to report non-fulfillment of prizes.
The Deliberate Mom has represented the sponsor with the expectation that they will fulfill their prize obligations; however, please note that The Deliberate Mom is not responsible for sponsors who do not fulfill their prize obligations. While The Deliberate Mom is not responsible, I will make every effort to assist the winner in obtaining their prize.
By entering this giveaway, you verify that you understand and meet the prize eligibility requirements.
SHARE WITH OTHERS