There's a strong and silent presence in our house. The other day I realized that he hasn't appeared in my blog very much, but he is a big part of our lives.
Meet Maverick.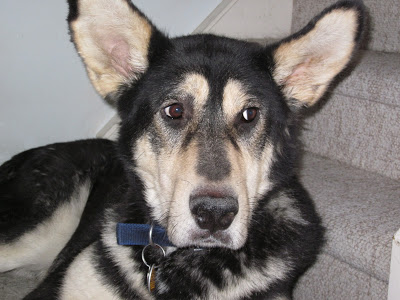 We adopted Maverick from the animal humane society several years ago. He is approximately 7-8 years old, and he's a Malamute cross. We don't know what he's crossed with, but our guess is German Shepherd. He weighs about 85 lbs, and he is a tall dog. He is big, actually gigantic, which scares some people, but he is lovable.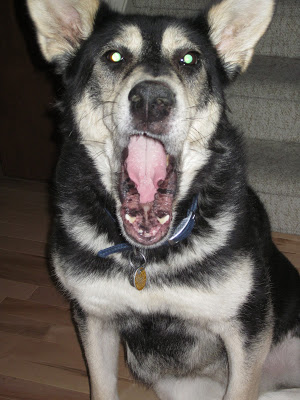 He also has some celebratory status in our neighbourhood because he has only three legs. People stop to talk to us, pet him, and ask us about his missing leg. When they hear he's from Louisiana, they become even more enchanted by this dog with a mysterious history.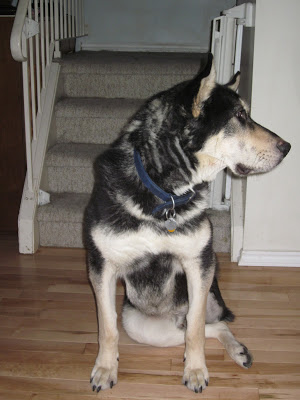 You see, Maverick was orphaned as a result of Hurricane Katrina. We don't know if his leg was lost during the hurricane or if he was already a tripod prior to the storm. With one less leg, I felt confident that I could manage a large dog.
I remember the first day when we brought Maverick home… he put his chin on top of the stove, and I freaked out thinking this dog was much too big for our three bedroom townhouse.
We decided to give him a bedroom of his own to stay in while we were at work. We put a large crate in his room with ample food and water. Within a week of leaving him alone during the day in his crate, he busted out of it and destroyed the room that we had him in.
I recall coming home and opening the door to his room… the blinds were torn in half and hanging from the window. There was diarrhea everywhere; on the walls, the window, the floors, on him. The drywall of one wall was demolished. Our bills and paperwork that were on a nearby shelf were shredded to bits. And his crate had been destroyed by him busting out of it (to this day we still don't know how he broke out of his $200 kennel).
I panicked thinking we had made the worst decision ever. We didn't get a new crate, and he's been perfect ever since.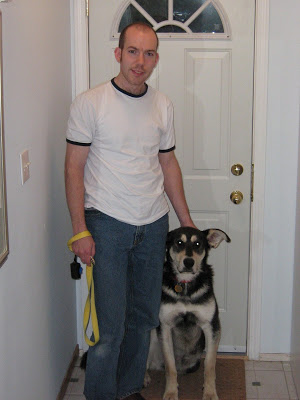 It didn't take long before I saw how well this gentle giant fit into our lives. Maverick is quiet. So quiet that he barks maybe once a month. He also has his domain, the landing of our stairwell. It's soft and warm and the perfect place to keep an eye on the front door and his family.


When my daughter was born, I was fearful of how this dog would behave around a baby. Maverick, of course, was as gentle as ever.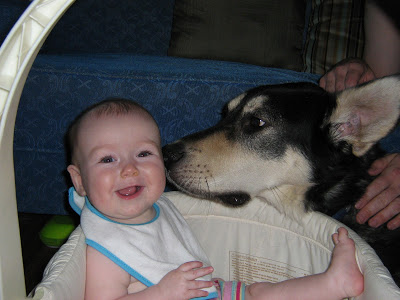 Now with our second child, he has taken on his baby/buddy role once again.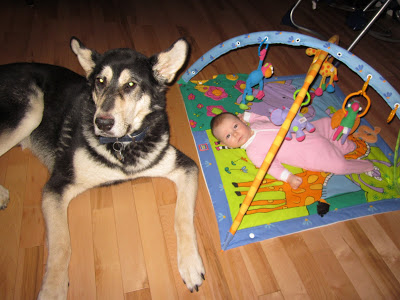 Lately, I've been thinking a lot about Maverick's mortality. I can't imagine what our lives would be like without him. We know he's old for a big dog. Maverick has developed arthritis in his back hip.
Unfortunately, this is the hip that does all the work to get him around. My husband and I fashioned a sling for him so he can get through his daily walks/bathroom breaks. His current medication seems to be helping with his pain, so we're savoring the remaining time we have with this devoted friend.
As I write this, I can't help but feel fortunate to have this faithful companion in our lives. He has brought us more joy than we could have ever expected. So if anything, I wish to share that if you want a family pet (whether it's a dog or a cat), please consider adopting. There are many lovely animals out there who just want a forever home… a forever family.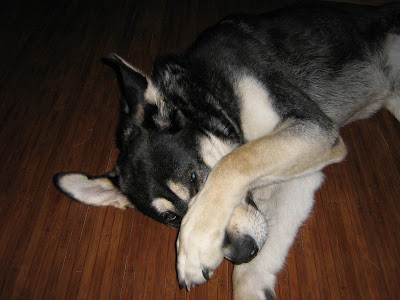 **The first week of November is National Animal Shelter Appreciation Week. Consider making a donation of time or money to your local shelter.**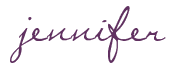 SHARE WITH OTHERS