*Links to merchants in this post most likely use an affiliate link, which means that if you buy something through the link, I may get a commission. See disclosure policy.*
How to Get the Best Blogging Advice!
Oh my goodness, I'm so excited to tell you about this!
Do you want to grow your blog?
Do you want to learn strategies to increase your social media presence?
Do you want better time management strategies?
You may have already heard about the Genius Blogger's Toolkit – but if not, stick around and I'll tell you all about this fabulous blogging bundle! But first I want you to know that I see such great value in this toolkit, that I'm offering my course: Time Management for Bloggers for FREE to anyone who purchases this bundle using my affiliate link.
This bundle is amazing and I just can't wait to tell you about it!
So are you ready to get blown away?! Let's dig in shall we?!
QUICK FACTS ABOUT THE GENIUS BLOGGER'S TOOLKIT
62 ebooks, ecourses & printables valued at: $3,665.40
14 courses are valued at over $97 each!
17 digital bonuses valued at: $1,387.00
Bundle price: $97
Wherever you are in your blogging journey, this Blogging Toolkit is for YOU! There are plenty of resources to help every blogger regardless of the size of their blog. Here are some of favourite picks from this bundle! I've included the list price of each of these items so that you can see how easily this toolkit far exceeds its $97 investment.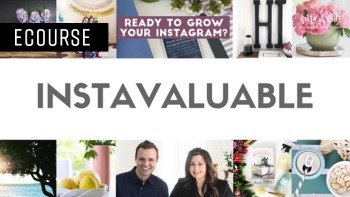 InstaValuable: Grow Your Instagram Basic Course by Myquillyn Smith ($97.00)
While I use my Instagram account more for personal sharing purposes, I thought I would do this course to see if I can maximize the impact I have when posting. If your niche and audience connects a lot through Instagram, then this course can help you achieve your fullest potential.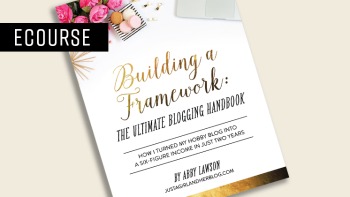 Building a Framework: The Ultimate Blogging Handbook Master Package by Abby Lawson ($75.00)
I love this book and I adore Abby's honest and transparent way of sharing the knowledge and success she's gained from her blogging journey!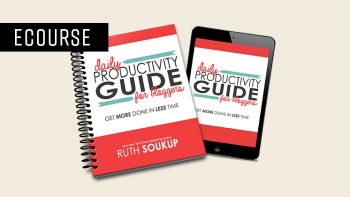 Productivity Guide for Bloggers by Ruth Soukup ($97.00)
Oh my goodness! This is a treasure. I was worried I wouldn't get much from this resource (because I'm all about time management) but Ruth offers some fabulous and insightful ways to increase your productivity. I just completed the second module and I'm already blown away!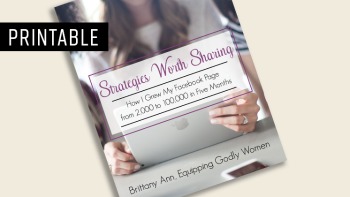 Strategies Worth Sharing eBook & Workbook by Brittany Ann ($30.00)
I'm still working my way through this one but Brittany Ann has some fabulous tips to grow your Facebook presence and her Facebook page is a testimony in itself as to the success of her strategies!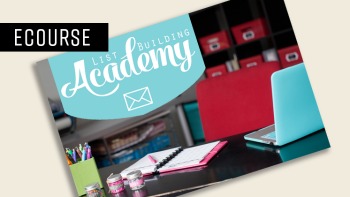 List Building Jumpstart by Laura Smith ($147.00)
List building is essential for every blogger. This resource will help you get started! I can't wait to see what new insights I'll get from this resource.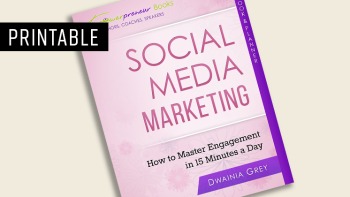 Social Media Marketing Workbook and Planner: How to Master Engagement in 15 Minutes a Day by Dwainia Grey ($27.00)
Ummm, hello?! Doesn't the title alone just sell you on this resource?! I've already downloaded and started planning social media shares. I love this resource!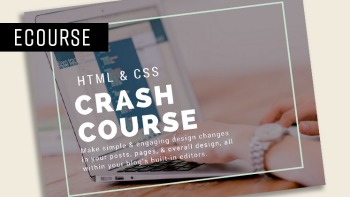 HTML and CSS Crash Course by Sarah Eggers ($129.00)
Let's face it, if you're a blogger, you're going to need to know some basic HTML and CSS. This course is the perfect introduction to all you need to know!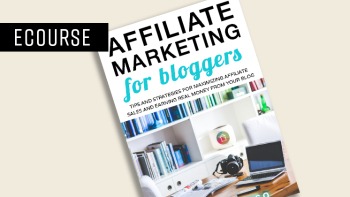 Affiliate Marketing for Bloggers: The Fundamentals by Tasha Agruso ($75.00)
I have been eyeing this course for a couple months now. I literally let out a squeal of delight when I realized that this resource was part of the bundle!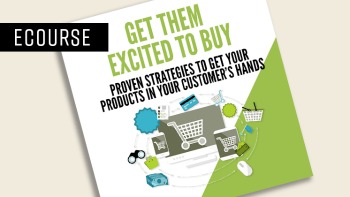 Get Them Excited to Buy: Step-by-Step Guide for Converting Just Looking to Just Bought by Kelly Thorne Gore ($27.00)
I can't wait to dig into this one more. If you have products that you want to sell, then this resource is for you!
PLUS SO MUCH MORE!
This barely grazes the amazing content in this bundle. Plus it's worth repeating… there are 14 courses valued at over $97 each! Just think of the savings! You simply have to check it out for yourself but don't delay because this toolkit will not be available for purchase after April 4, 2017!
Grab your Genius Blogger's Toolkit now before time runs out!
You get 30 days to try out this blogger's toolkit! That's right friend! We want you to be completely satisfied with your purchase. I'm certain you'll love these resources as much as I do. Plus, don't forget, if you make a purchase using my affiliate link, simply claim your bonus on this page here, and you'll get unlimited, lifelong access my e-course: Time Management for Bloggers… for FREE!
SHARE WITH OTHERS