PLEASE NOTE:
GUEST POST SUBMISSIONS ARE CLOSED.
I have limited guest post opportunities on The Deliberate Mom to bloggers and writers that I have a long-standing relationship with and preference is given to readers who are highly active in The Deliberate Mom community.
Here are a few conditions when doing a guest post
Content should be

new

or

dramatically revised

for the purpose of the guest post. In the case of dramatic revision, a link to the "original/source" post is required. Plagiarism will not be tolerated. Preference is given to new/fresh content.
A picture should be included with the posting (The Deliberate Mom may reduce picture size in order to increase page load times). Pictures must original and/or linked to their original source (i.e. if taken from a stock image website).
Author should include a short biography with the posting. A photo of the author is recommended as well.
Author agrees to promote the posting as much as possible through various social media networks (i.e. Google+, Facebook, Twitter, Pinterest, etc.).
Author agrees to respond to the comments on their guest post.
Authors may not use affiliate links.
Preference is given to guest authors who have their own blog or website.
If The Deliberate Mom agrees to publish a guest post
The posting and all applicable photos need to be submitted to The Deliberate Mom as soon as possible.
Postings should be well written and free of errors. Too many typos or errors may result in a posting being rejected.
The Deliberate Mom reserves the right to decline a posting if it is not a good fit for the website/readers.
You will be notified at least a week in advance of the date your posting will be published (unless there are unexpected circumstances, in which you will be notified of the posting date/time as soon as possible).
The Deliberate Mom agrees to promote the posting through assorted social media circles.
Guest postings are voluntary. No monetary compensation is provided.If accepted and published, you are expected to respond to the comments left on the post.
Guest post inquiries can be sent to: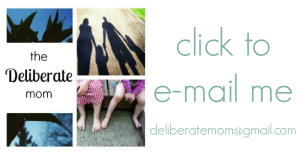 Thank you for your interest! I hope that we can work together.